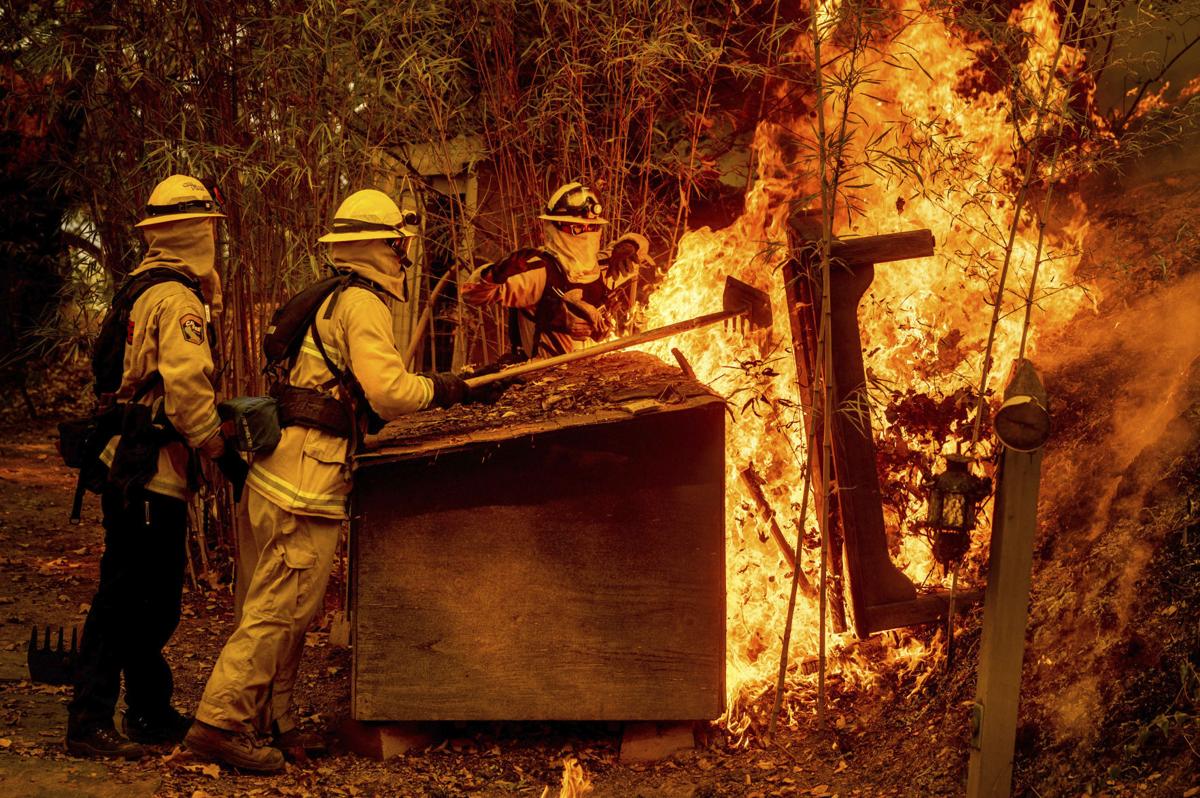 Napa County could go to voters in June 2022 seeking a quarter-cent sales tax to pay for wildfire prevention efforts such as creating fuel breaks.
The county already has a wildfire prevention plan to try to keep the next Hennessey, Glass, Atlas, Tubbs, or Nuns fire from destroying communities. The cost over the first five years is $42 million, with a 10-year plan being worked on.
On April 6, the county Board of Supervisors agreed the county will pay the $5.4 million needed for year one of the plan. That left the question of how to pay for future years.
Support local news coverage and the people who report it by subscribing to the Napa Valley Register. Special offer: $1 for your first 6 months!
On Tuesday, supervisors agreed to explore the quarter-cent sales tax option. They could vote on whether to move ahead with a ballot measure in the fall.
"Really, this is a reflection of, we need a sustainable funding stream to keep our community safe," Board of Supervisor Chairperson Alfredo Pedroza said.
Supervisor Ryan Gregory said the county was able to use one-time money to pay for the first year of the wildfire prevention plan. Next fiscal year and beyond, that one-time money won't be available.
City dwellers, rural residents, and tourists would all pay the sales tax, Gregory said. He saw that as fitting.
"We all have skin in the game when we have a fire and then the smoke that comes with it," Gregory said.
Supervisor Belia Ramos suggested the county use excess Educational Revenue Augmentation Fund (ERAF) money instead of seeking a tax. This is money the county usually receives annually due to a complicated, 1990s state school funding shift. It ranged over the past decade from $5.5 million to more than $20 million.
Residents and visitors need every fighting chance to recover from the economic struggles of the past year. This is the wrong time to ask them to take on additional tax burdens, given the presence of ERAF, Ramos said.
"We cannot depend on it," Supervisor Diane Dillon said. "We have to have some assurance this (fire prevention) work is going to get done every year so we can plan for it."
County Fire Chief Geoff Belyea said a quarter-cent sales tax could raise about $10 million annually.
The tax ballot measure would have to pass by a two-thirds vote or greater to become law. Money would be able to be spent only on wildfire prevention, county officials said.
Napa County could hire a firm for $30,000 to $50,000 to gauge public opinion on a wildfire prevention sales tax, a county report said.
The Hennessey and Glass fires of 2020 and Atlas, Tubbs, and Nuns fires of 2017 together destroyed about 1,500 homes, businesses, and other structures. They burned much of the county.
In response, Napa Communities Firewise Foundation and Napa County Fire Department on April 6 unveiled a five-year fuel reduction plan. It calls for creating and maintaining fuel breaks across the county, from around Angwin to near Berryessa Highlands to east of American Canyon to near the city's Napa's Timberhill Park.
Belyea talked about progress made over the past few months for year one. Contracted crews constructed a 2.5-mile-long shaded fuel break 100 feet to 200 feet wide around the rural community of Circle Oaks east of the city of Napa.
"This is a remarkable feat in the fact they accomplished it in just over a month," Belyea said.
Crews also cleared roadside vegetation along seven miles of county roads in the Angwin area. This will help firefighters fight fires and residents evacuate if need be, he said.
The county has conducted more than 1,000 defensible space investigations and the overwhelming majority of homes are complying, Belyea said. The county is working through its abatement steps for those that are not.
In addition, staff has conducted more than 90 defensible space consultations with landowners to make their properties more fire resilient.
Napa County has 30 additional volunteers for Napa County Fire Department, he said. Cal Fire recently located a Chinook water-dropping helicopter at Napa County airport that can carry up to 2,800 gallons of water in its tank.
In other news, Belyea said Pacific, Gas & Electric plans to add nine cameras to the local Alert Wildfire system. This is a system of cameras in California that lets the public view wildfires.
Napa County already has Alert Wildfire system cameras on Mount St. Helena, Berryessa Peak, and Atlas Peak. Belyea didn't say where the new cameras will be placed or when they will be installed.
Catch up on Napa County's top news stories
Get unlimited digital access to the Napa Valley Register for just $1 for your first 6 months! Enjoy every article without restrictions and find tons of subscriber-only perks, such as access to our daily eEdition. Click here for details!