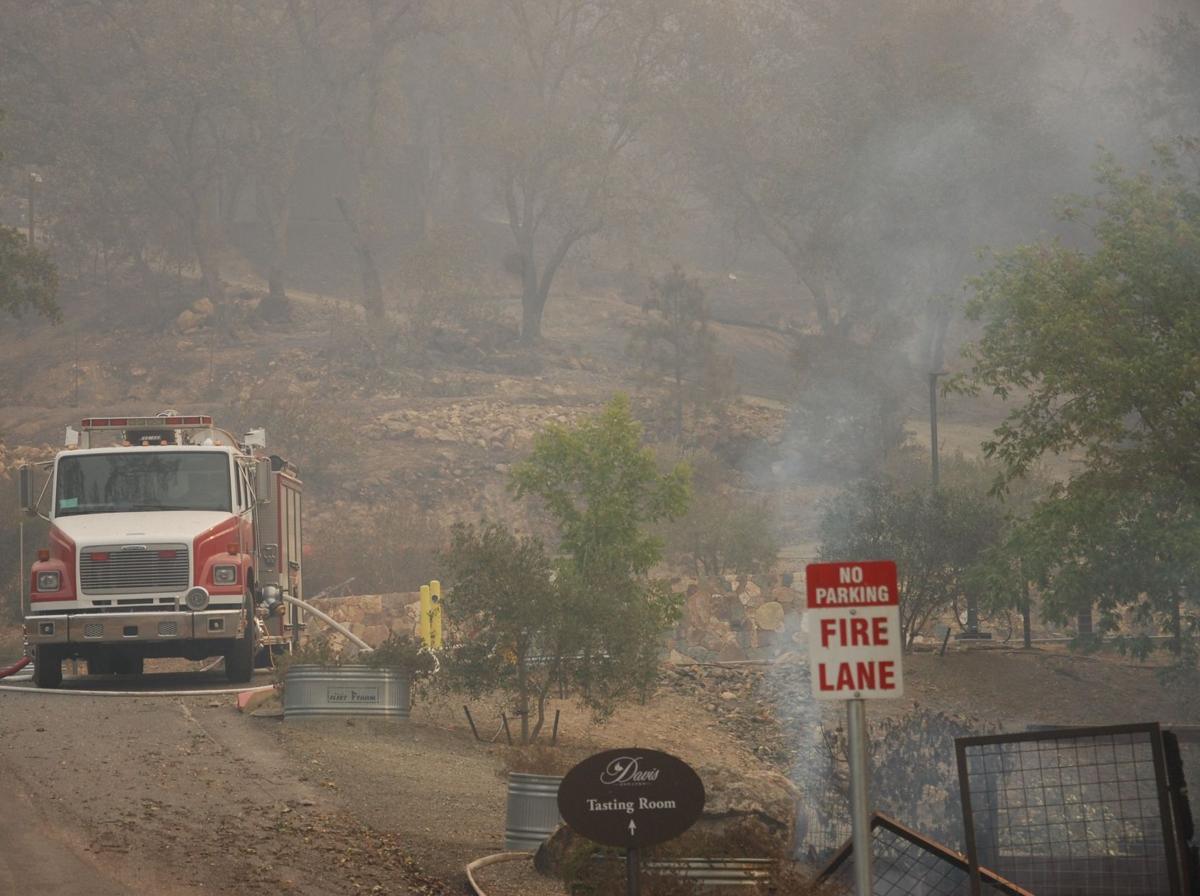 Napa County is sounding the alarm that proposed California wildfire hazard area rule changes could trigger costly road improvements for rural home construction and even minor winery expansions.
The state Board of Forestry and Fire Protection is revising its Fire Safe Regulations that locally affect much of the rural county outside of the Napa Valley floor, as well as parts of the floor. It recently released a draft of the changes.
Question marks remain. County officials said the proposed rule revisions would apply to use permit changes that increase "density or intensity" in wildfire hazard areas, but that this term might be defined in a number of ways.
Support local news coverage and the people who report it by subscribing to the Napa Valley Register.
A March 17 letter from Napa County Board of Supervisors Chairperson Alfredo Pedroza to the Board of Forestry describes what the county considers a worst-case scenario. Pedroza wrote that the changes could effectively prohibit home construction and business expansion in communities throughout the state.
"Hundreds of existing (rural) businesses in Napa County will be prevented from adding one new employee or adding even one customer without facing hundreds of thousands of dollars in new driveway and public road improvements," he wrote.
Nearly half the wineries in rural Napa County could be affected, he wrote.
In addition, the proposed regulations would deem many miles of public roads in the state substandard. Costly upgrades could be conditions for building or even rebuilding a single home in wildfire hazard areas, Pedroza wrote.
"Napa County has lost over 1,300 homes in the past four years due to wildfire ... many of these owners are retired, with limited economic assets. The draft regulations would prevent hundreds of owners from ever returning home," he wrote.
Pedroza suggested wording changes for the draft regulations that would address these concerns. For example, the state could set thresholds for "intensity" and "density" that are considered too minor to trigger the road changes.
California in recent years has broken long-standing records for the largest, deadliest, and most destructive wildfires. Narrow, overgrown roads in fire-prone areas jeopardize the lives of firefighters and residents alike, the Board of Forestry said in a March document.
"These narrow roads do not and will not allow for the simultaneous use by evacuating citizens and responding fire department equipment," the state document said.
Anything that increases the number of people on a site who need to be evacuated during a fire is relevant to these regulations, said Edith Hannigan, land use manager for the Board of Forestry, at a Nov. 18 workshop for the draft regulations.
"Perhaps you have a tasting room at a winery or you have an event venue or you have some type of commercial use where more visitors especially will be onsite more frequently," she said during the online event.
The Napa County Board of Supervisors last week briefly discussed the proposed Board of Forestry rules. Supervisors heard an update from county Planning, Building and Environmental Services Director David Morrison.
"These regulations will have a very substantive and dramatic effect on development in the county," Morrison said.
At a future Board of Supervisors meeting, perhaps June 8, county officials are to give specific examples of what the proposed rules changes might do.
County Supervisor Diane Dillon said she's uncertain what the impact would be for someone who adds a bedroom to a home. She was uncertain what would happen if a winery wanted to add production gallons so it could process grapes for a neighbor.
"Things we would otherwise view as simple and non-impactful could trigger these road things," Dillon said. "I think we all need to know that."
Angwin resident Kellie Anderson during public comments took a different view. She lives on a substandard road and would be willing to upgrade the road as a condition to improve her home, she said.
"Think about what matters more, a bedroom or a winery or custom crush or the overall safety of our county in the new, megafire environment," Anderson told supervisors.
She expressed another concern.
"Wow, looks like you made up your minds," she told supervisors.
One proposed standard in certain cases calls for driveways that at 400-feet intervals would be at least 14 feet wide for a distance of 22 feet. 
Required road improvements would extend from a project to the nearest collector road. Napa County officials said the county has very few collector roads that meet the standards of the draft regulations.
The county expressed concerns in the March 17 letter that go beyond road standards. For example, it said the expanded use of fire breaks must be reconciled with county laws to ensure streams, reservoirs, drinking water supplies and the environment don't suffer.
Dillon and Morrison both said that other counties are also concerned about the proposed Fire Safe Regulations changes. Morrison said the Board of Forestry staff anticipates receiving a large number of comments.
Napa County has been working with California State Association of Counties and Rural County Representatives of California on this issue. Morrison said he's been working with other county planning directors around the state to track, analyze, and respond to the draft regulations.
In addition, county Planning, Building and Environmental Services staff and Fire Department staff have been working on a State Technical Advisory Committee to provide recommendations on the Fire Safe Regulations to the Board of Forestry, Morrison said.