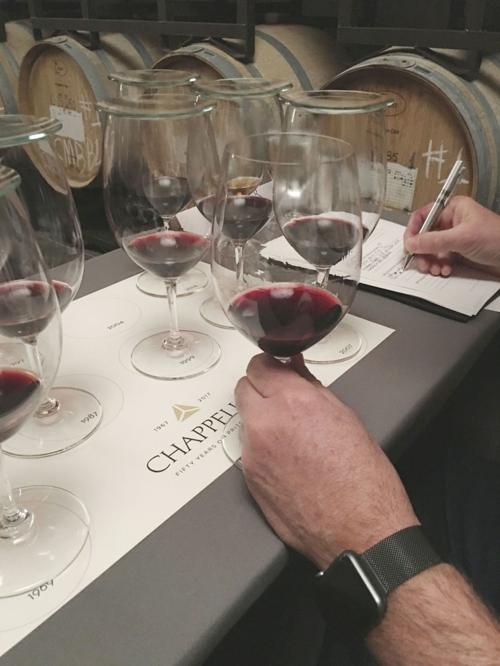 Chappellet winery is looking forward to a post-COVID-19 crisis world when it makes even more wine and entertains even more guests.
Despite the tourism ban under the state shelter-at-home order, the winery located in hills near Lake Hennessey went to the county Planning Commission on Wednesday with growth requests for the future. It got what it wanted.
The winery can increase annual wine production from 150,000 gallons to 250,000 gallons. It can increase total annual visitation for tastings and for marketing events from 15,145 to 38,810.
Cyril Chappellet told commissioners he and his mother live on the property and the winery is the family's primary source of business. They don't have six other businesses standing behind them.
"Right now, with 60 percent of our market gone completely because there's no restaurants, I need every single person, when it's available, when it's safe, to be able to start buying wine directly from us," he said.
Chappellet winery was founded by the Chappellet family on Pritchard Hill in the late 1960s.
Planning commissioner Anne Cottrell addressed the winery's request to have more than twice as many visitors.
"This applicant has the market there," she said. "This isn't a brand-new winery. This is a well-established winery. We know they have the pipeline to bring visitors in."
Still, she suggested cutting the request at least a little by allowing fewer of the largest marketing events. Other commissioners saw her point, but saw another side as well.
"I'm probably more inclined to give these guys the ability to bring people to their site – safely – as much as they really can in the post-COVID world," Commissioner Andrew Mazotti said.
Commission chairman Dave Whitmer noted the commission had received no complaints about traffic or parking from neighbors. The winery will use shuttles for the large events.
The commission forbade having tasting room guests on the days of marketing events with between 160 and 200 guests. It forbade holding daily tastings at the same time as marketing events of 80 guests.
"We're not going to overload the property so the guests don't get the experience they expect from us," said consultant Jeffrey Redding on behalf of the winery.
Commissioners didn't debate the wine increase request. Redding said the winery is making more than its 150,000-gallon annual limit. The county has issued no code compliance violation.
"You have not heard any complaints from anybody about the manner in which we conduct our business, even though we are under you amnesty program," Redding said. "We want to get square with you and look to the future and that is why we're here."
Whitmer said he likes that the winery acknowledges the importance of staying in compliance.
Cottrell said the commission probably would be having a different discussion if a winery targeted for a hillside came through the door today.
"But this project comes in with such history and such a well-established pattern of low impact, I think that's worth considering as we move forward," Cottrell said.
This marked the first Planning Commission meeting since the county issued its stay-at-home order on March 18. Whitmer and Commissioner Megan Dameron were in the room and Cottrell, Mazotti and Commissioner Joelle Gallagher participated by teleconference.
During the day's various items, some people phoned in public comments. Most staff members were in the room, but one participated by teleconference.
"I appreciate everybody's indulgence at this point as we're obviously working under unique conditions to make sure the county's business and your business continues," Whitmer said.
Get local news delivered to your inbox!
Subscribe to our Daily Headlines newsletter.