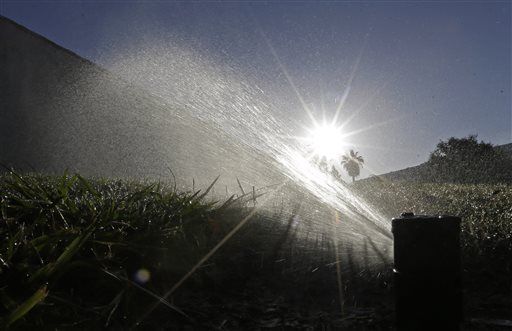 Napa County continues working on a state-required plan to manage groundwater beneath world-famous wine country, but it's not easy and a Jan. 31 deadline looms.
Stakes are high, given groundwater is used to irrigate vineyards, run wineries, and serve homes, as well as sustain the environment. The goal is to make certain the vast underground reservoir is never pumped dry.
Napa County must do more than satisfy local interests that it's a good steward for the Napa Valley subbasin. It must submit a sustainability plan that satisfies the state Department of Water Resources or risk having the state step in.
"That means the groundwater is not under local control anymore but is under the direction of Sacramento," county Planning, Building and Environmental Services Director David Morrison said.
California hasn't accused Napa County of squandering groundwater. Still, under the state's Sustainable Groundwater Management Act (SGMA) the county must show the Napa Valley subbasin is stable and will remain that way.
A groundwater advisory committee of 25 members with diverse local interests has tackled the topic during 16 meetings over a year. One flashpoint being driven home by the current drought is the link between groundwater and streams.
"If I go out to the Napa River right now, I can walk long sections of it without seeing any water," Soda Canyon resident Amber Manfree said at a recent meeting. "Some of it might be natural, but I think some of it has to do with groundwater pumping."
She's seen thousands of fish dying, Manfree said.
Napa County's groundwater plan will consider stream depletion an "undesirable result," as required by the state. But the advisory committee has debated how much groundwater users might be at fault, given diversions for reservoirs and other factors.
St. Helena resident Lester Hardy said it's infeasible to turn a Napa Valley subbasin groundwater plan into a comprehensive vehicle to restore the Napa River. Groundwater users are one part of a larger and more complex dynamic.
"SGMA is not a tool designed to accomplish what many of us would like to see accomplished," Hardy said. "We need to accept those limitations if we're going to fulfill our task. They chafe, I understand, they do chafe. They chafe me. But accepting them is the key to actually getting this done."
Other sticking points have emerged. Some members felt a consultant forecast of future groundwater scenarios is too optimistic.
"I don't believe it," Angwin resident Mike Hackett said. "I don't believe that's the kind of world we're going to face from here out."
Rather, he and others see a drier regime because of climate change.
Committee chairperson and Saintsbury winery co-founder David Graves noted the sustainability plan must be updated every five years. When more information is available, such as improved climate change models, it can be incorporated into the plan, he said.
The sustainability plan must look at how to gauge and deal with what the state calls "undesirable results." There are six: chronic lowering of groundwater levels, groundwater storage reduction, seawater intrusion, land subsidence, water quality degradation and depletions of interconnected surface water.
The groundwater advisory group is to review a draft of the proposed groundwater sustainability plan on Oct. 14. It is to consider adopting it on Nov. 16.
Then the action shifts to the Napa County Groundwater Sustainability Agency, which has the same members as the Napa County Board of Supervisors. Supervisors are to consider adopting the plan on Dec. 7.
After the county submits the plan to the state, the state has two years to review it. The county must update the plan by January 2027.
The public will have a chance to dive into the county's groundwater issues during two upcoming county meetings on Sept. 22 and Sep. 29.
One question for the meetings is whether groundwater can be made simple. The groundwater advisory group meetings have often been highly technical, proving that even water can be on the dry side.
"We'll do our best to make the information as easy to understand as we can, but as you've seen, groundwater science, regulation, and law are extremely complex in California," Morrison told the Napa Valley Register.
The county will answer questions and provide links and resources at the meetings, he said.
Catch up on Napa County's top news stories
Get unlimited digital access to the Napa Valley Register for just $1 for your first 6 months! Enjoy every article without restrictions and find tons of subscriber-only perks, such as access to our daily eEdition. Click here for details!