Napa County's famed wine country a century ago was called "The County of the Stone Bridges" and the struggle continues to keep this as a fitting nickname in the 21st century.
A graceful, 1902 bridge on Highway 29 near Calistoga has apparently just escaped demolition. But a nearby, earthquake-damaged, 1904 bridge at Greenwood Avenue remains on the critical list. Many others are too narrow to meet today's bridge standards.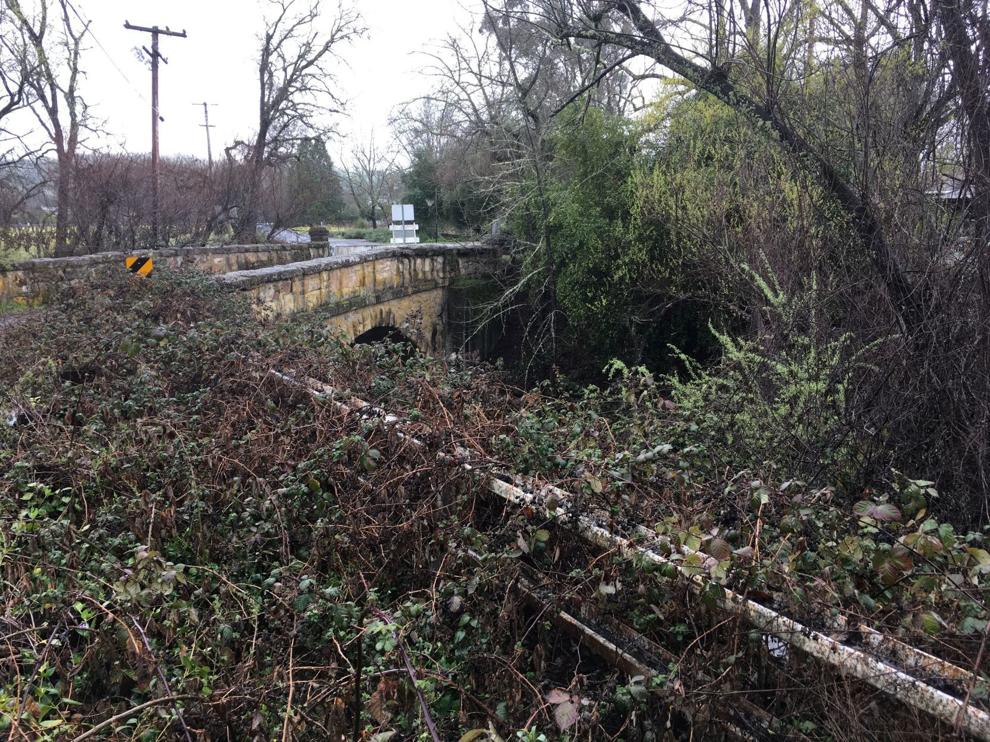 Try to replace a stone bridge with something more modern—perhaps more practical—and you're picking a fight, as Caltrans found out when it proposed demolishing that Highway 29 bridge in Calistoga.
"They are beautiful structures, that's the bottom line," Calistoga resident Dean Enderlin said. "That's why people get so passionate about these things, the stonework. Those bridges were constructed in a time when the stonework was artistic."
A bridge constructed with stones cut without the aid of power tools and fit together by hand, with the masons and their families camping at the site for perhaps a summer—that's something no longer seen in this age of concrete.
Caltrans reports the county once had 60 to 70 public masonry arch bridges made of rock from local hills. The total may have reached 326 in 1914 with private bridges, stone culverts and other smaller structures included.
A 2003 Caltrans study on public masonry arch bridges showed 43 remained in California and 29 were in Napa County. Two Napa County bridges have since been dismantled, so the local total by the agency's estimate is 27. Bridges spanning less than 20 feet were considered culverts and not counted.
"They are a connection to our past that are still in use today," said county Supervisor Diane Dillon, a local history fan.
A variety of forces converged to make Napa County the state leader in stone bridges, according to Caltrans. One is that the pioneer-day county had largely depleted its timber supply, but had plenty of quarries. Another is a landscape with plenty of creeks and the Napa River bisecting the Napa Valley.
"The authorities early decided that bridges of stone were not only superior, but cheaper in the long run than wooden structures, notwithstanding their great costs," Thomas Gregory wrote in 1912, amid the stone bridge-building heyday.
Most of Napa County's stone bridges are in good structural shape, according to the Metropolitan Transportation Commission's Vital Signs data base. But many are "functionally obsolete" meaning they don't meet modern roadway standards.
These works of art must be workhorses if they are to survive. Whether Napa County's stone bridges can remain a constant in a changing world is a big question mark.
Even three of Napa County's eight stone arch bridges on the National Register of Historic Places are having brushes with their masonry mortality.
Number one on the endangered list is the 1904 Greenwood Avenue bridge over Garnett Creek near Calistoga. The 2014 South Napa earthquake dealt it a cruel blow despite being centered 30 miles away.
"It's strange, I will acknowledge that," county Public Works Director Steven Lederer said. "As near as we can tell, it is the most northerly piece of damage we could find from the earthquake. For whatever reason, the earthquake hit that bridge particularly hard."
The quake caused cracks throughout the structure. If this was just a run-of-the-mill concrete bridge, it would be a tear-down.
But this is a prized stone arch bridge. John C. Money, a local contractor portrayed in a photo with a bushy mustache, built it for the county at a cost of $2,310.
The county is doing an engineering study to see if the bridge can be saved and at what cost. In the meantime, it remains closed to both auto and foot traffic.
"Given the historic nature of it and the desire of the community, we're looking very hard at the rehabilitation option," Lederer said.
The nearby 1902 Highway 29 bridge over Garnett Creek also faces challenges. Caltrans in 2011 said scouring had eroded the pillars and foundations. Use by trucks had caused cracking.
Faced with the choice of destroying and rebuilding the bridge or rerouting the highway, Caltrans balked in 2012. It put the issue on hold after holding community meetings.
"Caltrans is continually monitoring the bridge," Dillon said. "We've encouraged them to see what they can do to prevent further scouring issues."
This bridge apparently will be saved. Caltrans spokesman Vince Jacala said recently that the agency plans to repair the bridge footings, piers and abutments. Work is tentatively scheduled to begin in November 2020.
Enderlin, stone bridge fan that he is, hailed the news.
"I sympathize with Caltrans' situation, too," Enderlin said. "It's a narrow bridge. I'm sure it doesn't meet any modern highway standards as far as width goes."
Another threatened bridge takes Hardin Road over Maxwell Creek in the Pope Valley area. J.B. Newman, a famed local stonemason who championed stone bridges and built his share of them, constructed it in 1909 for $1,875.
The bridge is structurally deficient, which doesn't mean it's about to fall down, but that its condition needs to be addressed, Lederer said. The county will study the bridge to decide whether the solution is repair or replacement.
There may be hope the bridge isn't too far gone. The MTC Vital Signs web site rates it as being structurally sound, though this information may not be as up-to-date as the county's assessment.
Stone arch bridges can be found amid the hustle-and-bustle of city life. The city of Napa has ones over Napa Creek at Main Street, Pearl Street, Seminary Street and Jefferson Street and over Tulucay Creek on Soscol Avenue.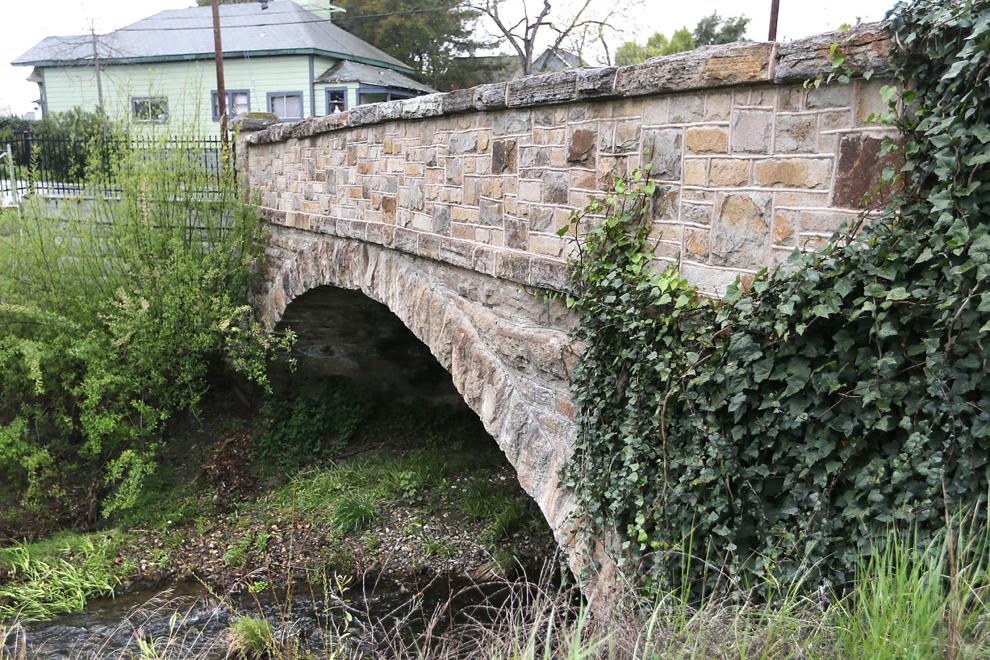 "They've been there for a hundred years and they're still working," city Deputy Public Works Director Eric Whan said.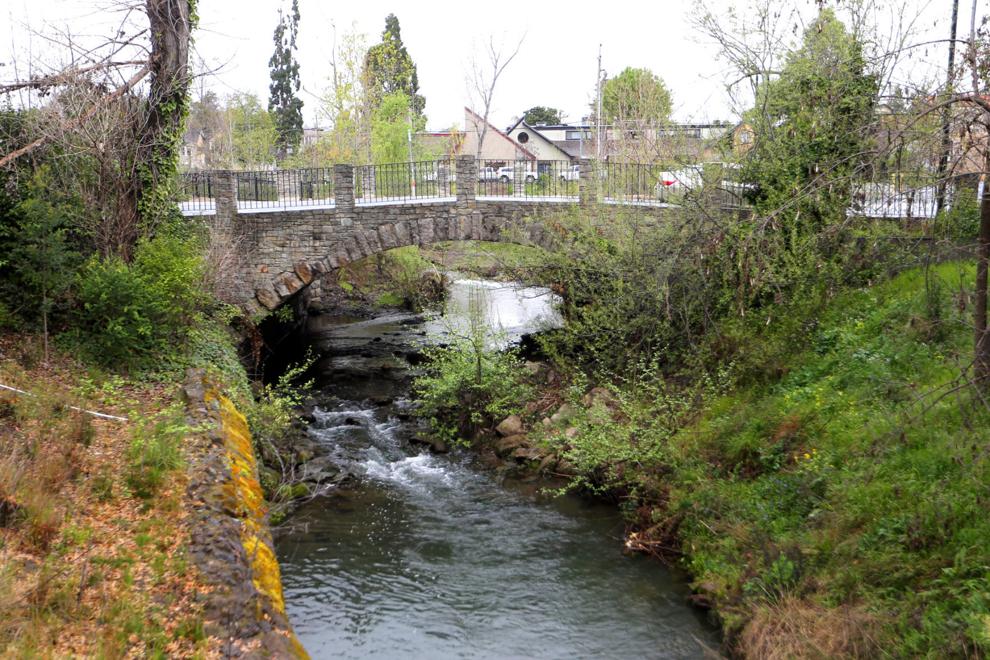 They don't meet design standards for modern bridges, but are structurally sound. The Romans built stone arch bridges that are still standing, he added.
But sometimes a stone bridge doesn't fit in with modern needs. Demolition crews removed the 1862 First Street bridge over Napa Creek in 2004 and 1920 Coombs Street bridge over Napa Creek in 2012, both for the downtown flood control project.
Stones from the First Street bridge are stored at Milliken Reservoir, with marks on them so that the bridge can be reassembled. That hinges on finding a place that needs a bridge of this dimension.
"If we ever had an opportunity, we would definitely look at it," Whan said.
The city also saved stones from the Coombs Street bridge, not to build another bridge, but to incorporate these pieces of history into the modern world in other ways. Whan said he believes several stones are decorating the new China Point park at First Street and Socol Avenue.
The 1860 Napa Creek bridge on Main Street next to Cole's Chop House holds a special place of honor – it is the oldest stone masonry bridge still being used in the county and the state, according to a Caltrans report.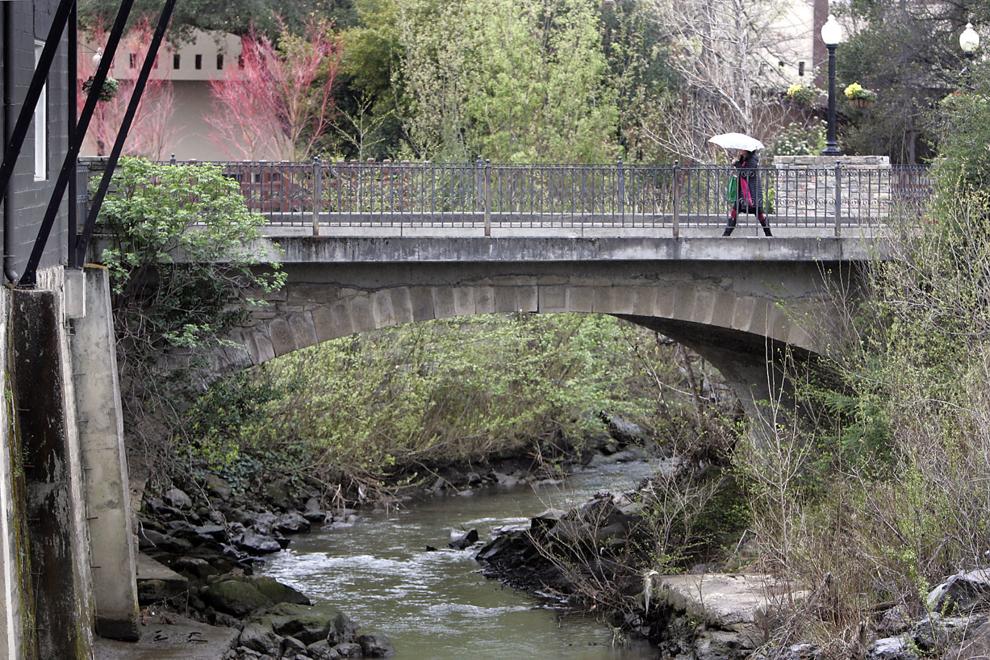 It's a reclusive star, though, with no plaque proclaiming its presence. People walking on the modern sidewalk with a modern iron railing might have no idea they are on a 158-year-old structure. It's a stealth stone bridge.
Passersby with a little effort can view the bridge's graceful arch topped by an "1860" keystone. The viewing area is at Napa Creek just south of Cole's Chop House.
A Caltrans report concluded the bridge isn't eligible for the National Register of Historic Places. It's been modified too much beyond its original form.
But the bridge has local historic status. The history preservation group Napa Landmarks in 2011 successfully petitioned the Napa City Council to designate the 1860 Main Street bridge as a local landmark.
Other bridges are within the limits of other cities, including the Pope Street Bridge over the Napa River in St. Helena. This is a triple-arch beauty built in 1894 by contractor and St. Helena resident R.H. Pithie at a cost of $17,500. It is on the National Register of Historic Places.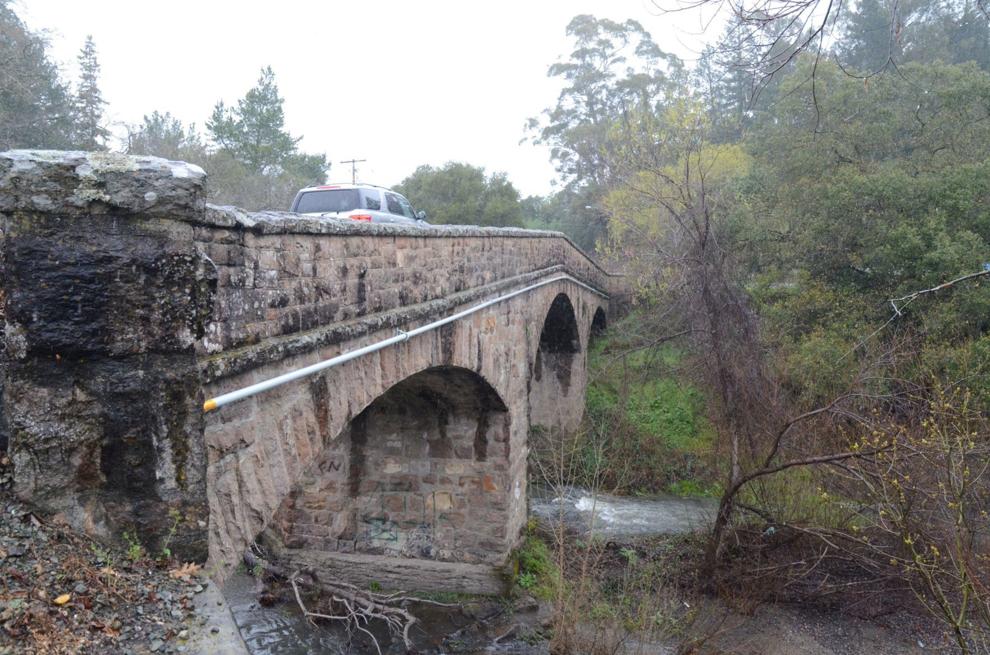 This bridge is one of Dillon's favorites. Her grandmother used to go over it in a horse-and-buggy when traveling from Conn Valley to St. Helena.
MTC's Vital Signs database rates this bridge as being structurally sound but functionally obsolete. Lederer said it is a narrow bridge challenged by today's traffic.
The county faced a similar problem a few decades ago with the 1908 Milliken Creek bridge at Trancas Street and Silverado Trail. Rather than tear the bridge down, it built a parallel bridge to handle some of the traffic.
"That's one approach that can work in certain cases and preserve a bridge and still meet today's need," Lederer said.
Stone arch bridges are supposed to take people over water. Still, the grandest local stone arch bridge of all – Napa County's masonry masterpiece—is beneath Lake Berryessa and can be reached using scuba gear.
That is the 1896 bridge spanning Putah Creek. Built by R.H. Pithie at a cost of $19,980, it garnered praise from State Bureau of Highways Commissioner R.C. Irvine at its grand opening ceremony.
"He pronounced the bridge the finest structure of its kind west of the Rockies," The Weekly Calistogan reported.
Ben Blow in his 1919 book "California Highways" wrote that Napa County had more stone bridges than all the other counties combined. Chief among them, he wrote, was the Putah Creek bridge.
A 1949 Napa Sunday Journal article on a trip to the Berryessa Valley in a Pontiac sedan called out the Putah Creek bridge.
"An artistic stone structure, it is itself a historic landmark," the story said.
Then the U.S. Bureau of Reclamation built Monticello Dam in the late 1950s to create Lake Berryessa. The townsite of Monticello and the Putah Creek bridge about a mile-and-a-half away went underwater. There the bridge remains beneath the middle of the reservoir, a sight for fish and divers.
The Putah Creek bridge is underwater, so it doesn't appear on the MTC Vital Signs ratings. If it did, it might be listed "structurally sound" but most definitely "functionally obsolete."
Napa County has lost many of its star stone bridges over the decades. Still, it remains "The County of the Stone Bridges," with more than any other California county. The ongoing challenge is to keep them.
"And the wine is bottled poetry," says the iconic Welcome to Napa Valley sign. If so, the county's graceful stone arch bridges crossing the Napa River and trickling creeks qualify as visual poetry.