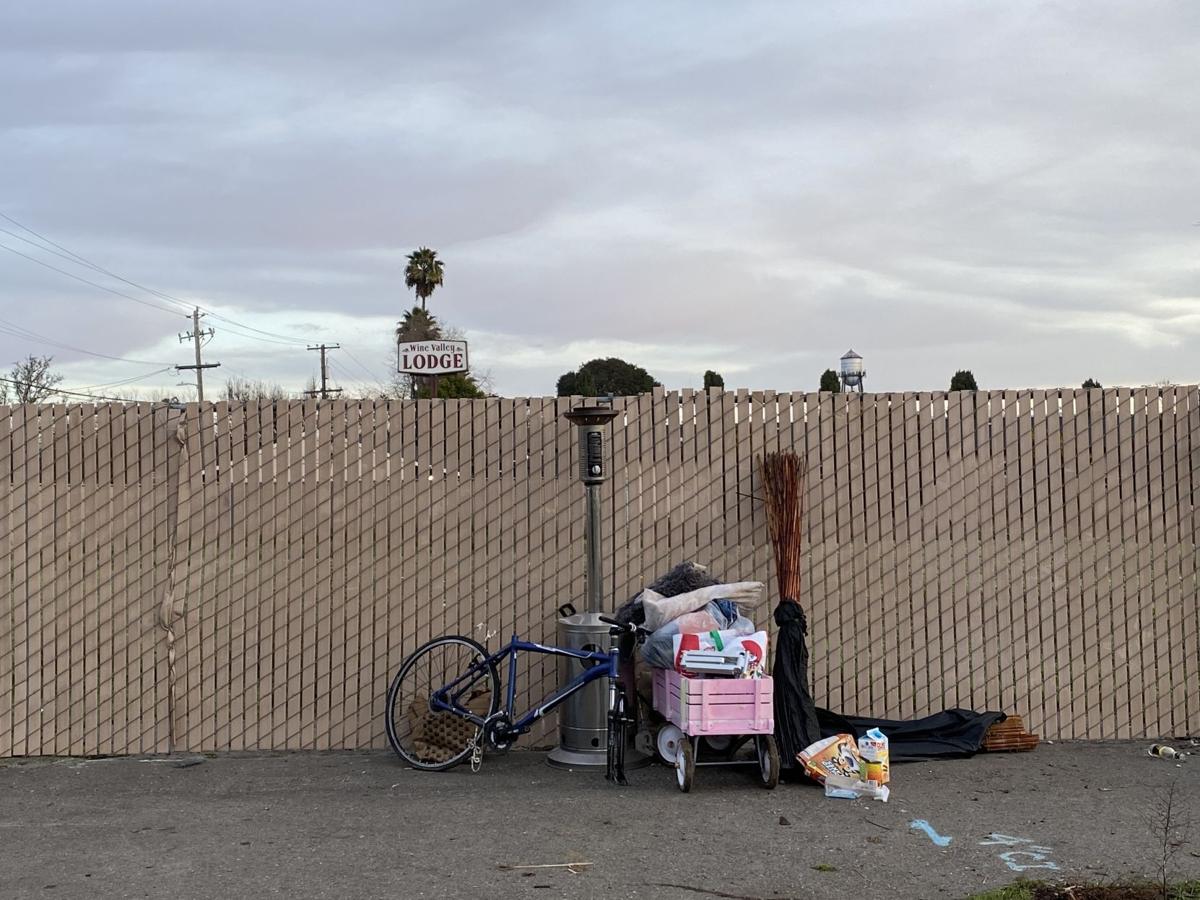 Napa County's one-day homeless count in late January tallied 464 people, with county officials attributing the 44% increase from recent years to more widespread counting.
The number is a snapshot in time, with counters looking for people who sleep in tents, cars, campers, and on the streets, as well as in shelters. It compares to the 2019 tally of 323, the 2018 tally of 322, the 2017 tally of 315 and the 2016 tally of 317.
Napa County last week announced this year's total.
Searchers in past years focused on hot spots. This year, they focused on the entire county as the homeless population has spread out, county Homeless and Housing Services Director Molly Rattigan said.
"You see more people sleeping in their cars at the north Napa Target, where maybe you used to see it only at the south Napa Target," she said. "You see it at the Walmart in American Canyon. You're seeing it over by the food bank."
Also, the county for the first time contracted the work out to Applied Survey Research, a firm that handles the counts for most Bay Area counties. About 47 searchers assembled at the South Napa Shelter at 5 a.m. Jan. 30 to get instructions for a four-hour counting blitz.
The mix of county staff, local service provider employees, Napa Police Department Outreach and volunteers broke into 12 groups. Teams were led by someone who was homeless or was formerly homeless.
That 464 total homeless can be broken down in various ways: 161 in shelters and 303 out of shelters; 72% male, 28% female; 50% non-Latino white, 19% Latino, 10% Native American and 21% other.
Counters talking to the homeless found 63% had been in Napa for 10 years or longer. Eighty-four percent said they had a Napa County address before becoming homeless.
"It's a localized issue," Rattigan said. "We don't see a lot of transition from other counties. When we do, it's mostly from Solano County and Lake County."
Some 73 percent of the homeless counted said they had serious mental illness, 62% said they had a substance abuse disorder, 48% said they had experienced abuse, 44% said they were chronically homeless, 41% said they had a chronic health condition and 13% said they were veterans.
Napa County has the 69-bed South Napa Shelter on Hartle Court that is to expand by 28 beds, the 55-bed winter shelter at Napa Valley Expo, seven family shelter units and the 11-bed Nightingale Center.
Changes have come with COVID-19, with the winter shelter shrinking to 44 beds, being kept open 24 hours a day and being kept open into the summer at least until Aug. 30. The county leased a motel to house homeless people at high risk of COVID-19 and it has served 66 people since March.
The Napa County Board of Supervisors last week heard a report on the homeless count.
Supervisor Belia Ramos said steps taken amid the COVID-19 pandemic have put roofs over people's heads. Supervisor Brad Wagenknecht said the some homeless in desperate situations have been housed.
"That's the bottom line in what we've been doing here...all the rest is just numbers. This is real," Wagenknecht said.
The point-in-time count is one measure of Napa County's homeless, one required under the federal McKinney-Vento Homeless Assistance Program. But it's not the only one.
"I don't think it's the only way to tell our story," Rattigan said.
For example, the Homeless Management Information System is used to collect client data and data on homeless services. It recorded 552 clients for the first six months of the year, compared to 615 for the first half of 2019.
The point-in-time count is overseen by the Continuum of Care, a local body that coordinates housing and funding services for the homeless.
Watch: Meet homeless Californians trying to survive a pandemic
Get local news delivered to your inbox!
Subscribe to our Daily Headlines newsletter.