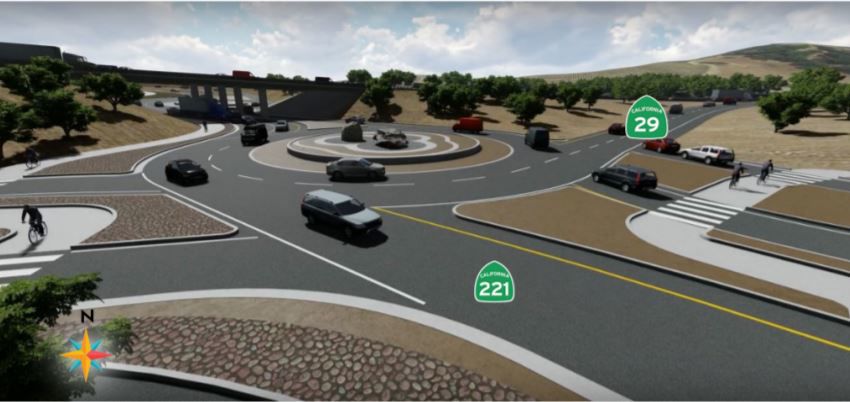 A 30-year, more than $500 million Napa County transportation list with 77 projects is a road map to the area's roads of the future, as well as its bike paths and transit service.
The Napa Valley Transportation Authority (NVTA) has honed a list detailing how to spend anticipated federal, state, regional and local transportation revenues through 2050. Projects range from major Highway 29 improvements to an Oxbow Preserve pedestrian bridge in the city of Napa.
The list amounts to a seven-page plan to combat traffic congestion presently in a lull because of COVID-19 restrictions, but no doubt ready to return when restrictions are lifted.
"It would be great if we could accomplish all of it," Napa Valley Transportation Authority Executive Director Kate Miller said.
Miller didn't promise that outcome, saying that peering into the future is always a guessing game. She called the list a vision and a way to focus on goals.
This envisioned Napa County of 2050 would have big projects completed that have been publicized before, such as Soscol Junction improvements to ease congestion at Highway 29 and Highway 221. Miller said the $60 million undertaking near the Grapecrusher statue could break ground in summer 2021.
"That intersection gets more traffic than any other intersection," Miller said.
Several projects are listed as to come sooner rather than later over the 30-year period. They include Soscol Junction, Silverado Trail roundabouts in the city of Napa, Main Street improvements in St. Helena and Highway 29 intersection improvements at Carneros Junction at highways 121/12.
A new twist is a $12 million Napa Traffic Management Control Center for local highways. It would be a smaller version of the Bay Area's traffic center, where transportation officials monitor highway conditions using video panels and coordinate roadway advisories and accident management.
"That's going to be more critical as we introduce emerging technology, such as autonomous vehicles," Miller said.
Highway 29 is to have changeable message signs to direct traffic when there are accidents and congestion. Miller said the signs would be particularly important during an emergency, such as a major wildfire near Napa Valley.
The planned Highway 29 of 2050 would have a $50 million interchange at Airport Junction, at the entrance to Jameson Canyon. But, while waiting for that to happen, the NVTA wants to improve the existing intersection at a cost of $3 million to provide nearer-term congestion relief.
In rural Napa Valley, major intersections would be improved along Highway 29 to the west and Silverado Trail to the east. A solution would be found for Highway 29 traffic signal backups at Madison Street in Yountville.
The city of Napa's proposed projects include extending Trower Avenue east to Big Ranch Road and extending Solano Avenue south over Napa Creek to First Street. Salvador Avenue would have bike lanes and sidewalks.
The St. Helena of 2050 could have extended versions of Oak Avenue, Starr Avenue and Adams Street. American Canyon could have a $50 million Newell Drive extension to South Kelly Road.
About $56 million is to go toward making life easier for bikers and walkers. That includes building new Vine Trail segments and building a Napa River trail in St. Helena.
The NVTA Board of Directors approved the list at its March 18 meeting.
"Over time, would we be allowed to move the dollar allocations from one project to another based on changing circumstances?" NVTA Board member and American City Councilman Mark Joseph asked.
NVTA Capital Development and Planning Director Danielle Schmitz assured him the list isn't set in stone for 30 years. Rather, it is updated every four years.
Napa County has a target budget of $510 million for the list. The list exceeds this by $130 million, mostly mass transit projects such as upping frequency on Vine bus routes and buying new buses and shuttles to expand services.
Transportation officials have said they will seek other transportation dollars beyond what is expected, such as grants, for proposed projects.
The list is to become part of the Metropolitan Transportation Commission's Plan Bay Area 2050. Plan Bay Area under state law must integrate transportation, housing and land use for the nine-county Bay Area.
The NVTA Board of Directors in June 2019 approved a list of regionally significant projects. An agency report said the latest list is the last step in updating projects and programs for Plan Bay Area.
Get local news delivered to your inbox!
Subscribe to our Daily Headlines newsletter.