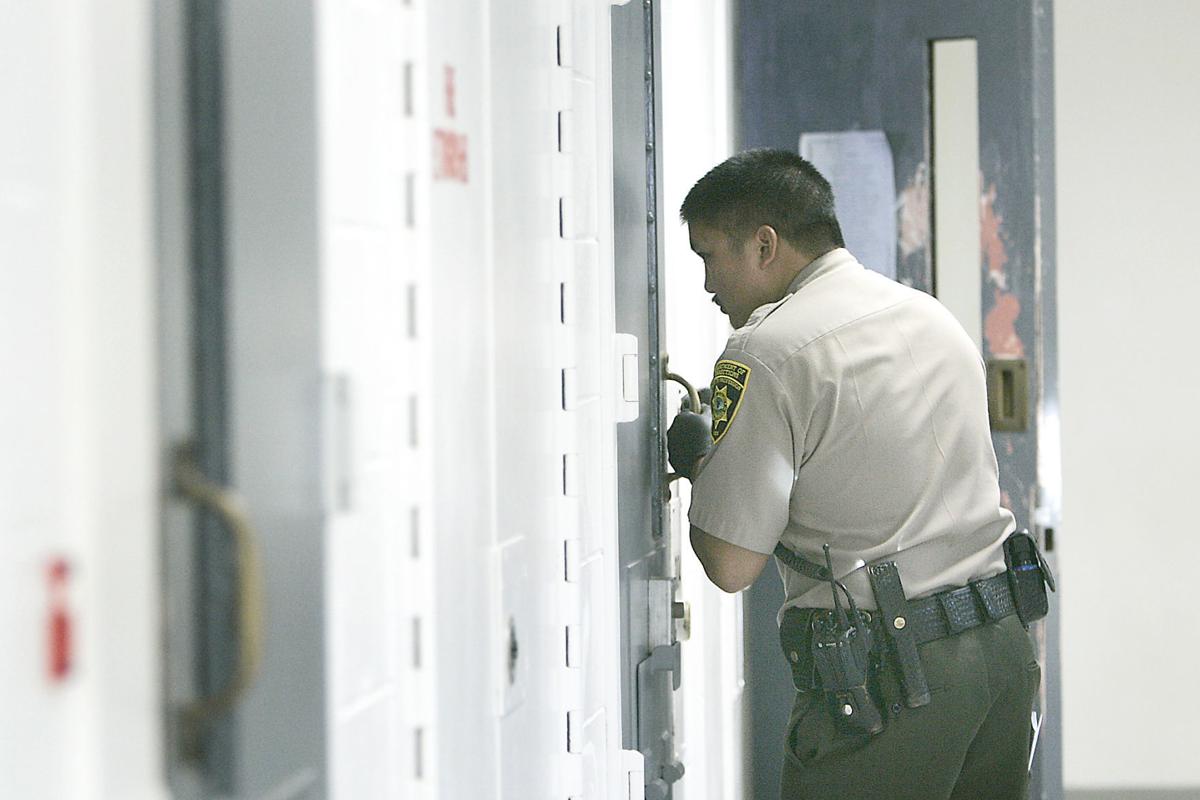 The county deputy sheriff's union says focus on the immigration status of the late Javier Hernandez Morales — an undocumented immigrant who was killed last month after shooting at a deputy — is misdirected.
The true threats to society and safety are criminal justice reforms passed by California voters and legislators in recent years, the Napa County Deputy Sheriffs' Association wrote in a statement Tuesday.
Law enforcement professionals across the state have expressed skepticism of criminal justice reforms passed in California. Many officers say anecdotally that the legislation has increased the rate at which some offenders cycle in and out of jail, and the union wrote that those laws prohibit law enforcement and courts from punishing criminals appropriately.
Told of the criticisms, a Sacramento State criminal justice professor says the union's claims aren't supported by statistics and state crime rates haven't been affected by these laws.
Sheriff John Robertson declined requests to be interviewed for this story because it dealt with issues raised by the union. "I'm not a part of the (union) so I'm not going to speak to their statement or about it," he said through a spokesperson.
"Javier Hernandez Morales' immigration status is just one small component of a much larger picture," the union wrote.
Hernandez Morales had been arrested five times in Napa County between 2010 and 2016 before he shot at Deputy Riley Jarecki, who approached his car while patrolling her beat in a rural part of the county on the night of Feb. 17. Rumors began circulating online that he may not have been lawfully present in America.
U.S. Immigration Customs and Enforcement (ICE) said later in a statement to Bay Area TV station ABC7 that Hernandez Morales had been deported three times, and the Napa County jail ignored three requests in 2014, 2015 and 2016 to detain him until ICE agents could arrive. The county gave ICE a courtesy call each time, as required by state law in those years, and had previously turned him over to ICE in 2010, before those laws went into effect, said Ryan Gregory, chairman of the county Board of Supervisors.
The union criticized four pieces of legislation:
— Proposition 57 from 2016 allowed certain nonviolent offenders to be considered for parole sooner, among other things. It "paved the way for early release of hardened felons," the union wrote.
Supporters say it helped reduce the prison population and rehabilitate offenders.
— Assembly Bill 109 from April 2011 was drafted in response to a Supreme Court order that California reduce its prison population, so legislators opted to move some prison inmates to county jails. This "shifted thousands of convicted felons from state prisons to county jails," the union wrote.
A 2015 report by the Public Policy Institute of California found that the state still had not met the prison population target.
— Senate Bill 54 from 2017, known as the Sanctuary State bill, limits how much state and local law enforcement agencies can work with immigration officials. The law "allows criminals who are illegally living in this country … to engage in further criminal activity," the union wrote.
Supporters say the law builds trust between immigrants and law enforcement in a community.
— Proposition 47 from 2014, which downgraded many theft and drug felony charges to misdemeanors, worsens negative impacts of the other three pieces of legislation and "makes it almost impossible to lock up serial offenders" for drug and property crimes, the union wrote.
A Public Policy Institute of California analysis last year found that the proposition seemed to increase property crime and larceny theft rates, but reduced recidivism rates.
Bill MacDonald, senior deputy sheriff and vice president of the union, declined to provide specific examples about how this legislation may have impacted the county. But MacDonald said Napa Valley is fortunate because it has a lower crime rate than other parts of the Bay Area.
The union also wrote that politicians and biased media reports cast law enforcement in a negative light.
"The normalization of criminal conduct by the media, the entertainment industry and continued downplay of criminal conduct by politicians" negatively impact law enforcement and communities, the union wrote.
Jennie Singer, a Sacramento State criminal justice professor, said those four criminal justice reform measures were positive changes for California's overly punitive criminal justice system and that she would like to see them implemented nationwide. She called the union's statement a "moral panic" in response to a situation in which an officer was shot by an immigrant who should not have been in the country.
"Highlighting one bad thing that an immigrant did is very small compared to all of the millions of immigrants that we have in California that need our protection," she said.
Singer supported AB 109 overall, but took some issue with moving prison inmates to county jails. The bill claimed to target "nonsexual, nonviolent, non-serious" offenders, but officials only considered a person's most recent crime, she said. Someone could still qualify for a move to county jail if they had committed five violent crimes in the past, but were serving time for a nonviolent crime, for example.
The bill also appropriated funding to counties to create rehabilitation programs for such individuals, but some counties did more than others, Singer said.
She was not critical of the other pieces of legislation, including Proposition 57 to allow nonviolent offenders to receive a quicker parole hearing. People who committed minor felonies are less likely to reoffend if they spend more time out in the community, Singer said.
Proposition 47 to change many drug and larceny felonies to misdemeanors is a more rehabilitative solution.
"Addiction is a disease, not a crime," she said, adding that jail time is criminogenic, or makes it more likely for people to commit crimes.
Gregory of the Board of Supervisors expressed a desire to speak with area state representatives Sen. Bill Dodd and Assemblymember Cecilia Aguiar-Curry about the state's criminal justice laws following the Sheriff's Office's recent officer-involved shooting. It's a misconception that the board has any sway in making such policy changes, he said.
Gregory said he felt it would be positive for immigration authorities to have a closer working relationship with the Sheriff's Office, as was once the case.
"None of us want criminals on the streets," he said. "If ICE can be a partner, great."
Robertson wouldn't speak for this report, but gave a 15-minute interview Tuesday on Napa Broadcasting that addressed some of the same issues outlined in the union's statement. Robertson spoke generally and not with regard to the union's statement.
Like Gregory, Robertson said he wished local law enforcement agencies had more freedom to work with federal officials.
"When we are presented with cases of repeated violations … I think it's really important that we're allowed to contact them and not wait" for immigration officials to reach out first, he said on the radio.
The investigation into whether Deputy Jarecki lawfully discharged her weapon is still open.
Get local news delivered to your inbox!
Subscribe to our Daily Headlines newsletter.