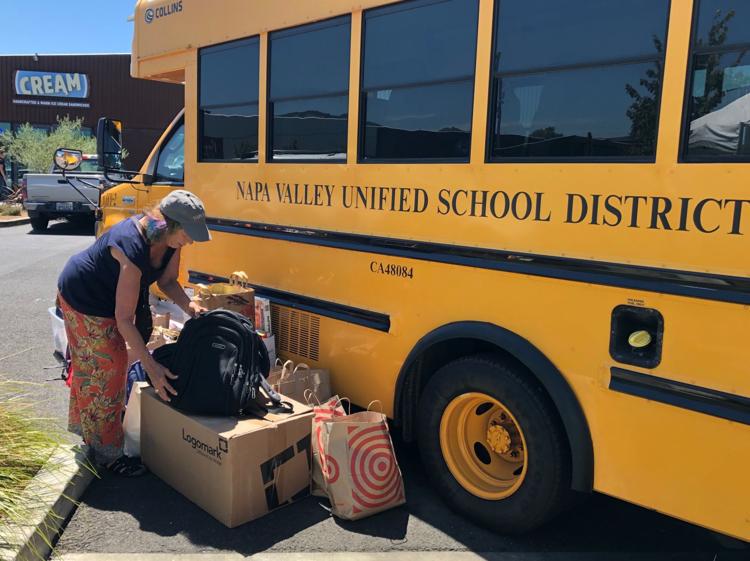 A bright yellow school bus stood out among the tents at Saturday's Napa Farmers Market.
Next to it sat boxes of backpacks, glow-in-the-dark glue, tissues, markers, erasers, binders and a "butterfly bungalow." The bounty will soon be in the hands of Napa Valley teachers who visit the Teacher Resource Center of the North Bay's free store ahead of the 2019-2020 school year.
Saturday marked the organization's fifth annual "Fill the Bus" drive for donated supplies and monetary donations to purchase supplies. The organization has served 27,000 students and 41 schools, and fulfilled 2,700 orders for teachers, according to its website. The center puts the value of the average order at $320 to $400.
Nancy Fireman, a longtime volunteer for the center, said she was a believer in the organization's work after helping a teacher load her car with supplies during the first year of the center's operations. The teacher told her that the donated supplies would allow her to buy her children shoes.
"That immediately got my heart," she said.
The Teacher Resource Center of the North Bay helps kids who come from families without much money. Teachers are always grateful for the donations, and some people donate supplies such as computers, printers or filing cabinets.
"Our free supplies offset (teachers') out-of-pocket expenses," said Kathleen Montgomery, the center's executive director. "They are thrilled."
Montgomery, who has been with the center since its 2010 founding, said it was created after a friend, who was a teacher, showed Montgomery a flyer that her school had sent out. It asked parents to purchase a number of supplies and donate $100.
"I just saw a need with my own personal teacher friends," Montgomery said.
You have free articles remaining.
The center receives so many donations that it doesn't run out of supplies, she said. Montgomery invited more teachers to reach out and collect donated supplies for their students.
A U.S. Department of Education Survey determined that 94 percent of teachers spent their own money on supplies in the 2014 to 2015 school year, according to a New York Times article. Those teachers spent an average of $480 each.
Montgomery said she knows of a teacher who spent $1,000 out of pocket on supplies.
The Teacher Resource Center of the North Bay is a grassroots organization that does not receive government dollars. It relies on volunteers and donations.
"It's really community-driven," she said.
The Farmers Market was a good match for the center's mission, Montgomery said. It was her first year fundraising at the venue and she said the group seemed to get more donations than usual. And the school bus, which the school district donated for the day, caught the attention of unsuspecting shoppers. Some people who didn't know about the supply drive in advance gave cash.
The Teacher Resource Center of the North Bay is still looking for volunteers and collecting donations for the 2019 to 2020 school year. Anyone interested in dropping off new or gently used supplies may visit: Browns Valley Market, Grocery Outlet, Nob Hill, Whole Foods, Bank of Marin (Redwood Rd), Sunshine Market (St. Helena) and Yountville Community Center.
Anyone interested in making a monetary contribution can learn more online at bit.ly/2MA6jKx.
Teachers may visit the free store at 1135 Golden Gate Drive.