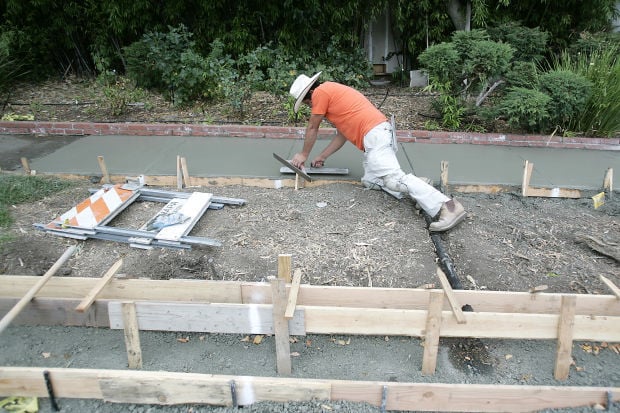 Napa's Public Works Department says it can do better to communicate its framework for prioritizing certain projects and its progress to the public, as suggested by the Napa County Grand Jury in May.
The department rejects, however, Grand Jury findings that the sidewalk repair program is subjective, inconsistent, disorganized and slow to respond to requests.
Of the Grand Jury's 10 findings, Public Works Director Julie Lucido told City Council recently that staff "agreed" with two, "disagreed" with two and "partially disagreed" with six. Lucido added state law mandates the city's position on each of the jury's findings fall into one of these three "prescriptive" buckets.
The Grand Jury report directed its probe into the Napa Neighborhood Streets and Sidewalks Program, a long-term plan to pave 10 miles of residential streets every year and overhaul the accompanying sidewalks, and the priority areas, repairs to higher-risk damages that require attention outside this larger plan.
Grand Jury critiques center on two primary themes: Public Works' programming and written plan detailing that procedure and the communication of those programs with the public.
Most damning was its assertion that the Public Works Department puts resources towards the neighborhood streets program rather than addressing the individual segments of walkways that "present the most serious tripping risks" throughout the city.
Lucido emphatically denied this claim. "We are constantly making repairs and those are mitigating risk," she said of the suggestion that the department spends valuable money and person-power on any projects that don't remove serious tripping risks.
Though most of the sidewalk repair budget does go toward repairs that are part of the larger repaving program, Lucido said the "neighborhood-by-neighborhood level" approach allows the city to tackle five times the number of sidewalk displacements as it would with a piecemeal approach, more efficiently allocate resources and simultaneously install handicap-accessible curb ramps and restore gutters and drains to avoid necessary fixes after new streets are paved.
Other findings from the Grand Jury involved what it deemed to be inconsistent verbiage used throughout agency-issued information, the lack of a written policy for determining which priority projects – those that aren't part of the broader neighborhood streets and sidewalks plan – are to be undertaken, and poor communication with residents about project status and schedule.
The city partially disagreed with all of these conclusions, other than the claim the department doesn't "adequately inform residents" of the sidewalk repair schedule, with which it disagreed outright.
Lucido conceded Public Works has, to date, lacked a written plan for scheduling priority sidewalk repairs, but clarified how locations are selected based on a set of criteria including the severity of the displacement, anticipated pedestrian volumes and coordination with other ongoing city projects.
She told City Council her team is currently preparing a written department policy that will "be used in prioritizing limited resources to address high-priority repair projects" by Dec. 31 and that they will continue to aim to complete 50 of these repairs each year. It also plans to roll out a new software that helps to analyze potential repair impact, automate work orders and manage project status.
Lucido also emphasized that no repairs are considered "one-offs," though she acknowledged some staff members likely used this term to describe certain undertakings in conversations with members of the Grand Jury.
"To me, 'one-off' sounds like it's not part of a program," Lucido said, clarifying that every repair is carefully evaluated against the aforementioned criteria and considered as part of the larger efforts of Public Works to address Napa's sidewalk needs.
City officials and grand jury members did agree the existing cost-share program intended to offset the cost for homeowners who want to spearhead their own sidewalk repair isn't keeping pace with the cost of construction. They also shared the belief that there needs to be a better way to assess how the work order assets management system is assisting staff in managing project requests.
The Grand Jury report included a series of recommendations for the Public Works Department to address some of the concerns it raised as a result of its investigation. Of those eight, the city agreed to implement six of them.
It agreed to clear up vocabulary, provide a written department policy governing how priority projects are ordered, create an interactive digital map to display locations of sidewalk repairs, establish performance metrics for the new work order system and make sidewalk repair schedules more readily accessible on the city's website. All will be implemented by year's end.
City staff said it would not comply with two of the recommendations put forth by the Grand Jury. First, a specific policy ensuring timing accountability for priority repair projects, which Lucido said is already addressed through the existing performance goal of 50 priority repairs each year, the roll-out of citywide temporary repairs and the cost-sharing program.
Second, the development of a five-year plan to fix all sidewalk displacements of four inches or more. There are more than 1,000 locations that meet this mark in the city's backlog, according to Lucido, and diverting already-limited resources to this goal would essentially gut all other efforts made through the strategic neighborhood approach.
She estimated the city would be able to repair the majority of the locations in the database within 10 years, though she cautioned that the projected revenue reduction over the next two years could "impact our progress."
A written response encapsulating the presentation's contents will be sent to the Grand Jury, stamped with the unanimous endorsement of City Council.
Get local news delivered to your inbox!
Subscribe to our Daily Headlines newsletter.