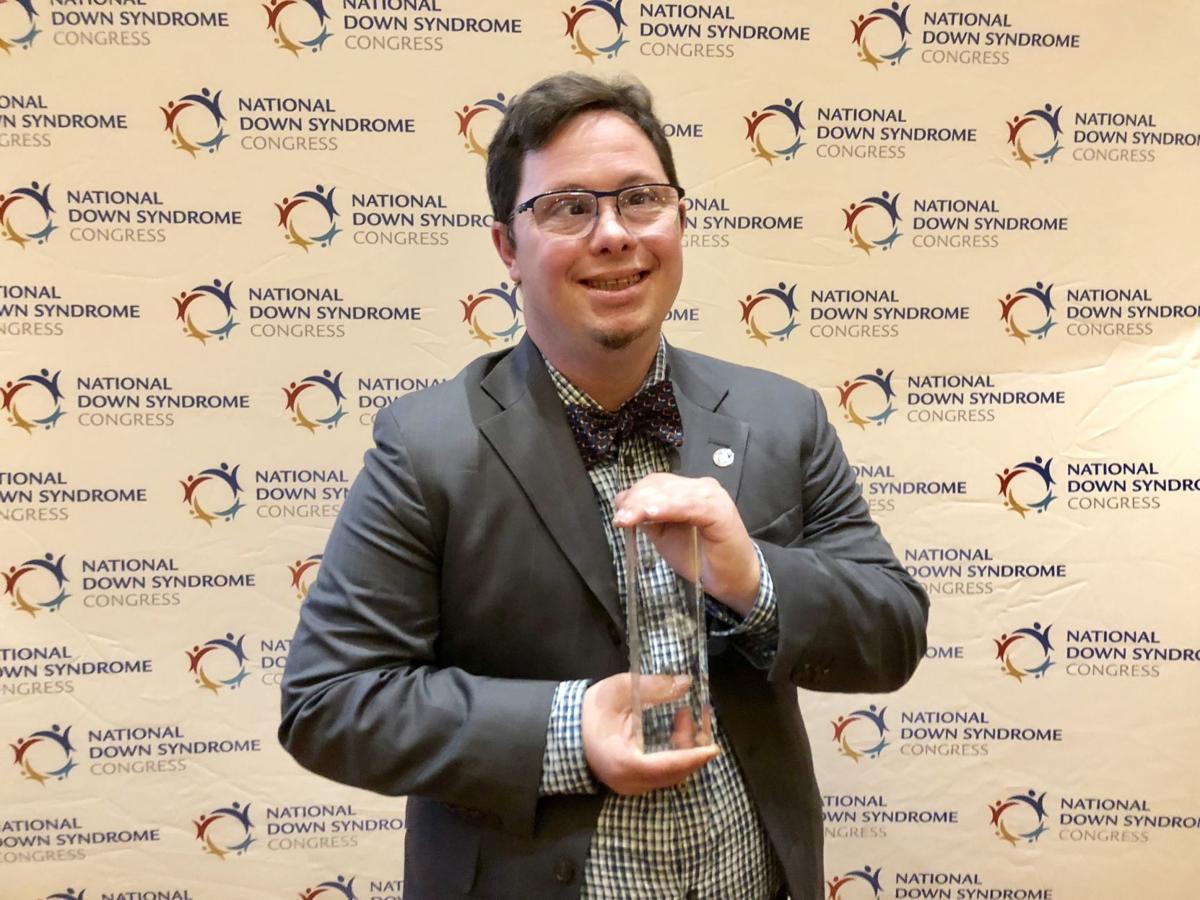 Christopher Bennett talks with his hands when he's excited, and he's got a lot to be happy about these days. The Napa resident was recently honored with the Christian Pueschel Memorial Citizen Award by the National Down Syndrome Congress.
Bennett was presented with his award, which honors self-advocates who have made strides to be role models in the Down syndrome community, during the National Down Syndrome Congress annual convention in Dallas earlier this month.
Down syndrome is a genetic disorder. The human body is made of cells which contain 23 pairs of chromosomes. People with Down syndrome have an extra copy of the 21st chromosome, which causes developmental delays. People with Down syndrome also have the distinct facial feature of wideset, almond shaped eyes.
According to the National Down Syndrome Society, approximately one in every 700 babies in the United States is born with Down syndrome, making Down syndrome the most common chromosomal condition. About 6,000 babies are born with Down syndrome in the United States each year.
Bennett, 36, has Down syndrome, but he doesn't see it as a disability. He has a job, lives on his own and has a girlfriend, just like you might expect of anyone his age.
Bennett knows people may see him as different based of the tell-tale facial characteristics of Down syndrome, but he uses these moments as opportunities to educated people about Down syndrome rather than shy away from people.
"When someone comes up to me and asks questions, I am always friendly," Bennett said. "I make sure to make eye contact when we are talking. I want to be supportive. I know they aren't trying to be rude or mean. They are curious because, to them, I look different. But I like to help them understand that we are more alike than different."
Bennett has been a self-advocate for himself and others with Down syndrome for as long as he can remember. His resume of self-advocacy efforts include participating in the Partners in Policymaking in Sacramento and serving on the Developmental Disabilities Board in Sonoma County. He's attended lobbying events in Washington, D.C. and he speaks about living with Down syndrome at public events and fundraisers.
His lifelong commitment to self-advocacy gained notice of the National Down Syndrome Congress Board of Directors, which decided to choose him as this year's Christian Pueschel Memorial Citizen Award honoree. The award was founded by Dr. Siegfried Pueschel, a trailblazer in the Down syndrome community who authored several books about the importance of self-advocacy.
Bennett is no stranger to the National Down Syndrome Congress, a nonprofit dedicated to improving the lives of individuals and families living with Down syndrome. He's been attending their conventions since he was a kid and has even been invited to speak at the event several times.
At the most recent convention, Bennett was invited to speak about his Down syndrome self-advocacy toolkit, a booklet he's written that informs people with Down syndrome about how to get involved in legislative advocacy on local, state and federal levels.
Bennett said the toolkit is a guide for people with Down syndrome to build relationships with elected officials to make sure that people with Down syndrome aren't ignored when it comes to developing and drafting new laws.
Bennett said he has met with many local leaders in Napa and Napa County. He even considers Napa mayor Jill Techel a friend. "We see each other at the grocery store all the time," Bennett said.
Bennett said he learned of being selected for the Christian Pueschel Memorial Citizen Award while he was on a pilgrimage to Israel with his church group.
"The email came in on my phone and it woke me up," Bennett said. "I read it and I was so happy. Self-advocacy is very important to me, and it is such an honor to be chosen for this award. I've been working toward this for a long time."
Bennett said he's been working to educate people about Down syndrome since he was a teenager growing up in Riverside, Calif. As a result of his Down syndrome, Bennett had some speech delays, but as soon as he could talk, he began to find his voice in the community, starting by speaking to teachers and administrators at his school.
"My parents have always advocated for me to make sure that I was included and treated like everyone else, but when I got older, they encouraged me to speak up for myself," Bennett said.
Bennett's mother Merilee said she and husband Bruce have always encouraged Christopher to speak up and practice his communication skills rather than intervening on his behalf.
"We have always encouraged him to learn to navigate life and take care of himself. He has always wanted to do what everyone else was able to do and to follow the example of his brother Brian," Merilee said.
When Bennett's older brother left home for college on the East Coast, Bennett decided he, too, wanted to go to college. He and his parents found out about a program offered at Cape Cod Community College in Massachusetts that offered studies tailored to students with learning disabilities seeking to gain skills for independent living.
"He was asked once by a friend if he wasn't nervous about going to the East Coast for school to which he replied, 'my brother went east to school,'" Merilee said. "He went and really enjoyed his time there, making friends, going to college and learning skills to be independent like how to fly on his own, which he has done since then. We are not overly protective of him nor have we been in the past. We feel that teaching a person with a disability how to live life safely is much more important and fruitful that hovering."
Bennett moved to Napa 15 years ago to join the Moving Forward Towards Independence program, a residential program for adults with developmental learning and autism spectrum disabilities. When he started the program, he lived in a group-living setting while furthering his independent living skills.
Through this program, he found work at Napa Cinedome, Taco Bell and Napa Valley General Store. Today, Bennett works at Meritage Resort Hotel and Spa in Napa in the housekeeping and groundskeeping departments.
"I really like my job at Meritage," Bennett said. "It's a five-star resort, and my job helping keep the main areas and the grounds clean is very important. We want our guests to have the best experience possible, so no matter what I'm doing, I want to offer friendly, five-star service."
Bennett works at Meritage through a contract with Napa-based WineBev Services, a program run by United Cerebral Palsy of the North Bay which helps people with disabilities find employment.
WineBev Services program director Angelica Gemo said Bennett is a model employee.
"I've known Christopher for about eight years and he's made so much progress since he started with us," Gemo said. "He's been at Meritage for about a year, and he's very diligent in what he does. He takes a lot of pride in his work. He gets along with everyone. He's a good role model, and he's great with communication."
In one of his latest self-advocacy efforts, Christopher helped create the WineBev Mentors Program where senior members mentor new clients who are just getting into the workforce.
"Christopher is always looking for new opportunities to educate people," Gemo said. "When he told me about winning his award from the National Down Syndrome Congress, I wasn't surprised. Christopher looks out for people. He likes to make sure people are all on the same page. It's what makes him a good employee, as well as a good friend and all around human being."
Rhonda Daniels, executive director of Moving Forward Towards Independence, said she wasn't surprised to hear about Bennett's award recognition either.
"Christopher is a great advocate for himself and others," Daniels said. "He's the kind of guy who lights up a room when he walks in. He's a genuine guy, a friend to the world."
As part of the Moving Forward Towards Independence program, Bennett has a case worker who he meets with weekly, but he lives in his own apartment and maintains his own schedule. In addition to his advocacy via the Moving Forward Towards Independence and WineBev Services, he's also been involved with other Napa County organizations such as ParentsCAN and Napa Valley Support Services – both of which serve individuals with developmental delays.
Bennett said his work to further advocate for people with Down syndrome is far from over. He said he'd like to create a program that he could take to local schools to teach young people about Down syndrome and other developmental disorders while also providing an anti-bullying message.
"I feel for the younger generation. I was bullied when I was younger. I don't want that for them. I don't want that for anyone." Bennett said. "We need more education for parents and teachers about how to best help students with Down syndrome and other developmental disabilities. They need training on how to work with those kids so that they (the students) have a chance like everyone else.
"We (people with Down syndrome) are productive members of modern society. We should celebrate our personal abilities, not our disabilities."