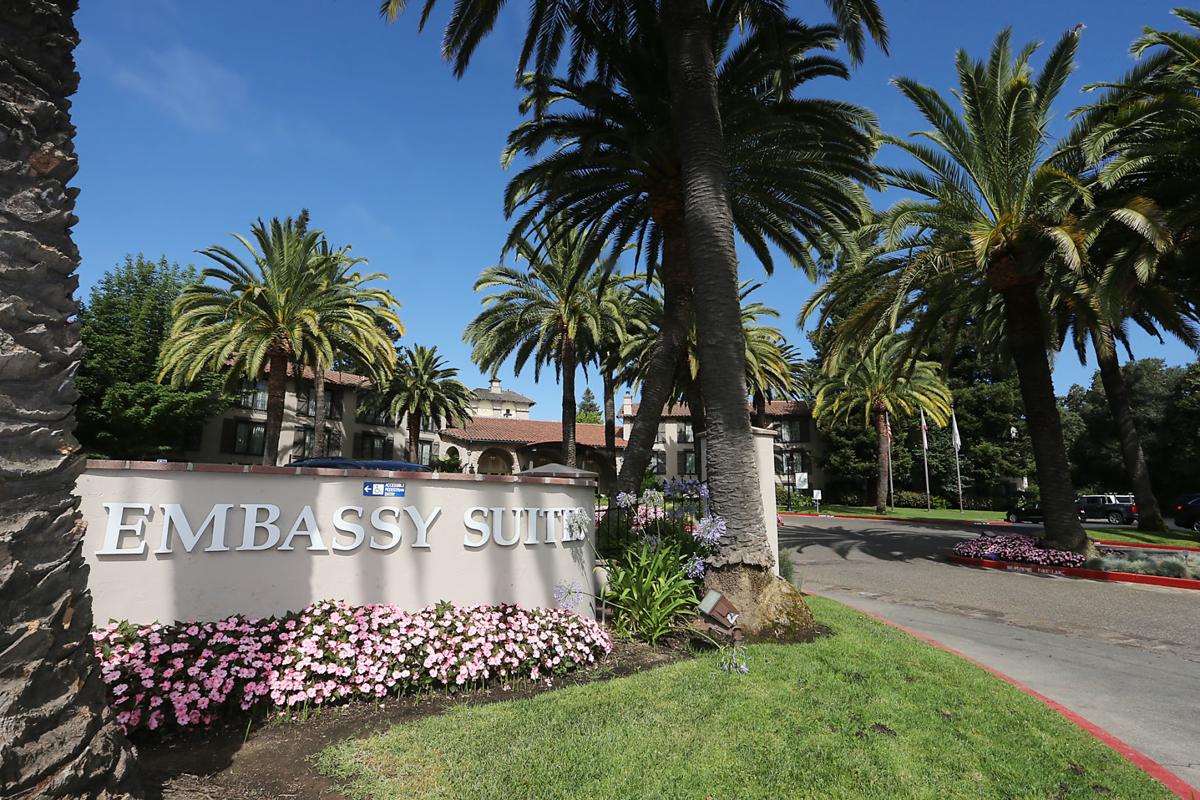 Napa's Embassy Suites hotel property has been sold for $102 million to a West Hollywood-based real estate investment firm.
According to a news release, Mani Brothers Real Estate Group purchased the 205-room Embassy Suites Napa Valley on July 12 from previous owner RLJ Lodging Trust.
The group plans an "extensive redevelopment" of the 8-acre property, said the release.
"We are excited to bring this property into our expanding portfolio of upscale hotels in one of the fastest-growing destinations within the state," wrote Simon and Daniel Mani, co-founders of Mani Brothers Real Estate Group.
"This resort-like property offers a prime location and is the perfect gateway to Napa wineries, dining, shopping and more."
A new name of the hotel has not been confirmed, but Mani Brothers plans to transform the hotel to a Curio Collection, complete with a refurbishment and overall renovation of the existing property, said the release.
Curio Collection by Hilton is an upscale hotel brand within Hilton's portfolio. Curio Collection is a 'soft' brand, meaning its hotels are supported by Hilton, but retain their own individual branding. Hilton selects independent hotels and resorts to be part of Curio Collection.
This is the second sale of the hotel in less than a year. In September 2017, the property was sold for $52.5 million when FelCor Lodging Trust Inc. was acquired by RLJ Lodging Trust.
"We have always been interested in the Bay Area, and specifically Napa County," said Gregory Day, president of hospitality for Mani Brothers Real Estate Group. "Simon and Daniel Mani are serious wine collectors and appreciate the area and the experience."
"We see nothing but future growth in the Napa hotel market as it's one of the hottest markets in the state. And with the increasing popularity in the area, we will continue to see new hotels," said Day.
"This property is a beautiful asset to our hospitality portfolio because it is both near downtown Napa as well as in close proximity to the wineries along Highway 29. The property has so much potential; it's spread over almost nine acres and feels like a mini-resort," said Day.
Day declined to state how much the renovations would cost. "We are just in the beginning stages of the design process," he said. Construction will progress "as quickly as we are able to."
As for the staff at the hotel, longtime General Manager Reynaldo Zertuche and his team will remain, said Day.
"Their service and performance has been wonderful over the years and the hotel will continue to operate as it does now," said Day.
Upgrades will include a redesign of all guest rooms and restaurant spaces, along with the addition of an exclusive full-service spa, new pools, inclusion of eco-friendly green zones and an added 54-key guestroom expansion on the vacant southern area of hotel site at 1075 California Boulevard.
That project was to come before the Napa city Planning Commission on July 19, but it was withdrawn from the agenda.
Operations will not be affected during the renovation, said the release.
The hotel also offers more than 10,000 square feet of indoor/outdoor event space, and landscaped grounds including rose garden, chef's garden, fire pits, mill pond with resident swans and large year-round pool.
According to Robert Mandelbaum, director of Research Information Services for CBRE Hotels' Americas, the group is forecasting the demand for U.S. hotels to increase by approximately 2 percent each year through 2022.
"This implies that economic indicators such as income and employment will continue to remain healthy and generate lodging demand," wrote Mandelbaum.
To compare, for the four months ending in April, Napa County's average room rate was $213.41, almost identical to the same four month period one year ago, statistics show.
Occupancy reached 74.7 percent, a 3.1 percent increase from one year ago.
The sale marks the second establishment in the group's growing hospitality collection and is the newest addition to the group's portfolio that includes some of Los Angeles' "premier office and hospitality venues."
This is the group's first investment in Napa County, "if you don't count wine," said Day.
Founded in 1994 and headquartered in West Hollywood, Mani Brothers Real Estate Group is a privately-held real estate investment firm that owns, renovates, operates, manages and leases 1.3 million square feet of commercial property.