Your story lives in the Napa Valley. Get in-depth stories from the Napa region and beyond – including news, sports, features and politics.
"I feel like I have a second chance in this life," said recent cardiac arrest survivor Rialena Bradbury on Tuesday at the ninth annual Emergency Medical Services Survivors' Reunion.
The event, according to Lois Husted, an Emergency Management/paramedic base hospital coordinator at Providence Queen of the Valley and member of the Survivors' Reunion Steering Committee, is a celebration of Napa County EMS personnel and a chance to reconnect them with some of those they have saved.
"To be able to hug the person whose life you saved, it's amazing on both ends," she said in an interview before the event.
Held at Black Stallion Estate Winery north of Napa, the ninth annual Survivors' Reunion was attended by more than 160 people. This included the five recent survivors whose stories were shared, the American Medical Response and local fire or hospital teams who saved their lives, and close family or friends.
Andrew Nothmann, an emergency physician at Providence Queen of the Valley Medical Center, hosted the event and began by thanking survivors for agreeing to share their stories. "It will be an emotional night," he said. "I've got my tissues in my back pocket."
The reunion and dinner was held in a large wine cellar, surrounded by towers of aged wine casks. Each table was decorated with flowers, tissues, and booklets detailing the reunion's sponsors.
Rialena Bradbury had come to Napa to celebrate her 41st birthday, and after going for her customary five-mile morning run on Sept. 5, 2020, was driving down Highway 29 with her husband, Dirk De Bruyker, and their 12-year-old daughter. Bradbury was critiquing De Bruyker's driving when he merged into an inner lane and got stuck between two 18-wheelers. He had to slam on the brakes, and Bradbury now remembers feeling faint and thinking she was going to die.
De Bruyker avoided a crash but noticed the silence from his wife in the passenger seat; when he looked over, he discovered she had fallen unconscious.
He was able to pull over and began checking Bradbury for vital signs while their daughter dialed 911. Amanda Kertianis, a Napa emergency dispatcher, quickly learned that Bradbury was showing signs of cardiac arrest and told De Bruyker to begin CPR.
According to the American Heart Association, the rate of survival for cardiac arrests outside of hospitals is 12% but "CPR can double or triple the chances of survival." Nothmann stressed through the night that quick and responsible bystander CPR is often the difference in keeping a victim alive until EMTs arrive.
The sound of De Bruyker's shaky breathing and halting "one and two and one and two" CPR rhythm echoed throughout the wine cellar as the 911 call was replayed for guests to hear. The recording ended as the paramedics arrived, and they went on to perform the defibrillator and medication treatments that saved Bradbury's life.
She remembers waking up during a ferocious wildfire season, red skies out the window of her hospital room, and wondering if it was all a bad dream. She had a longer than normal recovery time, but with a defibrillator in her chest ensuring her heart maintains a normal cadence, she has been able to return to her normal life, and has since run two half marathons.
While on stage holding the purple lei that identified her as a recent survivor, Bradbury said she is making the most of her new lease on life — from volunteering, working in her city council, and "everything I can do to be a good citizen."
The four other survivors shared similar stories.
Peter Nolden was enjoying his normal cup of morning coffee when his heart suddenly stopped beating. There was no one nearby able to perform CPR but luckily for Nolden, an American Medical Response ambulance arrived quickly and emergency workers detected a "shockable rhythm" in his heart. This meant they could use the defibrillator to attempt to regulate his heartbeat.
Nolden's heart started and stopped many times on the way to Adventist Health St. Helena. Later, a number of trips to the cardiologist and catheter lab culminated in an operation that stabilized him. He spent two months recovering in the hospital but said "the care was amazing" and now he never feels any pain.
He has returned to visiting his local coffee shop with his wife.
On June 4, 2022, Christo Santoyo Tamayo was helping his cousin at a catering event when he suddenly felt dizzy and had to sit down. A bystander, Ian Seletzky, saw Tamayo collapse and began to perform CPR while his wife spoke to dispatcher Paula O'Rourke, who swiftly coordinated the arrival of EMS personnel and guided Seletzky through the proper procedures.
The EMS team briefly lost Tamayo's pulse but were able to get him to the Queen in time for a cardiologist to identify the blockage in his heart and save his life.
Tamayo is now "enjoying his family, particularly his grandchildren," said Nothmann, and his life has returned to normal, thanks to the EMS personnel who on Tuesday lined the winery stage alongside him.
Carol Tewes was working at her desk when a spontaneous and terrible pain wrapped around her back and chest. Her husband pointed out her pale and sweaty complexion just before she passed out, and then hurriedly called 911. An AMR team arrived and identified an enlarged and life-threatening blood vessel flexing within her chest. Surgery was performed at the St. Helena hospital and she has since fully recovered.
James Gilmore was swimming laps on Oct. 10, 2019 when he suddenly blacked out. Len and Rosemary Nichol were poolside and noticed him floating face-down in the water. Seeing that he wasn't breathing, they began CPR and quickly called 911. Members of the Napa Fire arrived and were able to get his heart beating and some measure of breathing restored before they transferred him to the Queen.
A cardiologist was able to identify the blockages in his heart, and Gilmore made a full recovery. One month later he became a grandfather of two.
"The joy and beauty of this night is I can see and say thank you to the people I never got to see," said Gilmore. He was in tears as he hugged the firefighters and members of the AMR teams who came to stand with him on stage, thanking them for not only saving his life but for allowing him to see his grandchildren. The heart attack had struck one month into his retirement.
Rabbi Ira Book, chaplain of spiritual care, spoke just before the survivors took the stage and said that while emergency medical workers do lifesaving work, "we never know, from one moment to the next, how our service affects people."
The reunion is a healing event for EMS workers as much as for survivors. Book and Nothmann stressed that so much has to go right to save the life of someone in cardiac arrest, and it is important to remember the successes as much as the failures.
"When you save a life, you save a world," said Book.
This story has been modified since the original posting to correct the title and current job status of Lois Husted: she is an Emergency Management/paramedic base hospital coordinator at Providence Queen of the Valley.
EXPLAINER: What happened to Damar Hamlin?
WHAT HAPPENED TO HAMLIN?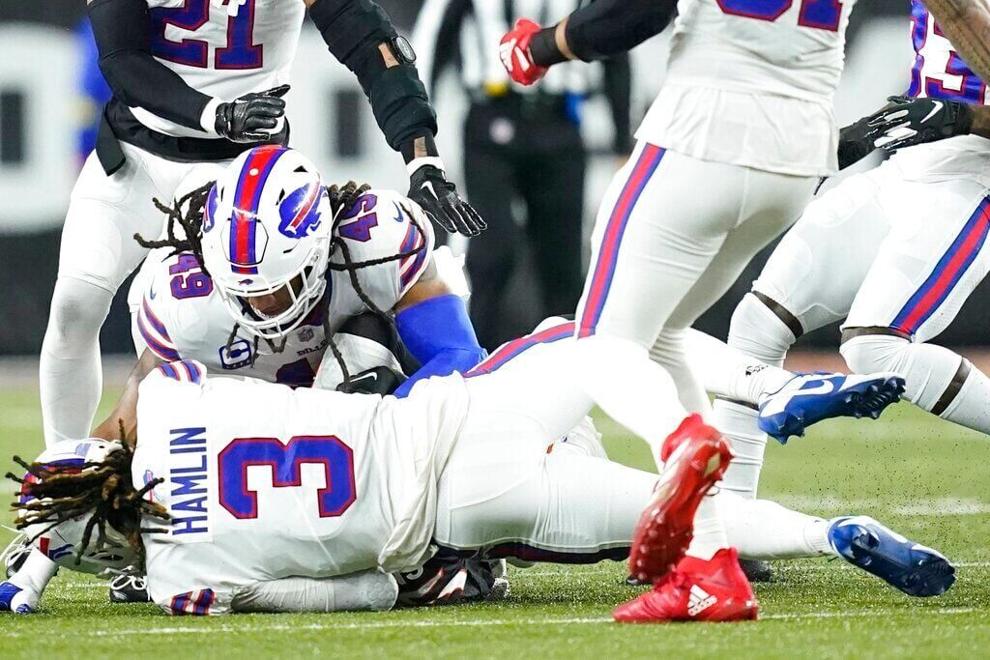 WHAT TOOK SO LONG TO POSTPONE THE GAME?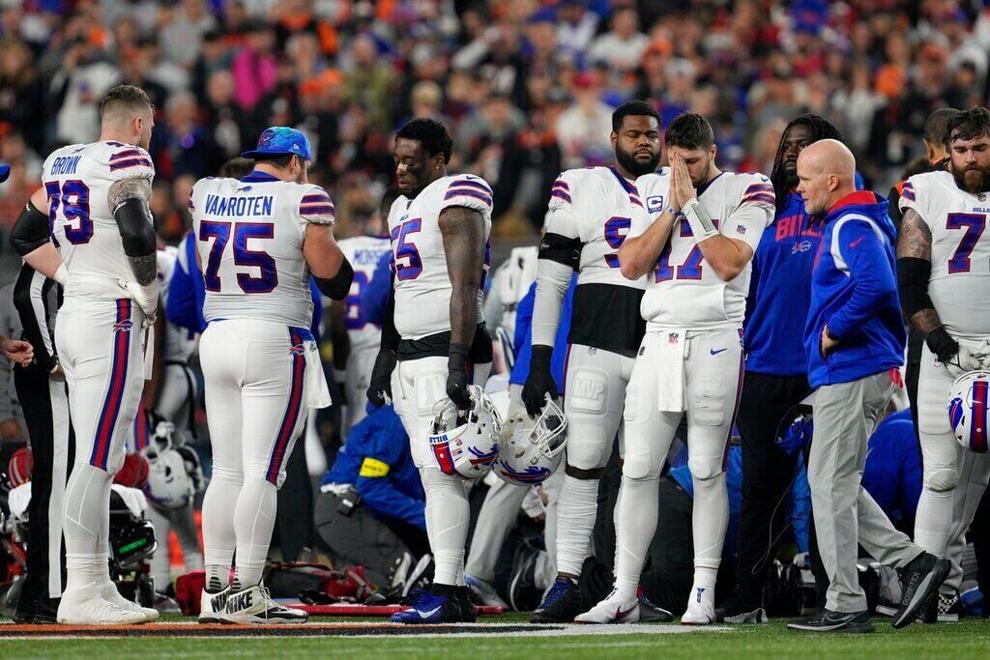 WHO IS HAMLIN?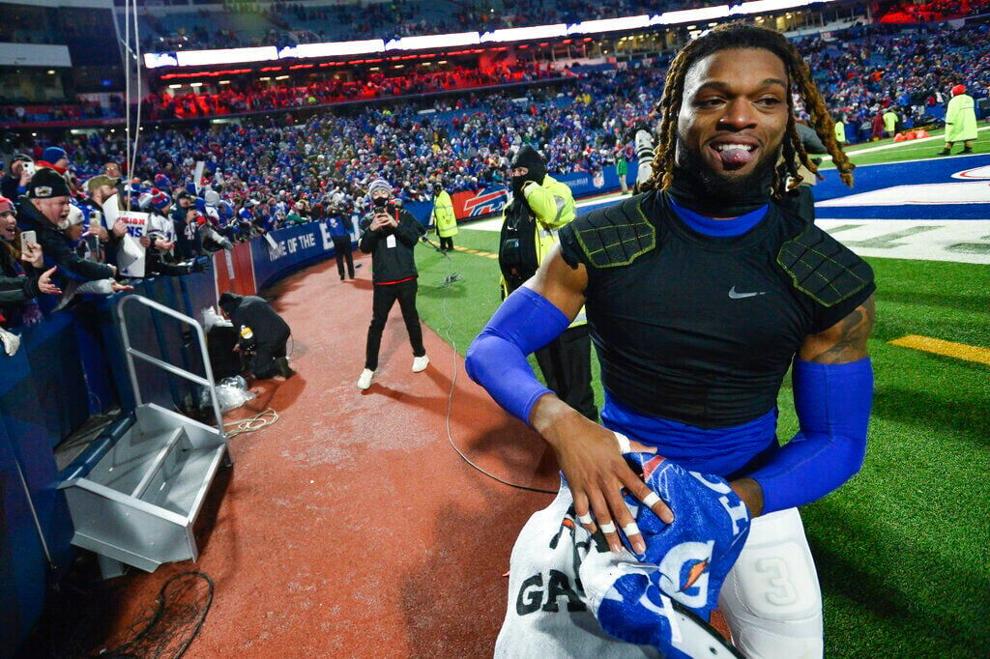 WHAT'S NEXT FOR THE NFL?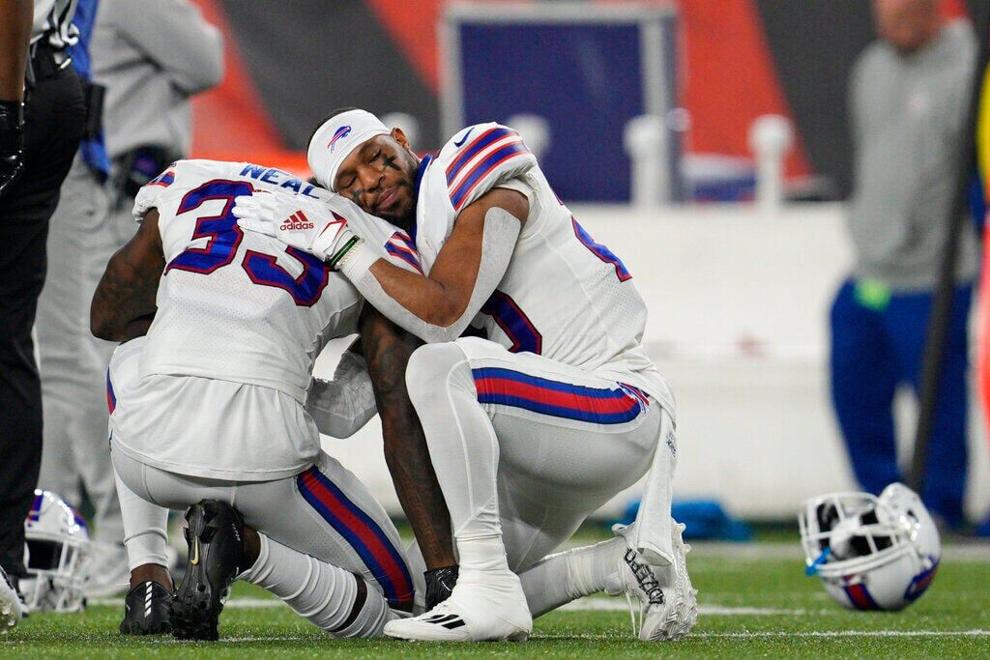 Damar Hamlin of the Buffalo Bills gestures towards the crowd during the third quarter against the Minnesota Vikings at Highmark Stadium on Nov. 13, 2022, in Orchard Park, New York.