Controversy
Napa fans react to NFL player protests on eve of Super Bowl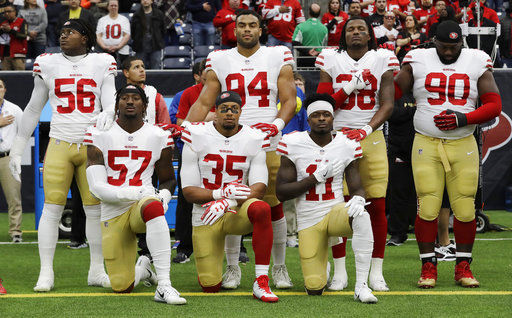 During the past two years, perhaps the most memorable sight on the gridirons of the National Football League was not a pass or run or tackle, but the bending of a knee.
Inspired by the example of the former San Francisco 49ers quarterback Colin Kaepernick, a growing number of players began to kneel during the pregame playing of "The Star-Spangled Banner" to protest racial inequality and police brutality.
But as the circle of protesting players widened, so, too, did the stay-in-your-lane backlash from some fans demanding that NFL stars keep their politics out of the stadium. Then, in September 2017, President Trump fueled the furor in an Alabama speech calling any kneeling player a "son of a bitch" disrespecting his flag and country, and called on team owners to fire those refusing to stand for the national anthem.
The reaction among some Napa County football followers was nearly as fervent.
"I am a former 49er season holder that has ZERO respect for the disrespect that the NFL has shown our country and our veterans, of which I am one," Dave Morse wrote in one of more than two dozen emails sent to the Napa Valley Register on the topic last month.
"I have not watched one minute, spent one dollar to support the NFL – nor will I until the so-called 'protests' are moved off the field and apologies are forthcoming," Morse continued. "Needless to say, I am perfectly willing to keep that position for as long as it takes."
"Our son has been a Marine for 20 years," Don and Kathie McConnell said in another letter to the Register. "Our flag and the national anthem are sacred to all those who have served in our military.
"They should be to everyone who is fortunate enough to live in this country. They represent all those who have sacrificed and died in order to preserve and protect our country. We realize there is prejudice and injustice in our country, but NFL players should find some other way to register their protest. We will not be watching as long as this very disrespectful protest continues and the powers that be continue to condone it."
While some spectators loudly wash their hands of pro football, Super Bowl LII is still expected to draw the year's largest television audience by far, as it has for decades – more than 100 million viewers at a time, according to Nielsen Co. figures.
But even for some Napa Valley-based fans who plan to tune into the NFL's championship game on Sunday, the echoes of a bitter political struggle are never far away. Nor are internal debates over whether to support protesting athletes, the causes they support, or both.
The disappointment in players who knelt during the national anthem was especially acute for Mike Ervin, a Calistoga-raised Army veteran whose older brother David suffered lung damage from the herbicide Agent Orange during his Air Force service in Vietnam.
When Kaepernick announced in 2016 that he would not stand for the playing of the anthem as a statement against racism, "I was very disappointed in him as a person, mainly because I was in a family where everyone had served," recalled Ervin, who now lives in Santa Rosa. "During Vietnam I would see people coming back and what it had done to them, and to have someone disrespect them was terrible.
"A lot of people have died for that flag. I think there's another way to make that point; I don't see what the American flag has to do that. I see his points, I really do, but there are other ways to make that point without disrespecting the flag that other people have died for."
Another local fan, while supporting Kaepernick's calls for social justice, called his symbol an example of poor tactics spoiling a worthy cause.
"I was sympathetic to it and understood it but I thought, 'Boy, you have not thought this out well enough,'" said Glen Schaefer of Napa, a self-described 49ers fan from as far back as the 1950s. "If he'd just said, 'I want to bring awareness to it,' that's one thing, but now people listen to you and hold you to it – especially when they don't like you. He had the right intention but he didn't express it well."
While some military veterans have objected to protests they call attacks on the flag, another former serviceman in Napa found himself gradually won over – despite his strong initial unease.
"It bothered me; it hurt me to see our flag disrespected," remembered Will Foreman, a psychologist in the California prison system who served in the Navy from 1969 to 1974. "… But at the same time, I know that black and Hispanic males in particular are viewed as dangerous by society at large. I came to the conclusion that (Kaepernick) raised concerns that need to be discussed by the community and not ignored."
Foreman, whose ancestors fought on the Union side in the Battle of Gettysburg in 1863, ultimately decided that even a flag or anthem could not come before the principles he said they represent – including the right of football players to protest injustice before tens of thousands of ticket holders, and millions of TV watchers.
"My loyalty is to the Constitution and its principles, so I have to value free speech," said Foreman, who called the backlash from President Trump – on Twitter and in public speeches – as the true danger.
"I really saw that as outrageous," he said of Trump's call on team owners to cast off players who kneel or sit for the anthem. "It's the federal government trying to interfere with speech and peaceful protests."
How much the distaste of some fans for on-field political statements has turned them away from the NFL has become a matter of debate – especially as the league has seen its network ratings fall for two consecutive seasons.
Nielsen reported an overall drop in viewers of 9.7 percent compared to the 2016 season, when ratings fell 8 percent from the year before. In addition to the protest controversies, media executives have pointed to declining overall TV viewership and a possible glut of broadcasts, especially as Thursday-night NFL contests have been expanded to cover most of the 17-week regular season.
While Foreman, Schaefer and others have wrestled with the ethics of NFL players' protests, Deloris Barclay has been supportive from the start.
"I'm a former Catholic, and when you enter the church you genuflect to show respect for the host – Jesus – at the altar," said Barclay, a Napan who remains enough of a fan to take part in online fantasy football leagues at age 89. "Genuflecting, even a bow, is a show of respect, not disrespect.
"I thought it was fantastic that (Kaepernick) took the initiative," she added. "Maybe Trump had to make a point of making it sound so horrible, but I don't think it's horrible at all. I was angry that Trump wanted (players) fired – that was ridiculous. It made me angry; of course, a lot of things he says make me angry."
Barclay's view was not universally popular with her circle of friends, as she readily admitted. "There are some Republican friends with whom I wouldn't bring this up!" she said, laughing.
When the Philadelphia Eagles and the New England Patriots kick off in Minnesota around 3:30 p.m. (PST) Sunday, Barclay expects to be in front of her TV with a daughter and son-in-law.
Schaefer, meanwhile, also planned to have his eyes on the game – but not the full TV time slot, for reasons he said go beyond politics and into what he described as an increasingly lengthy, tiring and commercial-packed experience.
"I've watched every stupid Super Bowl since it started," said Schaefer, who was 14 at the time of Super Bowl I in January 1967. "But (this year) I'll record it, DVR it and start watching around 5 or 5:30 and fast-forward through all the stuff I couldn't care less about. A friend of mine who's gone to Super Bowls tells me it's almost a chore to see it in person. It was a more enjoyable experience in the '70s and '80s because TV hadn't completely gotten its hooks into the game."
Not for him, either, were any of the watching parties that have turned the NFL's championship into a de facto national holiday, roping in millions with little football interest beyond the one day in February.
"When I go to a Super Bowl party where people are drinking, I can't watch the game," he said. "I'll just watch with my wife if she's home, and with one other person who's a sports fan and doesn't get drunk and talk about Trump."
Ervin, too, had no plans to turn away from the Super Bowl, volunteering a rooting interest in the NFC champion Eagles – the team once coached by Dick Vermeil, whose family he grew up with in Calistoga. His brother David also would be watching from his home in Minneapolis just a few miles from U.S. Bank Stadium.
"David was all fired up two weeks ago; he can't go physically (for health reasons) but at same time he was excited," said Ervin. "But he'll still be in front of the TV on Sunday."
Foreman, too, expects to be among the tens of millions watching the Super Bowl from afar – mainly because team owners did not act on the president's call to sack players for taking part in protests, although Dallas Cowboys owner Jerry Jones warned players in October he would bench those not standing for the anthem. "If the NFL had not supported the players and had gone along with Trump, I might not have watched another game the rest of the year," he said.
For one ardent local fan – and sportswriter – a firm belief in respecting the national anthem and an unshaken love of football can coexist as well as ever.
"I've continued to watch football through and through. I don't watch the game because of what they do during the national anthem, or because (Trump) is telling me what to do," said Vince D'Adamo, a former sports reporter for the Register. "I want to see if Tom Brady completes the 15-yard out route; I want to see if Jimmy Garoppolo is for real. I'm not watching the game for those other things."
Those "other things," he added, make a battleground of a flag ceremony D'Adamo holds dear as a symbol of the nation to which his relatives committed themselves shortly after World War II.
"Both of my parents, both sets of grandparents, came here from Italy and I know they took a big risk to come to this country," said D'Adamo, whose parents emigrated from Italy starting in 1948. "If I didn't stand I would feel like I was kicking dirt on them."
None of that ferment, in the end, would keep him from his weekend plans. "I'll be at home in my Archie Bunker chair for four quarters," he said.