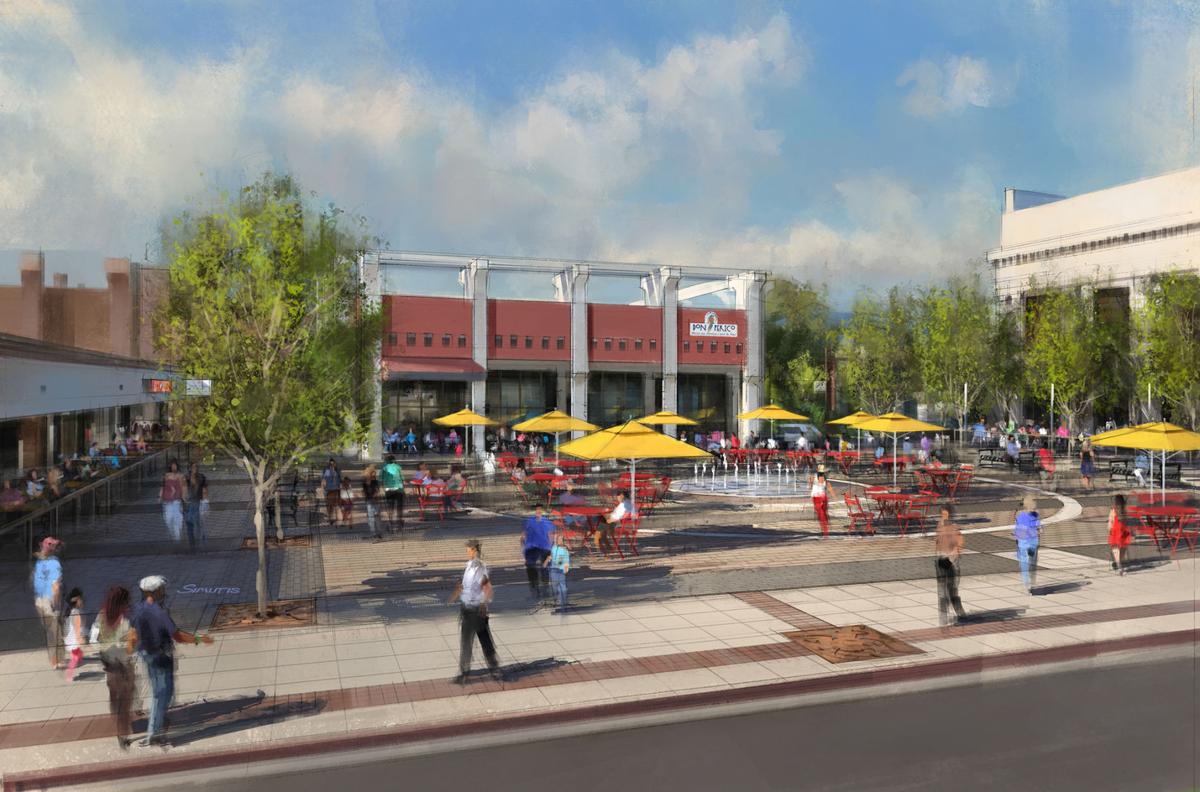 Dwight Murray Plaza is going to get a total makeover befitting downtown Napa's growing popularity.
A $1.5 million overhaul to modernize the First Street square, a onetime showpiece that has grown increasingly dated in its four decades, won unanimous City Council approval on Tuesday. Work to flatten and replace its surface and install new seating, tables, shade trees and a flat-surface fountain is scheduled to begin in the fall, with the redesigned plaza expected to open next spring, around the time the Archer Napa hotel may open to the west.
The project – part of a downtown renewal effort that also may include redesigning the nearby Brown Street promenade – is meant to steer more visitors and festivals to a plaza that has languished even while hotels, restaurants and shops have grown around it. Dwight Murray Plaza opened in 1974 to serve as Napa's prime assembly space, but large gatherings have increasingly shifted toward downtown streets, Veterans Memorial Park, and most recently the Oxbow Commons green space off the Napa River.
The overhaul by the Oakland-based Bottomley Design & Planning will strip the plaza of nearly all traces of its mid-1970s design, removing its brick-like pavement and filling its seating pit. Also slated to disappear are the original waterfall fountain – long since converted to a planter – and the footings of a much-derided clock tower that eventually was taken down.
Instead, plaza visitors will encounter a single-level surface equipped with movable, café-style tables, chairs and umbrellas. Three rows of London planetrees will be added for shade, and a new water feature with multiple knee-high flumes will be set flush into the center of the square, allowing children to run through its spray and the city to switch off the water for more floor space during festivals.
Besides beautifying the new Dwight Murray Plaza, the fountain should give visitors an easy point of reference the area has lacked since the demise of the 70-foot-tall clock tower, according to Phil vanderToolen, a Napa landscape architect consulting with the city on the project.
"It used to be 'Meet me at the clock tower,'" he said. "We're trying to get people to say, 'Meet me at the fountain.'"
You have free articles remaining.
The square also would gain new signage, bicycle racks, and LED lighting on poles and around the water feature – with the last being especially important for the image First Street presents to newcomers, said Councilman Peter Mott.
"When you drive downtown and it's 10 at night, you will still see a space that looks active and beautiful," he said of illuminating the plaza.
Planning for the plaza's redesign has included two public forums and months of talks with business owners in the area. But shortly before the council vote, a local architect tried to inject one more element – permanent shade structures he said would add more protection and visual flair than trees and umbrellas alone.
"Dwight Murray Plaza is like our front room, our parlor," Chris Craiker told council members. "We have our family room in Veterans (Memorial) Park, but if we cover Dwight Murray Plaza with fabrics, we can make it into something really exciting to look at. Why don't we think beyond the box?"
Council members, however, were concerned about staying within the project's budget, and asked Napans to give the new tree plantings time to mature – and to support making the essential changes first.
"We're making a blank canvas and we can go back later to look at shade structures, but we're not there yet," said Mary Luros. "Just having a functional design is an improvement for this area."
With the approval of the Dwight Murray Plaza renewal, the city will put out requests for artists to create works to adorn the square. A council vote on which art pieces to install at the plaza should take place by November, said Rick Tooker, community development director.
The city is weighing an equally radical restoration of Brown Street north and south of First where several blocks were converted to a pedestrian-only zone with the same 1970s-style red-brick styling as the plaza.
Starting north of First, the Bottomley firm has proposed replacing the corridor's dense tree canopy with two widely spaced tree rows to make room for fair booths, a step that could reduce the need to close downtown streets for festivals.
Get local news delivered to your inbox!
Subscribe to our Daily Headlines newsletter.