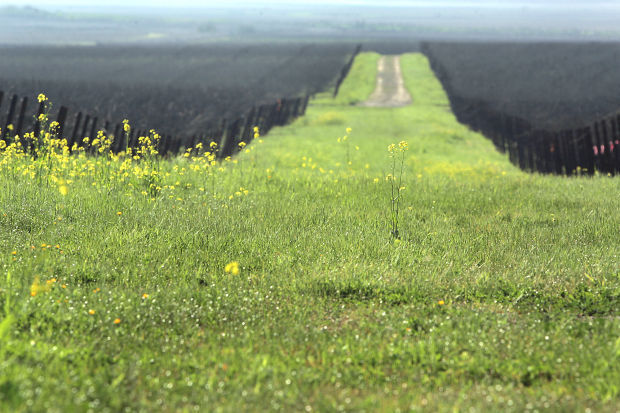 Napa County's 2014 grape crop earned area growers $706 million — an all-time record high — the result last fall of a third bumper crop in a row.
The valley's most recent harvest weighed in at 173,770 tons, down a scant 1,000 tons over the previous year, still below the largest crop to date in 2012 of 181,183 tons.
California Department of Agriculture officials released the preliminary 2014 grape crop report midday Tuesday, showing that statewide tonnage was down and prices were up, a trend mirrored in Napa County.
While many had predicted a much smaller harvest would follow the previous two years' bounty, many in the industry indicated last year's crush might have eclipsed the 2012 numbers if vineyards hadn't been judiciously pruned last summer — an exercise referred to as the "green harvest." Not even continuing statewide drought seemed to significantly impact crop totals.
With tonnage remaining strong and grape prices on the rise, the total value of last fall's grape harvest increased by a healthy 11 percent, or $68 million.
Prices up, tonnage strong
Cabernet sauvignon remains king in Napa Valley, with 68,921 tons accounting for the lion's share of the entire grape crop. Last year's cab crush increased by 3,164 tons, or nearly 5 percent, not far below the record 70,935-ton crop of 2012. At an average of $5,930 a ton, the price for the valley's cabernet sauvignon continues to climb, up 8 percent over last year.
"For cabernet sauvignon growers in the Napa Valley it's been a great year," declared industry analyst George Schofield. "Napa cabernet sauvignon momentum — in terms of varietal leadership and world class status — is displayed in several ways. Clearly, a price of $5,930 per ton asserts dominance over chardonnay and pinot noir, which sell for less than half the price."
In looking at the jump in tonnage, Sue Brewster — who works with Schofield in analyzing wine industry trends and issues — said the valley's cabernet sauvignon, "seasonally a later grape to bloom and harvest, seems to have benefitted from fuller bunch size than in 2013."
Schofield said Napa Valley cabernet sauvignon gets top dollar, "with the $2,605 average price per ton in Sonoma County being the closest. The total value of Napa cabernet sauvignon in 2014 is estimated at $409 million, accounting for some 58 percent of the value of the entire county grape crop. It makes a world-class wine that continues to grow in demand and we should be thankful for it. It also means a lot in terms of image internationally."
The average price paid for valley chardonnay was up slightly to $2,497, while tonnage dropped by 1 percent to 30,329.
The county's other early maturing Burgundy variety, pinot noir, weighed 9,253 tons, a significant 23 percent drop. Following the trend, the price for pinot noir was up by 7 percent, to $2,604 a ton.
Tonnage also dropped for sauvignon blanc, down 16 percent to 15,079 tons. The price for a ton of sauvignon blanc increased by $10 to $1,909 on average.
Merlot production also declined, down 11 percent to 18,769 tons. The price paid per ton of merlot was up by 7 percent, to $2,979.
There appears to be a discrepancy in at least one of the report figures. Last year's report indicated 25 tons of carignane were harvested from the 7 planted acres here. This year's report lists a harvest of 2,100 tons. When adjusted in the final report in a few months, the report undoubtedly will show that Napa County's total tonnage dropped between 1 and 2 percent in 2014, analysts say.
Additional tonnages and average prices paid for other Napa Valley grape varieties in 2014 include:
— Cabernet franc, 3,565, $5,636.
— Muscat blanc, 1,252, $2,062.
— Petite sirah, 3,906, $3,418.
— Petit verdot, 2,832, $5,499.
— Pinot gris, 609, $1,702.
— Semillon, 2,643, $2,837.
— Zinfandel, 4,557, $3,335.
Sonoma and state statistics
The value of the grape crop in Sonoma County dropped a few percentage points last year, totaling $590 million. Chardonnay was the big-ticket item in the coastal county, with tonnage up to 86,914 tons. The price for chardonnay increased to $1,987.
Sonoma's cabernet sauvignon harvest weighed in at 46,852 tons, a 7 percent hike. The average price paid for a ton of Sonoma cabernet is $2,605, a hundred dollar increase over last year, but still less than half of what Napa Valley cab goes for.
Statewide, the 2014 crush totaled 4.1 million tons, down 11 percent from a record high of 4.7 million tons in 2013, the report shows. Red wine grapes accounted for the largest share of all grapes crushed, at 2.1 million tons, down 12 percent from 2013. Last fall's harvest of white wine grapes registered 1.8 millon tons, down 3 percent from 2013.
The average price statewide last year for all varieties was $734, up 3 percent from 2013. The average price for red wine grapes was $883, up 4 percent, while white grapes, averaging $588, were down 6 percent from the previous reporting period..
Last year, chardonnay continued to account for the largest percentage of crush volume at 17.2 percent. Cabernet sauvignon was second highest at 12.3 percent.
Grapes grown in Napa County received the highest average price of $4,065 per ton, up 10 percent over 2013. Sonoma County growers received the second highest return of $2,314, up 3 percent.
"The 2014 crush report reveals a tale of two worlds," said Heidi Scheid, chair of the California Association of Winegrape Growers. "The average price of wine grapes destined for higher priced wines increased. Growers in Sonoma and Napa saw winegrape prices increase by 3 percent and 10 percent, respectively, while Central Valley growers saw price declines last year."