The monkey-like creature is said to live in the hills above Partrick Road in west Napa. It has wings. Sharp fangs. Its prey includes wayward couples and troublemakers.
It is the rebob, Napa's very own urban legend. And according to one local, it should be the new Napa High School mascot.
About a year ago, Kelly Doren, a Napa artist and Napa High School graduate (and the chief of the copy desk at the Napa Valley Register), began following the debate over whether to keep or change Napa High's Indian mascot.
If they retired the Indian, Doren said, he was worried "they'd pick something boring" as a replacement.
"I've always liked stories about Bigfoot and the Jersey Devil and urban legends like that," said Doren. "Napa has the rebob."
"I figured the rebob would be a good alternative. And what high school kid doesn't know about the rebobs?"
Doren did more than just think about his proposed substitution. He created a blue, yellow and black rebob team logo and started his own Napa Rebobs Facebook page: facebook.com/naparebobs/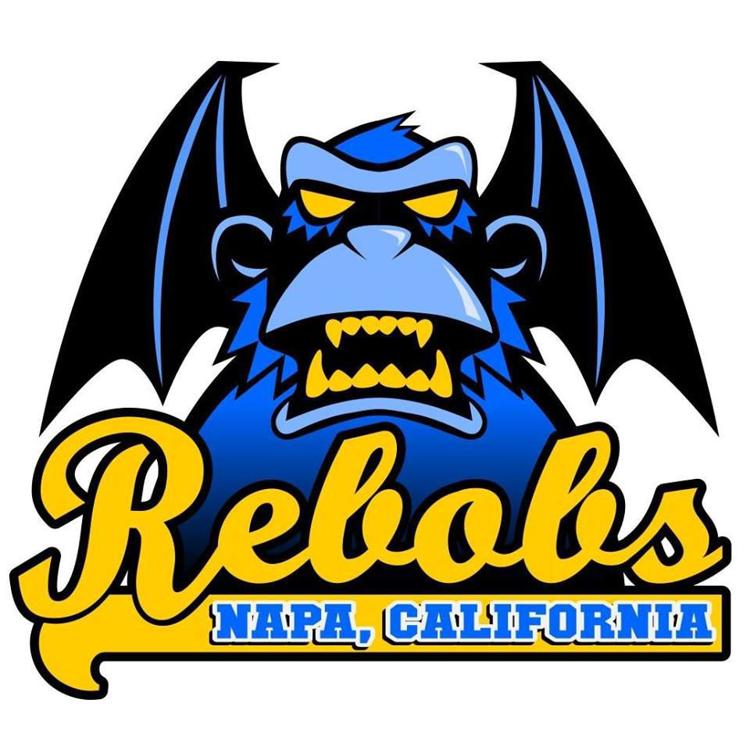 "I felt that if I was going to present this as a viable option, I needed to at least show them (as a) traditional sports mascot," said Doren. Maybe people would then say, "Hey, wait a minute, maybe this isn't such a silly idea."
For many months, Doren's Napa Rebobs Facebook page just floated out there, shared between a few of his friends.
Then came the school board's decision earlier this month to change Napa High's symbol, the Indian, and suddenly, Doren's rebob page went nuts.
As of Tuesday, his Napa Rebobs Facebook page had reached 7,799 people. Dozens have left messages of support – or not.
"I think it's great," wrote Facebook commenter Evita Bonita. "Rebobs are a historic part of Napa lore! It's so perfect. Just look at that logo!"
Others disagreed.
"Where's the pride and strength and honor in a fictitious entity whose main function is to kill and maim teenagers?" wrote commenter Debbie Leach.
Choosing the rebob as the high school's new mascot "would not be my personal choice," said Connie Brennan, a Napa High graduate and a leader of the opposition to changing the Indian mascot.
Joe Schunk, president of the Napa Valley Unified Board of Trustees, said he only recently learned of the local legend. "I haven't formed an opinion," he said.
As for choosing a new mascot, the process hasn't begun yet, Schunk said.
"I look forward to Napa High soliciting ideas from a cross- section of stakeholders and considering a number of concepts on a timeline yet to be determined," Schunk said.
Doren, who has worked at the Napa Valley Register for more than two decades, said he's long been fascinated with monsters. Halloween is one of his favorite holidays.
The artist has published his own monster illustration books, made papier-mâché monster heads and made resin figures he's sold on Etsy. His newest version of the rebob logo will soon be available for purchase.
"I've always liked horror films and monster movies," said Doren. "It shows the creativity of human beings in a dark, twisted way."
And as an artist, "there are no rules on the way they can look," which means there is infinite variety as to how monsters can be drawn or portrayed.
Doren said he was a little surprised of the response to the rebob.
"I'm kind of blown away," he said. "It's definitely something that people are talking about."
Doren said he's not for or against the Indian mascot.
"I'm befuddled by people that are that energized" about the mascot change to begin with. "But at the same time I have this page," rooting for the rebob mascot.
"It's ironic," he said.
Doren isn't making any assumptions about the rebob's future role at Napa High School. He knows the likelihood that the school district would choose a mythical creature for the next Napa High School symbol is probably a long shot.
However, if rebob did get adopted, Doren said his response would be: "Holy cow. Somehow I made a difference."