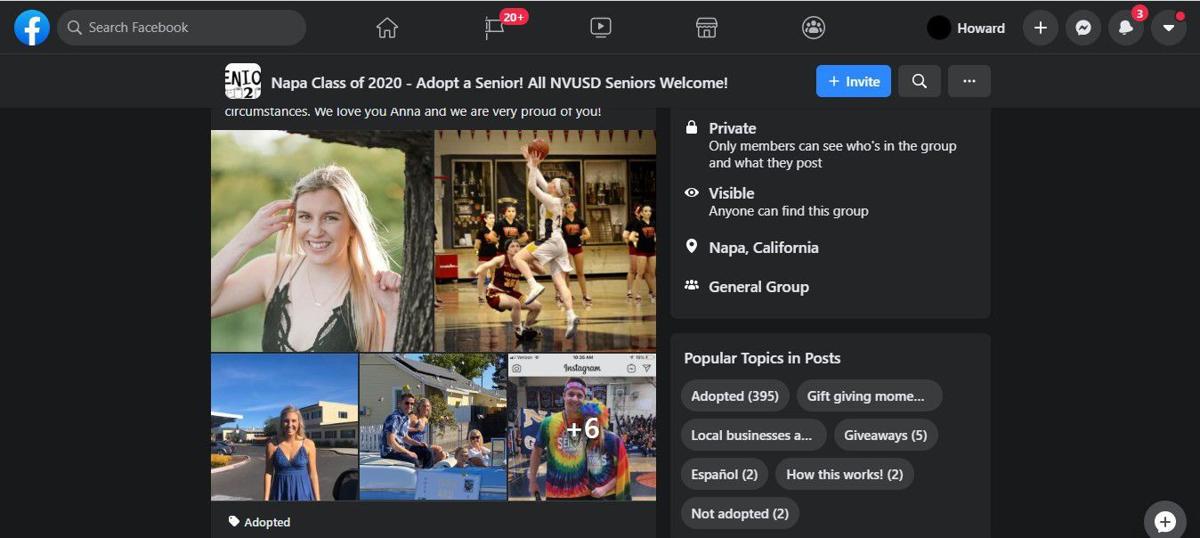 In this strangest of graduation seasons, leaders of the Napa public school system are working to give high school graduates-to-be a memorable farewell amid a pandemic that has halted crowds, assemblies and public celebrations of all kinds.
The Napa Valley Unified School District's Class of 2020 – denied the usual commencement audience of thousands by the coronavirus epidemic – will be honored with speeches online and private on-campus ceremonies open only to high school seniors and their families. And educators also hope to give this year's graduates the pomp and circumstance made impossible by California's COVID-19-driven shutdown – by inviting them back to Napa for a belated ceremony in 2021.
Directors of NVUSD on Friday shared their most detailed plans to date to pay tribute to some 1,400 students completing their studies at Napa, Vintage, American Canyon and New Technology High, which were to hold graduation ceremonies in the first week of June. Instead of gowned seniors tossing mortarboards into the air before football stadiums filled with well-wishers, this year's graduations will combine online video with family-only diploma ceremonies to prevent close contact during the pandemic.
The district is organizing a prerecorded video to honor the departing seniors, a program expected to feature a principal address, speeches by award-winning graduates and the reading of all seniors' names. In addition, each individual high school will host ceremonies where graduates can accept their diplomas and meet a skeleton staff of faculty members for the final time, according to Superintendent Rosanna Mucetti.
To conform to county and state social distancing rules during the pandemic, only seniors' relatives staying in their vehicles will be allowed to attend the on-campus events, although Mucetti described plans to livestream the gatherings to allow other relatives and friends to witness graduations from afar.
"We've worked on (fulfillling) the desire to have celebrations and closure while adhering to the health rules," said Monica Ready, principal of Napa High. "We want to capture that special moment, to celebrate and recognize our seniors. When they left on March 13 (the day NVUSD's board voted to close classrooms and move to online instruction), we weren't aware they weren't returning again this year, so this will give them the opportunity to return to campus one more time and have some closure."
Napa High School announced Sunday morning in a Facebook posting it has scheduled diploma acceptance walks for graduates on June 4 and 5. Distribution of senior care packages – including caps, gowns, yearbooks and yard signs – is set for May 26-29, along with a "scholarship assembly" on May 27, according to the posting, which was later verified by Mucetti.
Vintage, American Canyon and New Tech will announce their schedules for Class of 2020 activities at a later date.
Meanwhile, a Napa alternative school will follow the lead of others opting for "drive-in" graduation ceremonies to minimize close contact.
Twenty-five students from Camille Creek Community School, which is operated by the Napa County Office of Education, will be honored at noon June 4 at the department offices at 2121 Imola Ave., according to spokesperson Seana Wagner. One family per graduate will be allowed to attend in a single vehicle, and only the student will step outside to pick up his or her diploma from a table, with school leaders present but socially distanced. A photographer will be on hand, and the event will be shown on a livestream that also can be viewed afterward.
While no local high schools will hold a public, open-seating graduation ceremony this spring, Mucetti described district plans for a belated commencement a year later, in June 2021. The event would be devoted solely to the Class of 2020 and would held separately from the graduations for next year's graduates.
NVUSD moved toward a June 2021 celebration based on a survey of students and parents that began April 28. The survey asked families whether they would prefer delaying a traditional graduation to later this summer or into the fall, holiday break or next year, but the largest number of responses – about 40 percent – were in favor of the latest date possible, according to Mucetti.
"There are so many uncertainties that we didn't want to plan an event (too early) and have to cancel, and create another wave of disappointment," she said. "We didn't want to create a recipe for what would look like repeated failure."
Although Mucetti declared the district to be "flexible" to an earlier ceremony for the Class of 2020 if vaccines or treatments against the coronavirus are developed earlier than expected, she called the guarantee of some kind of observance for graduates, under current conditions, the top priority.
"I was not going to run the risk of having to schedule and cancel again; I want to guarantee seniors a moment in June," she said. "I love graduation – it's the best part of what we do, graduating our high school seniors, so I have no problem (changing course) in response to health trends changing. But I didn't want to guarantee something that I couldn't guarantee."
With graduation celebrations on hold along with the rest of daily life, hundreds of families have taken to social media to share the stories of their graduating sons and daughters – resulting in a tide of gifts, cards and letters in students' support.
Created in late April, the Facebook page "Napa Class of 2020—Adopt a Senior! All NVUSD Seniors Welcome!" is a tribute page featuring photos and videos of local high schoolers, along with invitations for the community to "adopt" a student by contributing items on his or her posted wish list. Cards of support, and the variety of small gifts and treats, are delivered to graduates' families homes or other locations by advance arrangement with donors.
Donors had connected to 394 seniors at local high schools, including private academies such as Justin-Siena, as of Sunday afternoon.
"I got one senior a teddy bear, a bag of chips and a six-pack of Dr Pepper," said Adopt a Senior's founder Stacy Geary, whose daughter Haley is graduating from Vintage High and has been "adopted" by five group members. "You can send anything to say to a senior, 'Hey, we're with you, hang in there,' anything to let them know that they're supported and loved."
The outpouring of support was especially welcome to students like Abby Arata, who recalled not feeling the full force of what she and her Napa High senior class would lose out on until the school district asked her what alternative ceremonies she would support.
"It didn't really hit me until they sent out surveys asking how we wanted to celebrate our graduation," she said last week. "Once I thought about how I would want to celebrate it in alternative way, then it hit me that we were all missing out. I have a lot of friends who graduated last year and I talked to them, and they all were very sympathetic – they know how much it means to have that celebration and walk across the stage."
Another senior, Raquel Davis of Vintage, has received gifts ranging from skin creams to a subscription for cosmetics by mail, but the most meaningful gesture in her honor may have been the simplest.
"The (graduation) door decorations meant the most to her – just the recognition that this is the house of a senior," said Davis' mother Melanie Troup, who had planned to invite relatives from across the country for her daughter's graduation before the coronavirus triggered widespread travel shutdowns. "Neighbors can walk by now and say congratulations to her. She's not an attention seeker, but it's nice to be recognized."
Editor's Note: Because of the health implications of the COVID-19 virus, this article is being made available free to all online readers. If you'd like to join us in supporting the mission of local journalism, please visit napavalleyregister.com/members/join/.
Concerned about COVID-19?
Sign up now to get the most recent coronavirus headlines and other important local and national news sent to your email inbox daily.