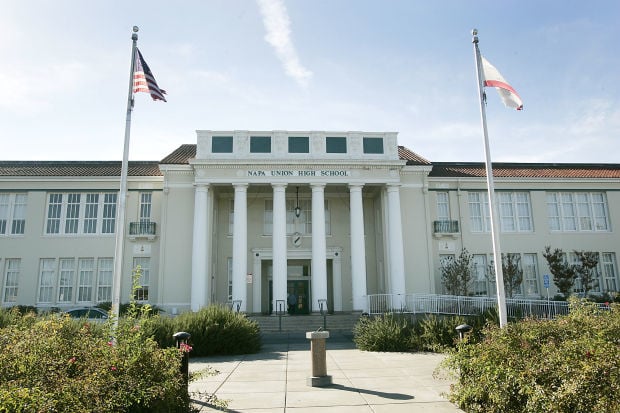 At high schools in Napa and American Canyon, graduating seniors will receive their diplomas and share farewells with teachers, with only family members watching from their cars – and with the traditional cap-tossing pageantry before a stadium audience replaced by congratulations delivered by online video.
The Napa Valley Unified School District has scheduled "diploma acceptance walks" in the first week of June for the Class of 2020 at Napa, Vintage, American Canyon, New Technology and Valley Oak high schools. With state and local shelter-at-home orders having shut down classrooms and mass gatherings since March, the commencements that typically play out before thousands of cheering spectators have been turned into quieter affairs at each school site, designed to keep a safe distance between students and those celebrating them.
To bring the students together in spirit, schools also are producing "virtual graduation" videos to be shared on social media, with seniors asked to contribute photos and short videos of themselves for the online production.
The series of drive-up events will cap a school year that was interrupted March 13, when NVUSD closed its schools and moved more than 16,000 students into online instruction as the coronavirus began taking hold across California and the U.S.
District officials announced April 2 that campuses would not reopen, putting all late-spring school events on hold – including the celebratory senior send-offs.
District leaders chose to stage scaled-down, partly online tributes to the Class of 2020 on schedule rather than postpone full-scale gatherings to later in the year, when shelter-at-home orders still could prohibit events with spectators.
"I was not going to run the risk of having to schedule and cancel again; I want to guarantee seniors a moment in June," Superintendent Rosanna Mucetti said earlier this month.
The diploma walks – NVUSD is avoiding the word "graduation" for this year's observance, according to spokesperson Cass Caulfield – will be staggered across the final week of the academic year, and some schools are scheduling their events across two days to accommodate some 1,400 departing seniors.
None of the on-campus events will be open to the public. Each graduate is allowed a group of loved ones attending in a single car, and only the graduate will leave the vehicle to collect his or her diploma and meet faculty members, before driving away with family members.
While schools were settling on final details for their ceremonies as of Thursday, plans shared on school websites began to fill out the shape of perhaps the most unusual send-offs ever seen at local high schools.
At Vintage High, for example, members of the Class of 2020 will accept their diplomas June 2 and 3, with students arriving from 9 a.m. to 2 p.m. in 30-minute blocks based on last names. Each graduate is to arrive in mortarboard and gown, in a single vehicle with family members, and check in with school staff. (Schools are scheduled to send graduation outfits to students in the coming days – in the case of Napa High, as part of a care package also containing a yard sign, bumper stickers and various gifts, as well as yearbooks for those purchasing them.)
The senior will then leave the vehicle and follow a "graduate walk" at the front of the Trower Avenue campus that passes through a balloon arch and past a "wall" composed of signs honoring individual seniors. At stage near a flagpole, the graduate's name will be read aloud, and then he or she will take a diploma cover from a table, leave the stage and pose for a photo in front of a Vintage-labeled backdrop. Finally, the graduate will re-enter the family vehicle, which will be directed to the softball field where students will pick up their official diplomas before leaving campus.
Family and friends are asked to stay in their vehicle during each ceremony, and students are encouraged to wear a protective mask along with their cap and gown, the school announced.
Napa High has scheduled similar diploma events for June 4 and 5, and American Canyon High on June 3 and 4, with both ceremonies also taking place at their respective campuses. Events for those departing New Tech, Valley Oak and independent study programs are slated for June 1.
While seniors will not come together in person, NVUSD is producing videos meant to unite graduates online with a combination of student-contributed images and video clips. The videos will include addresses by school principals, speeches by award-winning students and the reading of graduates' names.
Should the COVID-19 threat be beaten back with a vaccine or more effective treatments, the Napa school district may organize a belated commencement for this year's graduates to take place in June 2021. While it would take place in the same month as graduations for next year's seniors, the make-up commencement would be staged as a separate event.
Editor's Note: Because of the health implications of the COVID-19 virus, this article is being made available free to all online readers. If you'd like to join us in supporting the mission of local journalism, please visit napavalleyregister.com/members/join/.
Concerned about COVID-19?
Sign up now to get the most recent coronavirus headlines and other important local and national news sent to your email inbox daily.