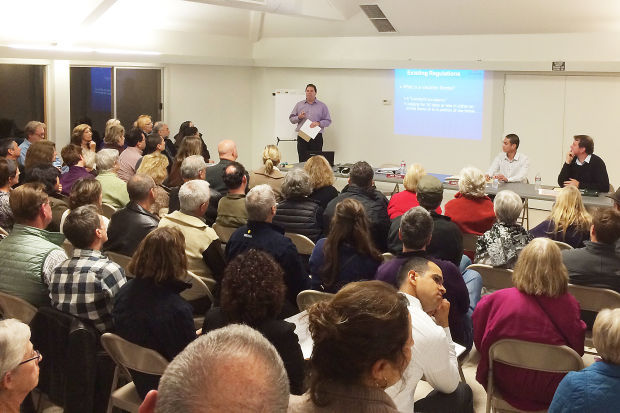 What do residents think about easing Napa's vacation rental ordinance to allow more overnight stays in residential neighborhoods?
That largely depends on how the status quo personally benefits them.
More than 100 peopled filled Kennedy Park's Pelusi Building on Wednesday night for a public hearing on potential adjustments to the city's controversial 2009 ordinance, which permitted 44 homeowners to rent their houses to short-term vacationers.
The intent of the ordinance was to regulate the booming vacation rental market, made popular by rental management websites such as Airbnb. By permitting some of the rentals, the city was able to regulate and tax the homes like a hotel or bed and breakfast.
But the permits were a one-time deal. No permits have been issued since 2009, and the permits aren't transferable when a home is sold. There are 42 permits currently in Napa, according to the city.
Rick Tooker, the city's community development director, said staffers wanted the public's input before proposing a policy revision.
Of the about 100 attendees, most were in support of expanding the ordinance and permitting more homeowners to rent out rooms to visitors.
The economy has changed, argued resident Judith Bernat.
Many travelers prefer the European-style practice of staying in a local person's home, rather than a hotel. Many people travel for a living, she said.
"They're tired of (hotels)," Bernat said.
Other residents who already have the limited, coveted permits argued the ordinance shouldn't be expanded.
Chuck Meibeyer, a St. Helena lawyer who owns a vacation rental on Montecito Boulevard, said the city had permitted enough homes.
Converting more houses into vacation rentals would exhaust Napa's already diminished rental stock for year-round residents, he said. And plenty of residents are illegally renting their homes anyway, avoiding taxes and punishment.
"Right now, you've got tremendous unfairness in the system," Meibeyer said. "You don't have a penalty that means anything."
Other residents agreed that the process was unfair, but not the way Meibeyer interpreted. One resident said it's unfair the city won't permit new homes.
Owners would love to pay taxes, the resident said to loud applause, but are blocked from even applying for the permit.
At least one resident wasn't in favor of vacation rentals – at all. John Kingsford told the crowd he lived next to a vacation rental on Elm Street and constantly reported noise complaints on weekends.
He agreed with Meibeyer – there isn't a penalty that discourages loud behavior. Napa tourists are here for one reason, he said.
"It's Napa Valley. They're drinking wine. They're drunk," he said.
Unlike bed and breakfasts – which have on-site management – owners of vacation rentals aren't always around to tend to unruly guests, Kingsford said.
Tooker said the city would consider all the "pros and cons." There will be other public hearings before the city proposes an amendment to the ordinance.