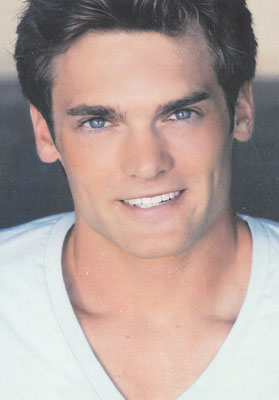 How about hustling for a date, in front of millions of people, as your next career move?
That's what Zack Clark will do Monday, when the 2000 Vintage High School graduate appears on Bravo's new reality show, "Date My Ex: Jo & Slade."
The dating show features Jo De La Rosa, an up-and-coming singer whose ex-fiancé, Slade Smiley, sets her up with would-be boyfriends.
Clark, a model and actor based in Southern California, will compete with other would-be boyfriends. They all stay at "Smiley's House," a mansion where Smiley helps his ex-fiancée narrow her search for the perfect partner. Tests include dates and cocktail parties with Smiley, Jo and her friends.
Clark admits that doing on-camera dates and going to parties to impress a gal is "a weird premise" for a TV show. "But whatever … that's Hollywood," he said.
Clark, 26, was tight-lipped about the show's filming schedule, location and outcome. Bravo does not want to give anything away, he said.
"I can tell you it's an eight-episode show," said Clark, a model and actor who has appeared in TV commercials, print advertisements and a reality TV show on MTV.
"It was one of the best experiences I've ever had," he said, adding he made great connections with the film crew, and got to know the producers, directors, and the other staff who work behind the scenes.
You have free articles remaining.
Ideally, he hopes the show will help him land a part on the soap opera "General Hospital," — his mother's favorite soap and a springboard for generations of actors.
His ultimate goal, he said, is to be in feature films.
He will watch Monday's show with friends at a sports bar in Santa Barbara.
Zack Clark moved to southern California in 2005 after graduating from the California Maritime Academy with an engineering degree. A cousin who worked as a model in San Francisco introduced Zack to modeling when he was still at the Maritime Academy in Vallejo. Clark said he thought it would be a way to entertain people and earn a living.
His parents, Rick Clark, a construction contractor, and Joan Clark, a former model who now stages homes for sale, said they are proud of their Zack.
Zack has been "a good boy all his life," his father said. Rick Clark added his unbiased view that his son "is a real hunk."
Joan Clark predicts her son will be a hit on the show. "I have a feeling that he makes it to the end," she said.
"He's going to spice it up," she said, adding he'll be good for the ratings. "It should be fun."
Zack Clark, who is presented on the show as a 27-year-old a jewelry designer representative — one of his many part-time occupations to supplement his income from his modeling and acting jobs — is also a self-employed handyman. His company is called "Zack of All Trades," he said.
"Date my Ex: Jo & Slade" will be shown at 10 p.m. Monday on Bravo TV and will repeat for several weeks thereafter.