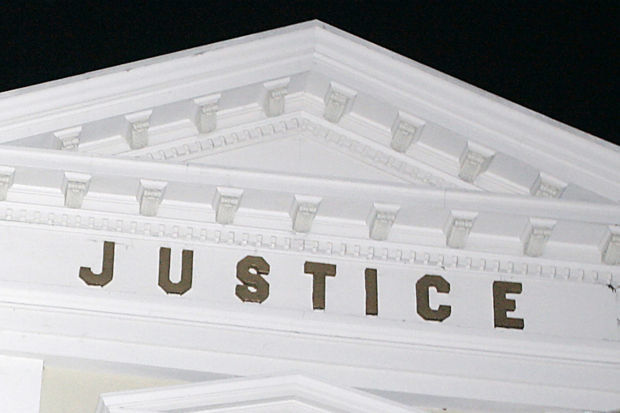 A 28-year-old Vacaville man was sentenced to 120 days in the Napa County jail on Wednesday morning after admitting he killed his dog Dozer because of the pet's chronic misbehavior.
Dozer's body was discovered in Lake Berryessa in December 2013 by two men who were fishing near the Pope Creek Bridge. They also discovered a nearby harness attached to a large iron pipe, said District Attorney Gary Lieberstein, whose office prosecuted the case.
Based on evidence from the dog's necropsy, authorities concluded that the pitbull-type dog had been thrown to his death from the high-altitude bridge.
An investigation by the Napa County Sheriff's Office identified both the dog and its owner, Lucas Perkins, who at first said his pet had disappeared through an open gate and run away, Lieberstein said.
Perkins later said he killed the dog by putting him in a garbage bag and smothering him, then driving to Lake Berryessa to throw the corpse off the bridge, Lieberstein said.
A sentencing hearing was held Wednesday before Napa Superior Court Judge Francisca Tisher. In September, Perkins had pleaded no contest to the felony charge of animal cruelty.
Perkins' attorney, Denis Honeychurch of Fairfield, asked the judge to reduce the charge to a misdemeanor, saying a felony conviction would cause him to lose his job installing home safety systems. Honeychurch said his client had no criminal record, only some infractions.
Perkins had been keeping Dozer for two years for a friend in the military, but found himself unable to control the animal, his attorney said.
"The neighbors were terrified of the dog," which would get out of Perkins' yard, Honeychurch said.
The defense attorney noted that Perkins could have taken the dog to a veterinarian to be put to sleep, a legal route that would have also resulted in the death of Dozer,
"He's not a threat," he said of his client.
Prosecutor Taryn Hunter vigorously argued for a felony conviction, saying Perkins had shown little remorse for his actions. His version of how Dozer died is "just as violent" as the one asserted by investigators, she said.
"This could have been the worst dog on the planet, but what he did was wrong," Hunter said.
Hunter said Perkins had considered giving up Dozer to an animal shelter, but said "he didn't want the dog to 'suffer' at the pound so he killed it."
The Probation Department had recommended 180 days in jail, but the DA and the defense attorney had agreed on 120 days in exchange for Perkins' no contest plea, which is the same as a guilty verdict at time of sentencing.
Tisher said she was trying put aside the emotional response that many people would have to the "intentional killing of a pet."
She reduced the charge to a misdemeanor, saying Perkins had no criminal history and she valued his ability to remain employed.
His sentence includes 120 days in the Napa jail and three years probation, during which time Perkins will not be allowed to own a pet or be alone with a pet. His parents will care for his dachshund during that period.
Tisher also wanted Perkins to do 120 hours of community service and asked Jane Albert, executive director of Napa Humane, if her animal care organization would accept him as a volunteer.
Albert conferred with Hunter, who told the judge that Napa Humane rejected such an assignment. The Probation Department will help place Perkins with another organization.
Following the hearing, Albert said she had come to court representing Napa Humane "to seek justice for Dozer."
"It is hard to comprehend the suffering this dog endured. There is no excuse for his actions," Albert said.
"I was shocked to hear the defense attorney refer to the victim of this crime as 'it's just a dog' when arguing to reduce the conviction from a felony to a misdemeanor," she said. "And especially disheartened by Judge Tisher's decision to do so. There should be no doubt that a pet owner convicted of such a heinous crime will face full criminal penalties."