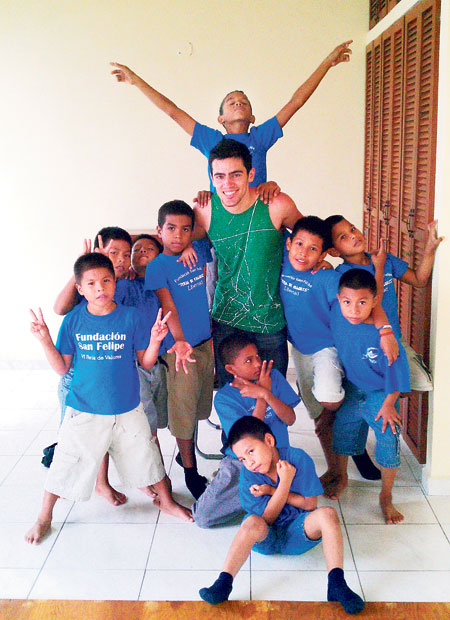 Humanitarian missions to Third World countries take many forms. Some Americans go to provide medical checkups, eyeglasses or religious instruction.
Ruben Ochoa of Napa had a more unique mission. He went to Panama this summer to teach hip-hop dancing to orphans.
Ochoa, 24, went with three other dancers to Hogar, an orphanage for boys and girls between the ages of 5 and 12. The initiative was sponsored by Movement Exchange, whose mission is to establish an avenue for dancers to give back to the world. Ochoa put up $1,300 to cover his personal expenses.
"Dance has inspired me in so many ways and brought so much joy to my life, and I want the kids to be able to experience that," said Ochoa, a 2005 graduate of Napa High School.
"It's not just about the dancing," he said. "It's also about providing them with a good role model and showing them how to become confident and passionate for dancing, as an example for their ability to do anything."
In Panama, poverty forces many families to send their children away, Ochoa said. "Many families are poor and can't even afford to feed their children. Sending them to an orphanage may be their only hope to make sure they are taken care of and stay away from trouble."
Although an orphanage may sound like a depressing place to be, Ochoa said the children seemed happy. "Kids will always be kids," he said.
Along with the laughter, Ochoa witnessed some moments of fear. "One day there was a big storm and the kids were very scared, and it was sad because they needed protection and asked us to be their dads. It was sad and sweet at the same time."
Ochoa and his teammates went daily to the orphanage and taught the children hip-hop dance moves, breakdancing and other modern dance forms, including Michael Jackson's famous moonwalk. 
"They were excited," Ochoa said. "My teammate Eric and I did a lot of new moves with them, and they had a lot of courage and just wanted to try everything."
The highlight of the mission was a big recital, held on the Fourth of July, where the children got to perform in front of 400 people. 
"When people saw the children dancing like Michael Jackson, they were ecstatic and cheered them," Ochoa said. "The kids brought the house down."
Ochoa is hoping that by experiencing new possibilities, the children in the orphanage will stay on track and out of 
"In Panama, many kids drop out of school around mid-school and they have to work to provide for their families. I want the kids in the orphanage to be able to stay in school so that they have a future," he said.
Ochoa is a fire science major with a minor in dance at Glendale College in Southern California. He hopes to transfer to Cal State Los Angeles next year, then move back to Napa. His career goal is to become a firefighter.
He has fond memories of his Napa High dance teacher, Kris Van Treese, who died in 2007. Her support encouraged him to give back, he said.
"Ms. Van Treese ... pushed me to go out and dance. She saw potential in me," he said. "Sadly, she has passed away, but by paying it forward I can thank her."
Paying it forward meant not only dedicating his time to the mission and paying his own way, but sharing the cost of all the children's dance outfits with a friend.
The hardest part of the mission was saying goodbye, Ochoa said. "I felt really bad because I got attached to the kids and didn't want to lose the connection that was created. If I could, I would have adopted all of them. They are awesome kids — hilarious and full of love."
"I've been emailing to them since I came back to the U.S.," he added. "I am hoping to go again and volunteer next year."