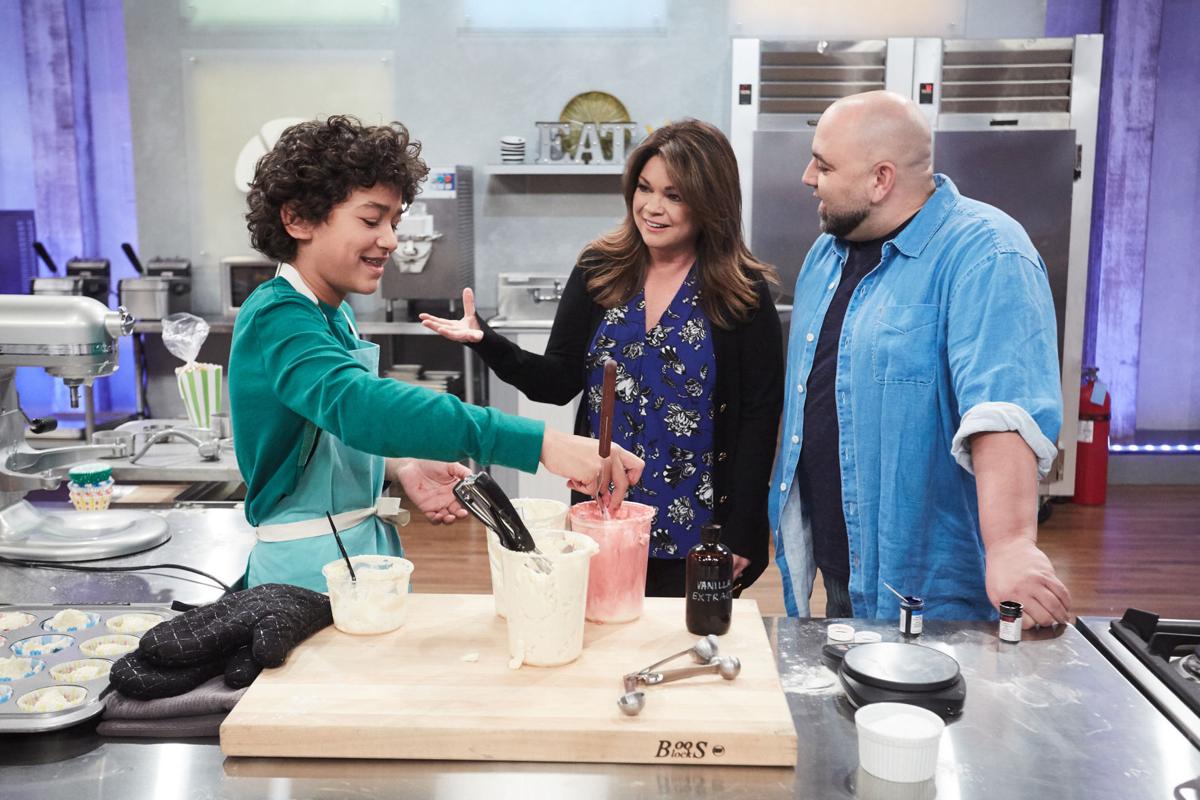 Some 13-year-olds might want the latest sneaker or a video game for a birthday gift.
Justice Faustina asked for a KitchenAid mixer.
This Napan, who is in seventh grade at St. John's Lutheran School, loves to bake.
"I have been baking with my mom since I was old enough to hold a wooden spoon in my hands — so like 2-years-old," wrote Justice.
It turns out that his love of baking is really mixing up his life.
"I love baking and I wanted to inspire other kids who may be watching to get in the kitchen and bake," said Justice.
"Also, I wanted to meet other kid bakers and be the first boy who wins the 'Kids Baking Championship.'"
Filmed in Los Angeles this past summer, the show is hosted by Valerie Bertinelli and pastry chef Duff Goldman.
In this third season of "Kids Baking Championship," 12 young bakers are put through 10 weeks of "delectably difficult" dessert challenges.
The season began airing in early January, when the kid bakers, ages 9 to 12 (at the time of filming), began to show off their baking prowess in a series of culinary competitions.
They have been challenged to make "impostor" desserts, volcano Bundt cakes, breakfast desserts and more.
Each week, one young baker is sent home, and the winner will win the grand prize of $25,000 and the title of Kids Baking Champion.
Episode 7 aired most recently, and as of Wednesday, Justice is still in the competition.
His mom, Vanessa Suzanne Smutnak, explained that she started baking with her son because "I thought baking would be a good way to help him understand math and a great activity because it uses all his senses."
Even before he was out of diapers, Justice "would have me get all the spices down and I would unscrew the tops and he would smell all the spices over and over again."
"We would flip through the baking book together and he would point out what he would want to bake. We moved from cookies to cinnamon rolls and bread," she said.
Justice was chosen to audition for the Food Network show after a casting producer saw a photo on Instagram of a yellow cake he made from scratch.
"My mom asked me if I wanted to audition and of course I said 'yes'!"
The audition process began with Skype interviews and lasted about three months.
During one of those interviews, Justice prepared two baked desserts, one of which was an éclair from scratch.
"It was the first time I had ever made pate a choux dough," he said.
"It was the coolest thing," when the dough turns into a puffy hollow pastry.
Producers later flew Justice and his mother to Los Angeles for a baking tryout.
"I was so stunned and grateful that they selected me," said Justice. "I couldn't believe I was going to be doing something I love, like baking on national TV."
According to the Food Network, the show is filmed at the same studio where adult baking competitions are shot, and nothing is scaled down. The baking stations, equipment and pantry are all standard size. The only concession for kid contestants: They can stand on crates if they're too short to reach the counter.
Justice said that so far, a "throwback éclair" challenge was one of his favorites "because it was so cool taking old-fashioned desserts, many of which I had never heard of before," and transforming them into modern éclairs.
"I ended up winning that challenge, which blew my baking mind!" he said.
This student said he learned how to bake by hand – without a mixer.
"I know how to make whipped cream by hand with a whisk and pie dough by hand using a pastry blender."
During the filming of "Kids Baking Championship," KitchenAid mixers were provided for the young bakers. Faustina fell in love with the machine, he said.
"I told my parents, 'Where has this been all my life?' It makes baking much easier."
"We are thrilled" that Justice is a part of the show, said Smutnak.
"We told him to just enjoy himself and have fun," and think of the filming as a summer baking camp. "And he did just that."
The kids all got along, she said. "It was great that Justice met 11 other children who love baking as much as he does."
Justice said he's not sure if he will become a pastry chef in the future.
"I have so many other interests that I am passionate about like seismology, metrology, geology, geography, gardening and art."
Indeed, he recently won his school National Geographic Geography Bee for the second year in a row.
"Justice has a scientific mind, and when he finds an interest in something he dives deep and teaches himself everything he can about the subject," said his mother.
"He is just a fun kid to raise and be around," said Smutnak.
Justice said if he wins the competition, he would donate part of the winnings to Rostro de Cristo, a nonprofit organization in Duran, Ecuador. Besides that, he'd like to go on a vacation with his family to Thailand, "buy some baking equipment, build a well in my backyard and buy a goat."
"But I want to win not for the money but because I love the process of baking and creating," he said.
Justice said it would be hard to choose if he has one favorite thing to bake.
"I really like baking everything. Much of what I choose to bake depends on what I feel like eating that day," he said.
However, "I really love baking pies during the summer." A particular favorite is peach lattice pie.
"One thing I love about baking is that it makes people happy when you share a homemade dessert with someone; in my experience it always makes people smile."