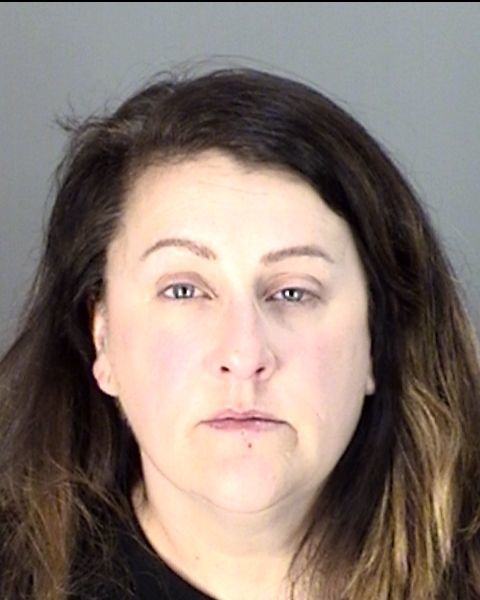 The Napa woman who received widespread national attention in 2019 after her son paid off the outstanding school lunch debt of his entire third grade class was arrested Thursday and charged with 20 counts of theft.
Kylie Kirkpatrick, 43, told media outlets, including the Napa Valley Register, that her son paid West Park Elementary $74.80 from his own savings account after he saw a news story about a student elsewhere being "lunch shamed," or publicly being denied a hot lunch because of outstanding debts.
That story led to appearances on television programs, including "Access Hollywood," and an outpouring of support from individuals, celebrities and companies. The youth was treated to tickets to sporting events and was cited by Gov. Gavin Newsom as he signed a bill strengthening the state's rules against lunch shaming.
The Napa Valley Unified School District already had a policy in place against lunch shaming before the story hit the news.
Napa police opened an investigation in January after receiving a number of complaints that Kirkpatrick was using the fame to enrich herself and her family. A Massachusetts blogger, Aiden Kearney, who publishes under the name Turtleboy Sports, picked up the case and published a detailed series of posts accusing Kirkpatrick of fraud and other misbehavior.
He pointed to Kirkpatrick's long record of lawsuits and restraining orders, both by her and against her, by former friends, family, and other parents at West Park. She was accused in court records by multiple people of harassing them in person and online. Kirkpatrick denied those charges and often accused those people of harassing her.
Police did not detail the evidence against Kirkpatrick on Thursday, but they said she faces six counts of felony grand theft, one felony count of obtaining aid by misrepresentation, 12 counts of petty theft, and one count of theft by false pretenses.
"Police served search warrants on several financial institutions, electronic payment platforms, email and social media providers seeking evidence of fraud allegedly committed by Kirkpatrick," police said in a news release. "Additionally, police interviewed several people related to the case."
A later statement from the district attorney's office said "While felonies, these charges do not expose the defendant to state prison as a result of the passage of AB 109, commonly referred to as "prison realignment" signed into law in 2011."
Kirkpatrick was arrested as police served a search warrant at her west Napa home and was booked into the county jail.
Her son, now 10, was placed with a family member, with the approval of Napa County Child Welfare Services.
Because she was in custody, Kirkpatrick could not immediately be reached for a comment, but she has previously denied committing any fraud in the case or harassing any of the people who accused her.
She had also denied that there was anything fraudulent about the initial story about her son's initial donation to the school. Some critics had questioned whether the money came from Ryan's account at all.
The Register was able to confirm that a payment was made, but couldn't determine whether it was the boy's savings or from some other source such as a short-lived GoFundMe account that Kirkpatrick established, saying it was to raise money to pay off school lunch debt.
Kirkpatrick had given inconsistent accounts to the Register of what happened to the $100 the GoFundMe account raised, but consistently denied that her son used that money to pay the school.
Lt. Gary Pitkin said he could not comment on whether police had any evidence that the initial story was false.
Police are asking anyone who donated goods or money to Kirkpatrick between May 20, 2019 and March 18, 2020 to contact School Resource Officer Darlene Elia at (707) 258-7880.
Editor's note: This item has been modified to correct Kirkpatrick's age, according to the jail booking records. It also added comment from the Napa County District Attorney.