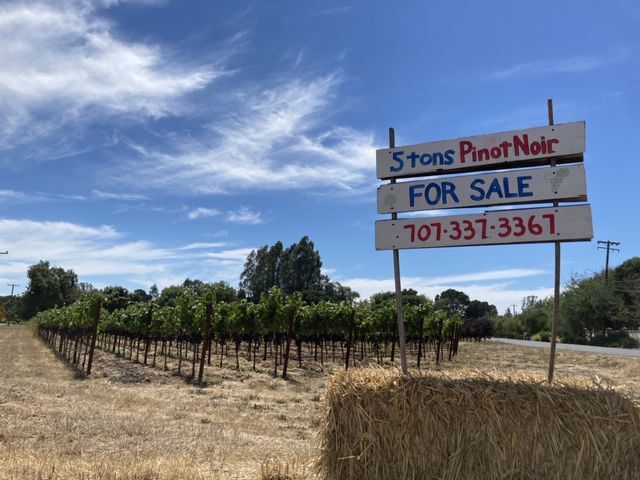 Napa Valley's growers are going into harvest now punctuated by fire with as uncertain a market for their grapes as there's ever been, industry experts say.
Premium grapegrowing regions like Napa are typically well insulated against most market volatility. Long-term contracts between wineries and growers and general demand for high-quality fruit have long all but guaranteed sales at market rate or higher for most growers in Napa Valley.
But the grape glut that came to be in 2019 – created simultaneously by the oversupply of grapes from a historic harvest in 2018 and the first decline in consumer demand for wine in a quarter of a century – put some of that insurance for Napa Valley grapes on the chopping block.
The county's crop report in 2019 reported the average price per ton for Napa Valley wine grapes at $5,872 – a rate not truly reflective of the market, experts said at the time, noting that long-term contracts with year-over-year price increases had almost certainly inflated what was reported out.
Even two years prior to the glut, wineries began giving notice on their buying contracts with growers, according to Johnny Leonardo, a California-based broker for Ciatti Global Wine and Grape Brokers. As a result, more grapes – yet to be spoken for – have flooded the market, even in premium regions like Napa and much of the North Bay.
"As a result, we started 2020 with more available grapes on the spot market than we've seen in recently years," Leonardo said, speaking of grapes for sale 'on the spot' at Ciatti's August market update last week.
Perhaps more frightening for growers in the area was smoke from the Hennessey Fire, which by Friday had grown to more than 200,000 acres and crossed over into Solano and Lake County lines. The fate of vineyards in the Soda Canyon, Pope Valley and western Atlas Peak regions remained largely unknown going into the weekend.
Vineyards often act as natural firebreaks; typically it is not the vines themselves about which growers are concerned, but their grape crop, which can absorb particles of burnt wood and straw, called volatile phenoyls, and develop smoke taint.
Smoke near vineyards does not guarantee grapes will be smoke tainted: much of the science behind the phenomenon is still unknown, researchers have said. Experts have posited that many a Napa winery held their 2017 vintage following smoke from the fires that year (observably more intense than the haze that has settled upon some parts of Napa Valley) without truly knowing if their wines had been tainted.
And then there's the COVID-19 pandemic, yet another hurdle for California's wine industry: it's shaken the market and thrown the question of labor, especially as it relates to the health of winery and vineyard workers, into question. (One large outbreak at a winery could not only threaten the safety of crews and staff, but delay time- sensitive crushing or harvesting operations).
The aggregated impact of the pandemic on grapegrowers has been split, Leonard said: premium grapes, like the kind grown in Napa, are less in demand on that spot market. If grapes are not contracted for, growers in Napa may have a harder time finding a buyer, especially if smoke and fires worsen.
Tim Shetler began advertising his Howell Mountain-grown Cabernet Sauvignon grapes for sale as soon as his buyer pulled out of their contract in April. Shetler, a hobby grower, has an acre's worth of vineyard he's farmed since 2012 that typically produces anywhere from two to three tons annually, he said—grapes he's regularly had contracted buyers for. His buyers this year were Texas-based owners of a boutique label; as the pandemic hit, they were apprehensive over their ability to move inventory.
"It's safe to say the high-end cabernets are moving most slowly right now," Shetler said in mid-August. After a couple of missed connections, he found a buyer for his grapes in Sonoma, though for a 10% reduction in price.
Shetler typically uses the county's crop reports to set prices for his grapes: he goes by the previous year's average per ton for cabernet grapes. (2019's average was reported to be $7,925 per ton.)
"You can find Howell Mountain grapes as much as 50% more than that, but I don't have a lot of leverage over the vintners, so I like to give a fair price – one that allows me to break even or be slightly profitable," Shetler said.
He said the reputation of Howell Mountain grapes – of which Shetler says not many are on the market – helped him find a buyer in the first place. But after the cost of vineyard maintenance, some of which he does himself, he won't be breaking even this year, even as he's been slightly profitable in previous years.
Even amid the glut and the pandemic's disruptive impact on sales channels, the quality of wine grapes Napa is well known for still provides some security, according to Mike Wolf, who owns any eponymous vineyard management companies and works with a roster of Napa Valley growers and estate wineries. At the higher premium levels, he said, the price of grapes is linked to the price of wine.
"Wineries that are continuing to have success selling expensive wine are fine with paying a lot of money for grapes," he said, mentioning a client who'd successfully sold expensive grapes on the spot market. "Someone came along and didn't even blink at the price. It depends on the pedigree of the vineyard and how hard the growers work for quality."
Still, Wolf says, growers are concerned. Prices for Napa Valley grapes have risen continuously for a long time – largely as a result of the long-term contracts that are now being renegotiated or ended altogether.
"There's a lot of talk about the crush report and the 'Napa Valley average' maybe not being the best way (to price grapes)," Wolf said. He's heard from a number of wineries thinking of buying fruit by the acre instead of by the ton. That would be a new development, and an interesting one: it would essentially take the incentive away to grow as much high-quality fruit as possible while relieving buyer stress over excess fruit.
"At its core, this is an adversarial relationship – you've got a buyer, and you've got a seller," Wolf said of growers and vintners, half in jest. "I think this will be an opportunity for people to reset a little bit and reevaluate their relationships."
Those variables could feasibly lead to a deflation in average price for Napa Valley grapes, Ciatti's Leonardo said. In some cases, prices have already come down.
"On the coast, when prices come down – they come down much more drastically (than in places like the Central Valley or Lodi)," he said. "That's a challenge for growers as they've budgeted in some cases twice as much as what they're ultimately offered."
No doubt the industry has had to adapt to the pandemic: some have found success with virtual tastings and others have leaned heavily on wine club members to make up the gap in tasting room and restaurant sales.
But off-premise sales – in retail or grocery stories and in restaurants – would have to increase as much as 20% to make up for the loss in on-premise sales in tasting rooms, according to Danny Brager, former Head of Beverage Alcohol at The Nielsen Company. And as consumer behavior has adjusted through reopenings, the surge in e-commerce and retail sales wineries enjoyed through the spring has shrunk, Brager said.
That could mean a shrinking market share for the wine industry this year, he added.
'Recovery' depends on how fast the economy turns around, Wolf said: how quickly people regain confidence in traveling; how quickly export markets, currently hurting from tariffs, can resume normal flow; how fast restaurants, a key point of sale for many wineries, can open back up at full capacity.
"But if the horror stories are true – that 75% of restaurants in some cities are not reopening – then that's going to be a really bad deal. That's a lot of rebuilding to do," Wolf added.
Editor's Note: a previous version of this article misstated Danny Brager's position. He is the former Head of Beverage Alcohol at The Nielsen Company.
Watch Now: Vines on Las Amigas Road before harvest