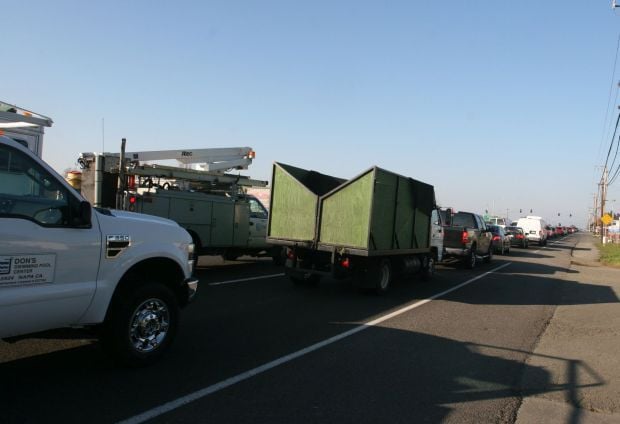 Napa County transportation leaders are weighing whether adding Highway 29 lanes in the south county is a congestion-easing solution or an expensive way of running in place.
That made for a lively discussion at Wednesday's Napa Valley Transportation Authority retreat. The agency with representatives from the county and its five cities looks at regional transportation issues. The NVTA in 2014 approved a $349 million vision for Highway 29 in American Canyon and Napa. Among other things, this plan calls for someday widening the highway through American Canyon to the Highway 12/Jameson Canyon entrance from four lanes to six lanes, if the money can be found.
NVTA Executive Director Kate Miller broached the topic of rethinking that vision and sticking with today's four lanes, two going each direction.
"If you build a six-lane road, traffic is going to follow," Miller said. "People go where there's capacity."
The lane-widening portion of the Highway 29 plan could cost more than $80 million, not counting right-of-way purchases.
Miller said the Metropolitan Transportation Commission has restrictions on funding road expansions. Plus, a new state environmental law requires taking a look at how road expansion projects would increase vehicle miles traveled.
With all of these factors, she doesn't foresee federal and state money flowing to Napa County for the widening project.
"Basically, we'll be responsible for funding the whole thing if we decide to widen," Miller said.
Though she didn't mention the topic, one money-raising option suggested by local transportation leaders in the past is for voters to pass a county tax for new transportation projects.
"We could spend the rest of the day talking about adding two more lanes through American Canyon and nobody has money to pay for it," Yountville Mayor John Dunbar said.
Miller also talked about self-driving vehicles that can communicate with each other easing traffic congestion. These vehicles will virtually eliminate the 25 percent of delays caused by accidents and braking/acceleration decisions, she said. They will increase opportunities for sharing vehicles.
Her question to NVTA board members — does it make sense to invest tens of millions of dollars into a highway widening project that might become obsolete in a decade?
The American Canyon contingent had doubts about jettisoning the highway-widening vision, including skepticism that self-driving vehicles will make a big traffic difference anytime soon.
"I wouldn't kid myself and say, 'OK, in the next five years there will be auto dealerships all over the place selling these things,'" American Canyon Mayor Leon Garcia said. "Or in 10 years."
American Canyon City Councilman Mark Joseph said rush-hour congestion in American Canyon is miserable, with traffic oozing from the highway into neighborhoods. He didn't like the idea of saying it will stay miserable while waiting for a hoped-for technological solution.
"Somewhere along the line, you've got to do the old-fashioned thing and that's create the capacity to address the traffic that's there," Joseph said.
The NVTA Board of Directors didn't resolve the Highway 29 widening issue. With no money available to add lanes, an instant resolution wasn't needed. In the short term, the agency is looking at improving express bus service and bike and pedestrian paths. American Canyon is looking at building parallel roads in the city.
Another project in the 2014 Highway 29 plan is to build an interchange at the signalized, Highway 12 entrance to Jameson Canyon leading to Fairfield. But Miller said the $80 million design proposed by the state Department of Transportation would only marginally ease the bad congestion at this chokepoint.
Transportation leaders need to rethink this project, she said.
The signal at Highway 29 and Highway 221 intersection is another chokepoint. The NVTA for years has planned to build a $50 million flyover there, with environmental studies well underway.
A new, and possibly cheaper, version of the project calls for ditching the flyover. Instead, Highway 29 would cross over Highway 221/Soscol Ferry Road. Two roundabouts, one on each side of the overpass, would route Highway 221 and Soscol Ferry Road vehicles to their desired destinations.
"It just feels more Napa-ish and less freeway-ish," Miller said.
The northernmost Highway 29 chokepoint addressed in the 2014 vision is the signalized, three-way Highway 121 intersection, where Highway 121 goes west to Sonoma County. The NVTA has a $500,000 reconfiguration plan that would leave traffic in Highway 29 northbound lanes always flowing.
"I think this is an improvement we are all anxious to make," Miller said.
The NVTA Board of Directors held its transportation retreat at the Christian Brothers Retreat and Conference Center in the Mayacamas Mountains a few miles west of the city of Napa.
Get local news delivered to your inbox!
Subscribe to our Daily Headlines newsletter.