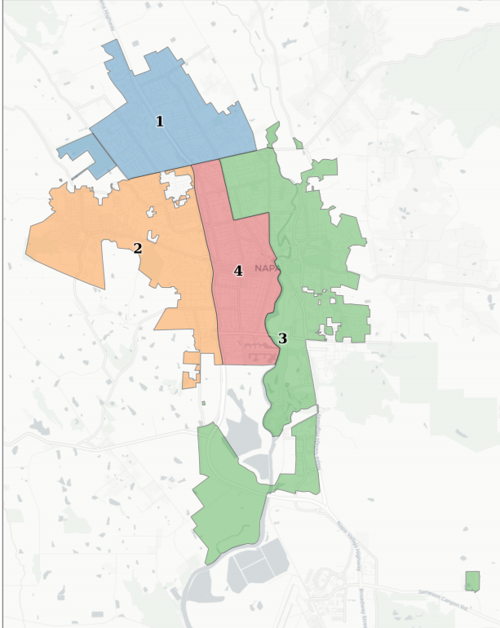 The city of Napa will soon be formally divided into four voting districts, apportioning one seat on the City Council to each and changing the nature of the city's elections for years to come.
City Council unanimously moved Tuesday night to approve a final version of the electoral map and put it up for one last up-or-down vote at next week's meeting. The draft map was selected by council at last week's hearing from four finalists. It was subsequently tweaked based on council member comments and public feedback, resulting in this latest version.
According to Paul Mitchell, the consultant demographer hired by Napa, "the foundation of the map is very strong." He pointed to its resemblance to the natural divisions created by major roads and thoroughfares, existing neighborhoods and the physical geography.
The map draws a north Napa district above Redwood Road/Trancas Street, another for west Napa west of Highway 29, one district through the center of the city and another for east Napa stretching south to include Stanly Ranch.
Mitchell noted the map was a direct result of dialogue with the community and discussion at City Council's public hearings.
"If anyone were to ask 'where did this map come from,' they could look at dozens of hours of City Council meetings," he said.
It meets all state voting law requirements including roughly equal population size, contiguity and continuity and identifiable boundaries. The map does not create any one district with a Latino majority, though California law stipulates a jurisdiction is only required to do so if doesn't disrupt the other legal requirements.
A petition received by the city on Jan. 2 from the Napa County Progressive Alliance asserted the city's at-large election system was in violation of the state's voting rights act because it "diluted" the vote of the local Latino community, which accounts for roughly 41% of the total population.
Mitchell said creating such a district wasn't possible due to the integration and dispersion of the community throughout the city.
"We have been elected by the whole community and we feel like we serve the whole community," Mayor Jill Techel said of how the council views its responsibility to all Napa residents irrespective of a district map. "There's a strong feeling here that that is important to continue."
Council also voted to move forward with the sequence of elections it approved at last week's hearing. Two vacant seats will be up for election this November, those from districts 2 and 4 covering west and central Napa. Seats representing districts 1 and 3, held by Councilwomen Liz Alessio and Mary Luros, respectively, won't be up for election until 2022, allowing the two incumbents to serve the remainder of their four-year term.
The adopted sequences will shake up plans for residents who had already announced their intention to run for City Council this November, but can no longer do so if their home falls in the same district as Alessio or Luros.
Michael Sobelman and Cameron Purvis, two Napans already in the initial stages of their campaigns for this year's election cycle, will likely be impacted. Both testified during public comment their support for an alternative map.
All residents will continue to cast a vote for mayor this year. Councilmembers Scott Sedgeley and Doris Gentry already announced their plans to campaign for the position.
Tuesday night's meeting included less public testimony than meetings past, and much of it centered on what will happen with the West Pueblo/Linda Vista area, currently an unincorporated part of Napa County. Residents of this island don't vote in city elections.
Scott Rafferty, the Walnut Creek-based lawyer who penned the petition that began the districting process back in January, and his client, the Napa County Progressive Alliance, both submitted testimony requesting the island be flagged as part of district 4 to prepare for possible future annexation.
They used its inclusion in the same district as Browns Valley as reason for the change, citing vast differences in income and education levels, language and lifestyle.
Council ultimately decided not to act on the recommendation, confirming with City Attorney Michael Barrett that members would have the opportunity to vote on the district placement of any new land that's incorporated into city limits down the line at the time of annexation.
Sedgeley also said he felt the ask was over-indexing on the Browns Valley comparison, which only makes up a portion of the much larger district. "It includes the whole west side of Highway 29, but Browns Valley is just a part of it," he said.
Residents have demonstrated significant interest in the districting process, regularly submitting public comment, attending City Council meetings and attending the community workshops. "That's Napa," said Alessio, commending the public for their engagement through each of the steps.
Per federal law, any district map must be based on the most recent decennial census data. As a new census is currently underway, re-districting will take place again next year, using new demographic statistics to draw maps for the 2022 elections.
Council will conduct the final vote establishing the new ordinance for district-based elections next Tuesday, May 5 during its regularly scheduled meeting.
Get local news delivered to your inbox!
Subscribe to our Daily Headlines newsletter.