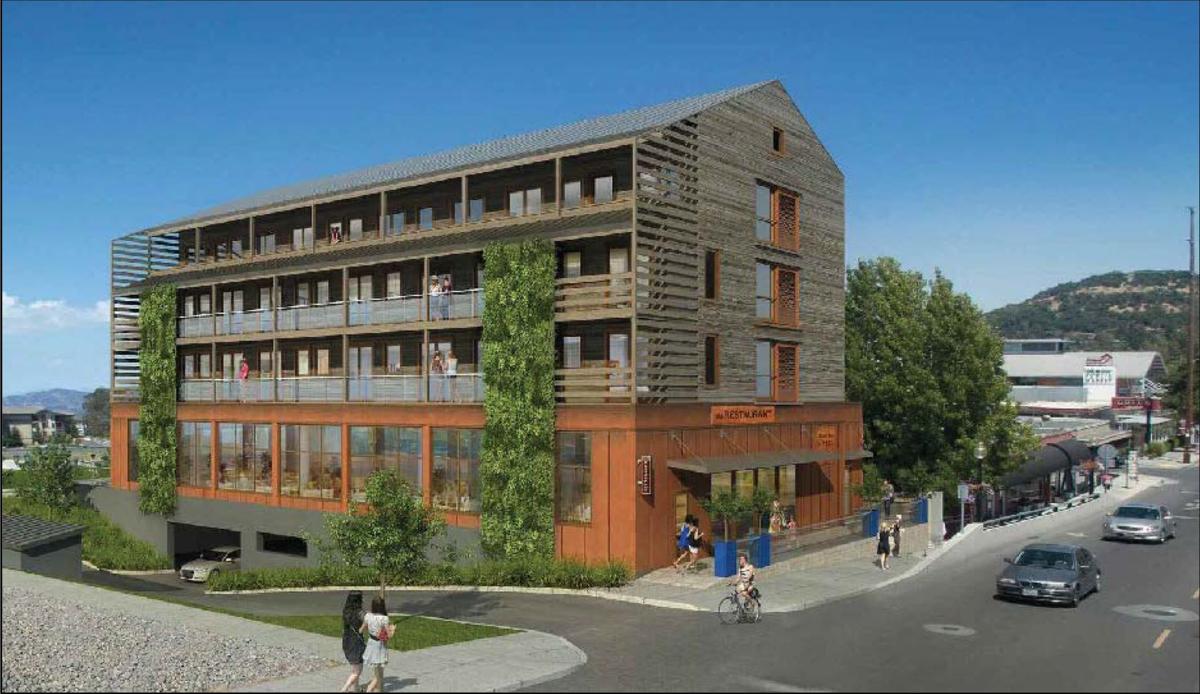 How tall is too tall? In the case of a hotel planned for Napa's Oxbow district, the city's land-use authority has decided that five stories is just tall enough.
The developer of the Black Elk boutique hotel and restaurant got the Planning Commission's blessing for a five-story metal-and-wood structure at 728 First St. It would pack 27 guest rooms – with a space-saving automated garage beneath – within just over a third of an acre, in a neighborhood where the nearby Oxbow Public Market and CIA at Copia are drawing more traffic and interest than ever.
But Andrew Siegal's development will be more than another in Napa's growing roster of hotels. Standing 60 feet above the sidewalk, it is slated to become the Oxbow's tallest building, towering above homes and storefronts that have occupied the neighborhood for decades.
The question for city planners became whether to judge Black Elk's height and mass against what its neighborhood once was, or to compare it to the attractions that have sprung up to its east – and other projects intended to bring more tourists, residents and passers-by to the area in the future. Ultimately, four planners decided a relatively small hotel would fit both the Oxbow's current needs and the shape of things to come.
"The Oxbow is very tourist-driven, and this project encourages people to park on-site and walk around this town" to restaurants, shops and entertainment, said Commissioner Michael Murray.
The arrival of Copia and the Oxbow market has already set the course of the once-neglected neighborhood, according to Huether, who said resisting new construction "is hard to square with a dynamic, hot, ever-changing community."
Future development nearby will cause the hotel to fit with its surroundings sooner rather than later, he added. "It could take 30 years," said Huether, "but I doubt it will, unless we have another Great Recession."
Paul Kelley cast the only dissenting vote – less because of the project's quality and more to avoid opening what he called a potential loophole for those seeking to go even taller in the coming years.
While Napa's zoning rules cap building heights in the Oxbow at 60 feet, Kelley pointed to Black Elk's placement in a natural bowl – a depression that causes the rear of the building to exceed the limit even though its front just brushes it.
"We have a downtown specific plan (guiding building design in the city core), and we're pushing the height barrier – and breaking through it," he said, adding its size could form a visual barrier between the Oxbow and downtown.
Some Napa residents also shared their skepticism about the hotel, joining city staff members who cautioned the commission about the stretching of size limits in a pre-meeting memorandum.
"Obviously a lot of work went into this, and it's a really pretty design," said Rich Collins of Alta Heights. "(But) I just don't think it's the right place for this building. On one side it'll eclipse the sunset, and on the other side it'll eclipse the hills. Just because you can, doesn't mean you should."
The Black Elk building would house its restaurant and retail space on the ground floor, with guest rooms on the upper floors. A loft-like effect on fourth-floor rooms would produce the height of an additional, fifth floor beneath a seamed metal roof, with the envelope clad in a mix of metal and wood.
Hotel guests would enter the sunken, mechanized garage from a driveway off First Street on the building's west side. A set of "puzzle" lifts will ensure that any vehicle can be taken into and out of the garage independently of the others, and a parking attendant will be on duty, according to Mike Brinck, vice president of sales for the Oakland-based parking automation firm CityLift.
Other hotel developers also have turned their attention to sites in and near the Oxbow. Across First Street from Siegal's property, J.B. Leamer has applied to build the Foxbow development with a 74-room inn, while the owners of the Napa Valley Wine Train are pursuing a $100 million, 148-room resort – also with five floors – to replace its rail terminal on McKinstry Street. Farther east, a luxury hotel project on First Street and the Silverado Trail has held city permits since 2008, but has remained unbuilt because of impacts from the Great Recession.