The image may be alluring: hotel rooms, a restaurant, shops and gardens surrounding a light-filled atrium, with views of the wine country beyond.
On Thursday, the reality began to come into focus when Napa's Planning Commission got its first detailed look at a multistory building that would house the Napa Valley Wine Train's new station along with a new resort.
Presented with a plan described by Wine Train directors as an homage to old-style hotel-train station hybrids that anchored the downtown areas of major cities, members of Napa's land-use authority saw improvements from the version presented to the city last year – but asked designers to work harder at creating a hub that can avoid overwhelming its once-quiet surroundings, the Oxbow district by the Napa River.
The 3.14-acre site facing McKinstry Street, the Wine Train rails and Soscol Avenue would be completely transformed under the plan, estimated to cost $100 million. An existing station building and surface parking lot would be removed to make room for a six-level, 60-foot-high structure containing a 148-room hotel, restaurant, shops, a pool, spa and a new terminal for the company's fine-dining rail excursions, with 396 parking spaces on the bottom three levels and rooftop gardens bracketing the north and south ends.
New renderings shared by the Wine Train's architectural firm, Olson Kundig of Seattle, retain the clean-lined modernism and low-slung design – marked by the use of colored concrete, painted bronze and weathered wood – of hotel drawings the company released after filing its hotel plan in 2017. But the updated sketches add three walkways linking the building's long sides, facing Soscol Avenue on the west and the Westin Verasa hotel to the east, that add vertical accents to a structure that – at about 500 feet long and 200 feet wide – city planners said risked being too massive in relation to its surroundings.
Planners accepted the design tweaks as making the future hotel-depot less imposing, with Paul Kelley describing the latest version as "more open and transparent" than before. But despite Wine Train partner Scott Goldie's aspiration to do for Napa what showpieces like Denver's Union Station have accomplished elsewhere, Commissioner Alex Myers still saw the execution as lagging behind the aim.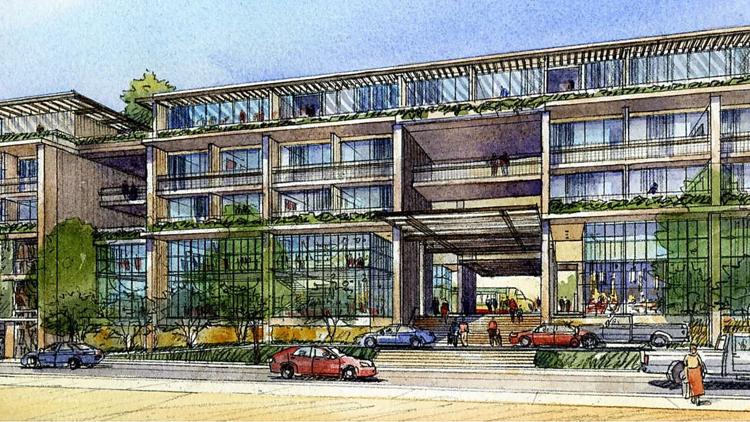 "I don't get that sense of awe-inspiring grandeur from this atrium," he said of the central space, which would be equipped with wide skylights and a large central clock. "I would love to be able to walk into this atrium and say to myself, 'Wow, oh my gosh, this is so incredible,' and I don't get that impression at all."
No city vote on the Wine Train hub is expected until the spring at earliest, but the prospect of another hotel immediately raised the concerns of local housing advocates who pointedly asked what homes would be available – and affordable – for future employees as Napa rents continue to spiral upward.
"At some point, we reach a point of no return," said Chuck Shinnamon of the Napa Housing Coalition. "We're not building housing for those who will work in this hotel, in this restaurant. Where are those folks going to live? Are they going to commute from out of town? It certainly appears to be the case."
The Wine Train's new McKinstry Street home would become the latest large-scale addition to the Oxbow area, once occupied mainly by one-story homes but increasingly sought out by visitors attracted by the Oxbow Public Market and the CIA at Copia food-and-wine center.
Developers also have targeted the district for their own proposals, which now include a five-story Black Elk Hotel on First Street, up to 124 homes in Copia's south parking lot, and a Westin hotel annex with 32 more rooms.
Such intense interest from builders should nudge Napa leaders into more carefully weighing not only each new hotel's design, but its effects on the Oxbow area as a whole, suggested Commissioner Michael Murray.
"We have a lot of projects coming down the pipe, and it's (necessary) to set a true vision of what the Oxbow district will look like – that's a discussion that needs to happen," he said.
Get local news delivered to your inbox!
Subscribe to our Daily Headlines newsletter.