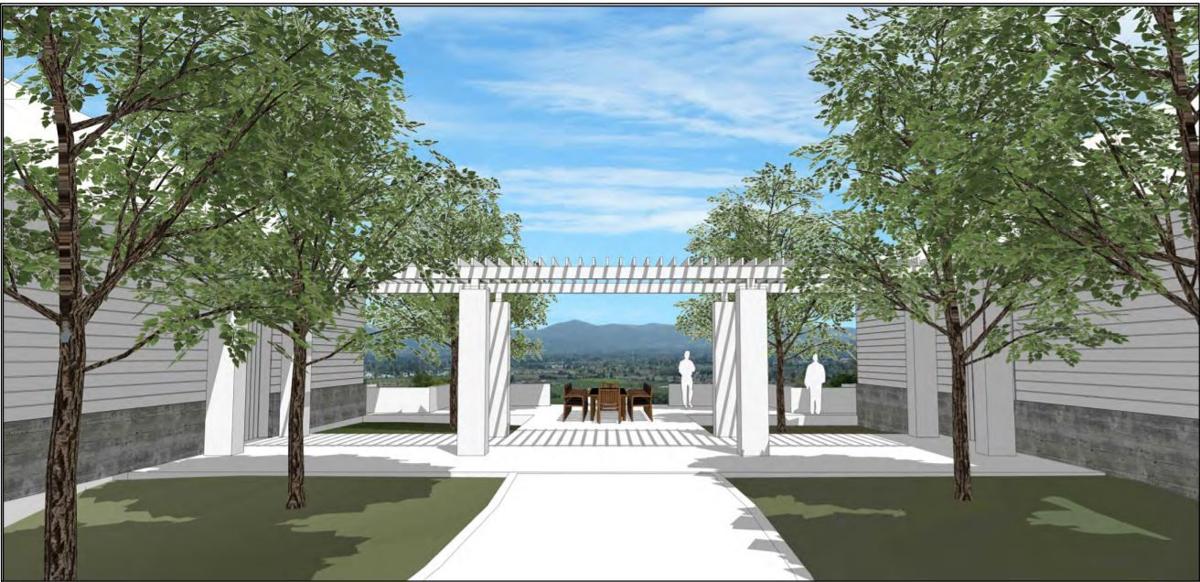 Another Napa County winery growth battle finally ended – barring any appeals—with the county Planning Commission making on-the-fly changes to craft an Anthem winery expansion solution.
"What we've tried to do is thread a needle from 50 paces," Commission Chairman David Whitmer said.
Julie and Justin Arbuckle saw a previous version of their Anthem expansion request create controversy at an October 2018 county Planning Commission meeting. A revised version presented to the commission on Wednesday did the same.
Familiar winery growth flashpoints arose – requested visitation and wine production, access using a long, narrow driveway and groundwater use. Several neighbors along Dry Creek and Redwood roads in the hills northwest of the city of Napa made their cases.
"They're trying to put a size-10 foot into a size-8 shoe," neighbor Jeff Atlas told the Planning Commission.
Julie Arbuckle described herself as a "hardworking mom" with the dream of having a sustainable winery that supports the family on a property she called "paradise."
"In the process, I somehow riled up misimpressions by people who don't know me and who don't seem to realize we propose to increase sustainability and safety on our parcels," she said.
Anthem came into the meeting asking to increase annual wine production from 30,000 gallons to 50,000 gallons and annual visitation from 260 guests to 13,208 guests. It asked to build a 10,388-square-foot winery and 29,000 square feet of caves.
In addition, it asked to change the winery entrance from 3454 Redwood Road to 3123 Dry Creek Road about a mile north of the city of Napa's Alston Park.
Winery representative Rob Anglin began the proceedings by offering to keep wine production at 30,000 gallons. Whitmer hailed the move as being "in the spirit of trying to make this a more appropriately sized project."
Visitation proved to be a stickier issue. The Planning Commission balked at a request for 13,208 annual visitors and set about trying to roughly cut this number in half.
What followed was the bureaucratic version of sausage making. As they did with Caldwell winery visitation on Jan. 22, commissioners went through a lengthy math session as they tried to make daily tasting room guest numbers and marketing event guest numbers add up to something acceptable.
That led to a counter proposal by Anglin for seasonal variations. He called an annual visitation total with the same weekly maximums year-round "a fiction" because "it assumes you're going to be doing full-tilt business in January."
Commissioners tackled the task with gusto. As 1:30 p.m. approached, they still hadn't taken a lunch break. Anglin suggested they do so to allow his team time to look at the numbers being suggested.
Finally, after a break and more math, the Planning Commission settled on a daily tasting guest total and marketing event total of 7,623, with seasonal variations.
Bernadette Brooks of Dry Creek Road Alliance said the total annual number is still a little high. But striking some of the large marketing events—such as a 200-person event—is important because they would be danger and noise compounded.
"I think all the way around, we're more amenable to that," she said.
Whether the Anthem winery team was satisfied with the outcome was unclear after the five-hour meeting. Anglin and Julie Arbuckle indicated in the hallway that they needed time for the day's outcome to sink in.
Planning Commissioners heard from 16 speakers during public comments. All but one expressed concern about the size of Anthem's initial expansion proposals.
Some described groundwater problems in the area. Some asked how the winery could evacuate guests at large marketing events in event of a wildfire. Some questioned how emergency vehicles and winery traffic could share the narrow driveway.
"I have long stood in support of the small family winery ... I am eager to support Justin and Julie as well, as their project becomes properly-sized for the remote, rural site it is," neighbor Steve Moulds said.
Brooks said the neighborhood has welcomed family wineries that are smaller than the proposed Anthem expansion. She said the Anthem winery proposals should be for smaller caves and less visitors.
Vintner Dario Sattui spoke in favor of Anthem. One problem is people moving into agriculture areas and then expressing concern about agricultural operations, he said.
"It's a small project," he said.
Whether the Planning Commission satisfied enough people to avoid an appeal of its decision to the Board of Supervisors remains to be seen. A packed room at 9 a.m. had dwindled to a few people by the time the meeting finally ended around 4 p.m.
Get local news delivered to your inbox!
Subscribe to our Daily Headlines newsletter.