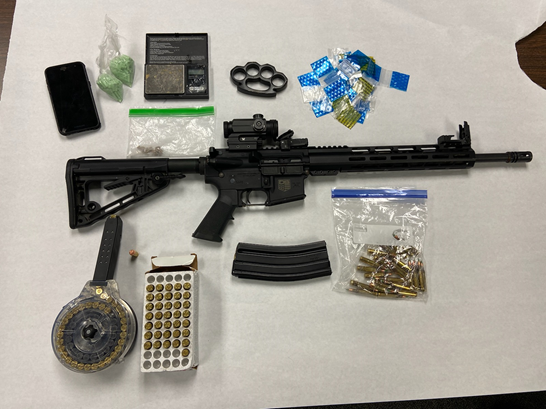 A man arrested Sunday morning on suspicion of illegal weapon and drug possession was released after less than two hours due to a statewide suspension of bail for some offenses during the coronavirus pandemic, Napa Police say.
Joshua Boyd Coglizer, 22, was detained at 10 a.m. outside his home in the 2100 block of Sommer Street after admitting to officers he had illegal brass knuckles in his pocket, according to Lt. Chase Haag. A search warrant for Coglizer's home turned up an AR-15 rifle, ammunition and high-capacity magazines, as well as suspected Xanax and MDMA, packaging material and a digital scale, Haag said in an email.
Coglizer was booked into the Napa County jail for investigation of possessing an assault weapon and high-capacity magazines, as well as possessing a controlled substance with intent to sell. However, he was released at 3:09 p.m. with no bail, according to jail booking records.
At least a dozen people have been arrested multiple times by Napa Police since the statewide stay-home order began March 20, the department reported earlier this month. Of those suspects, two were detained four times and three were held three times, while another suspect was arrested five times in all – three times by police and twice by the Napa County Sheriff's Office.
Thousands of California inmates have been released from county jails since April 13, when the state Judicial Council lowered bail to zero for various lower-level offenses in hopes of preventing the coronavirus from spreading through jail populations.
In addition, Napa County's corrections department in March began lowering the number of inmates to about 30 percent below the jail's 276-person capacity, partly by reconfiguring the jail to increase buffer space and working with the District Attorney's Office to review which inmates less then two months from their release date can safely be freed early, county officials said in April.