Former Napa Police Sgt. Todd Shulman wants people to meet Napa Valley crime-fighters of old who helped crack some of the area's most notorious and bizarre murder cases.
Shulman puts this cast of characters together in his new book "Napa Valley Lawmen and Outlaws." It is his fourth book on Napa County, three of which focus on law enforcement.
"My main goal is to bring to life some of these people who served Napa County," Shulman said. "It's to bring them to life, make them human."
Shulman, who retired from the Napa Police Department in July after 20 years, formed the Napa Police Historical Society in 2006 and knows all about the people involved.
People like Charles Allen. Shulman gives Allen's backstory, from his birth in Rhode Island in 1817 to being shipwrecked on a deserted island in the Indian Ocean to seeking his fortune in California's gold mines.
Allen's Napa County crime-stopping exploits began when he was elected the local sheriff in 1861. He caught James Jenkins, a killer who claimed he had been egged on by a rancher's wife to murder her husband and replace him as the ranch's boss.
Before going to the gallows, Jenkins sat with Allen in the jail house and dictated a sordid life story that included killing 18 men. The resulting, 25-cent pamphlet was meant to discourage youngsters from turning to crime.
One of those pamphlets today is part of the Napa Police Historical Society's collection. Shulman has read it and called some of it "self-serving," with Jenkins describing himself as a victim of circumstances.
"He probably makes himself more important than he was," Shulman said. "He was already sentenced to death, so he didn't have anything to lose by making himself a big criminal."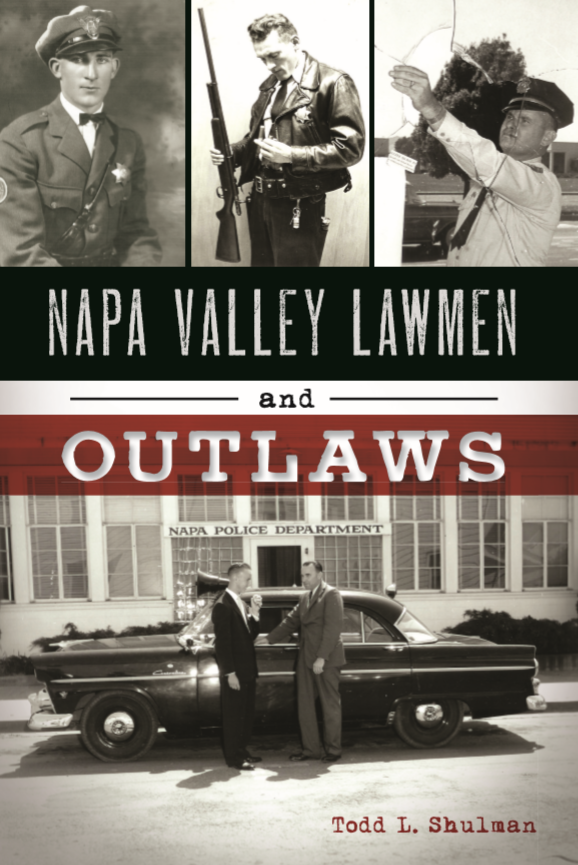 Then there's Richard Lonergan, who Shulman met several times.
"He's an interesting guy because he's a homegrown Napa person," Shulman said. "His family has been in the valley since the 1860s."
Lonergan was a standout Napa High School athlete who also served as student body president and had the nickname "Mr. Napa." He joined the Napa County Sheriff's Office in 1963 after a stint in the U.S. Navy.
In 1969, he was working on the notorious Zodiac killer murder cases. When a Fairfield teenage girl was strangled with her own sock and her body dumped in Wooden Valley, it looked like the Zodiac had struck again.
But Lonergan saw the case had none of the Zodiac's hallmarks. His detective skills helped a convict a 22-year-old Napa man who only weeks before the murder had heroically pulled three children from a burning building.
"It's a crazy story," Shulman said.
The man drove a delivery truck that had been seen parked in Wooden Valley around the time of the murder. A criminologist found blood on the man's shirt matched the victim's blood type and seeds embedded in the blood matched those on the sock. A botanist said the seeds came from a plant found only in the Wooden Valley area.
"That case shows the importance of forensics through history," Shulman said.
Sometimes, the crime-combatting picture is complicated. St. Helena Town Marshal John Allison both built the city jail for a mere $158 around 1870 – it stood for almost 90 years—and filled it with criminals.
But, when Chinese workers stole his canvas buggy cover to create a tent, then-Justice of the Peace Allison and his two adult sons rode out to confront them. In the ensuing fight, a worker swung a pole at one of Allison's sons. Allison shot the man, who lived. Allison turned himself in to the sheriff and the case was ultimately dismissed.
"It was kind of a Wild West time," Shulman said.
The story shows the plight of marginalized people back then, Shulman said. His book noted a newspaper account from the time never gives the injured man's name, but refers to him as "Chinaman" and "Celestial."
After a 6-month closure due to COVID-19, the Napa County Historical Society is reopening with a new exhibit full of stories. 
Sometimes, the heroes aren't even human. Vem, a German Shepherd, in 1978 became the canine half of the Napa Police Department's first canine team. Officer John O'Donnell was Vem's handler.
On July 1, 1979, Vem was sent to take down a man holed up in a bedroom closet with a knife. The man slashed Vem's throat and Vem died.
"That's a story I knew about it; I heard about it directly from John, Vem's handler," Shulman said.
Napa police were outraged when a judge released Vem's killer on his own recognizance, without even posting bail. Outraged rank-and-file officers staged a one-day "blue flu" by calling in sick. The chief scrambled to fill the shifts with lieutenants.
"In law enforcement, these dogs are part of our family," Shulman said.
Vem's story made national news. The mayor was awakened in the middle of the night by calls from reporters.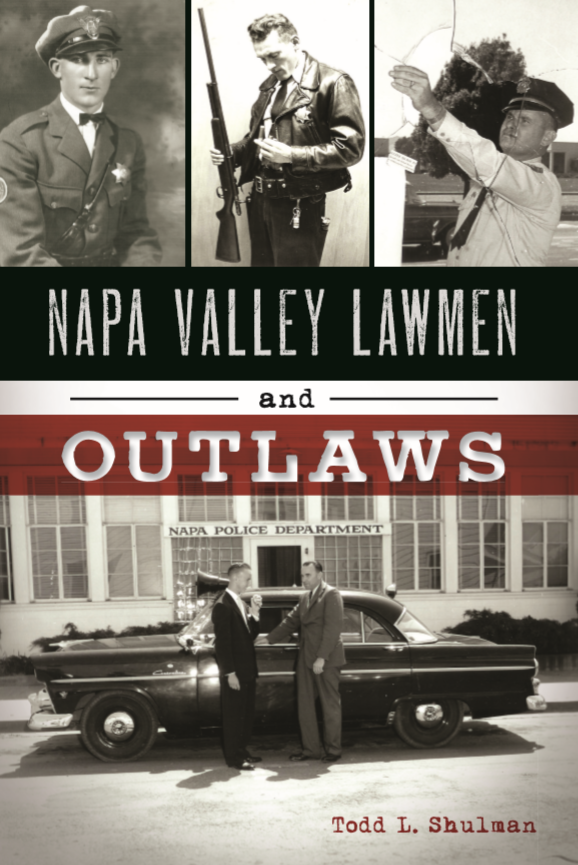 Shulman also focuses on the nuances of bygone eras.
For example, a half-century before the age of traffic signals, the city of Napa had red lights strung up at key intersections that had nothing to do with traffic. When the lights went on, police officers walking their beats hurried back to headquarters for assignments.
Today, of course, dispatch centers to the job. But, Shulman said, the actual job of being a cop hasn't really changed that much.
"It's about protecting the public, following leads to track down people," he said. "We've improved the tools and techniques. But looking back on these old cases in my research, a lot of the basics were there 150 years ago."
"Napa Valley Lawmen and Outlaws" is published by Arcadia Publishing and The History Press. Go to https://bit.ly/2T16CjB to learn more. People can order a signed book from Shulman at tshulman@napapolicehistory.com, with proceeds going to the Napa Police Historical Society.
Shulman's other books are "Napa County Police," "Murder and Mayhem in the Napa Valley" and "Napa County (Postcard History)."



Watch now: Take a tour of the new Napa Copperfield's Books
Get local news delivered to your inbox!
Subscribe to our Daily Headlines newsletter.