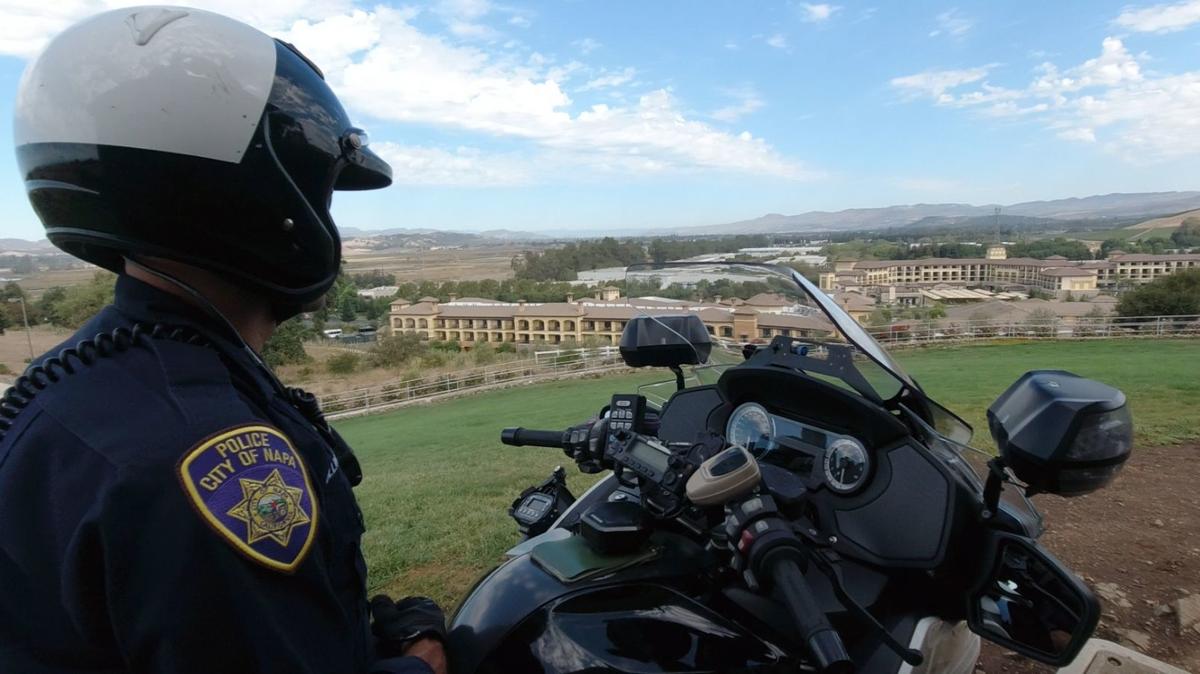 A tree-shrouded valley kissed by the rays of sunrise fills the computer screen, followed by thousands of music fans massed on BottleRock's festival lawn, grapevines undulating over country hills, a Hollywood-style spotlight shooting light beams beside the Uptown Theater's neon marquee.
"Here, in the wine-producing capital of the United States of America, we still value a sense of community and a sense of family …" a calm and low-key voice intones over a subdued keyboard background.
To all appearances, it could be a Chamber of Commerce commercial to woo vacationers into the Napa Valley. In fact, one of the newest videos from the wine country is not a pitch for tourists, but for cops.
"… Where the police and the community forge an authentic partnership …" the narration continues over images of officers hugging seniors at a retirement home, or high-fiving children at a school function: "where people still enjoy getting to know their neighbors. This is the unique lifestyle the community of Napa has come to appreciate."
One of Napa Police's latest recruiting tools is a social-media video that puts patrol cars and pistols in the background. Instead, the 2-minute, 45-second online promotion, which the department posted to Instagram and Facebook on Jan. 14, is a paean to nature, the outdoors, music, culture and the valley's other adornments that city law-enforcement leaders hope will set Napa apart from other cities in the hearts of future police officers.
That emphasis on life away from the beat as well as on it is a necessity for police forces seeking younger officers to replace retiring ones, according to Napa Police Chief Robert Plummer – and doubly so when the Bay Area's inflated housing costs present such a high wall to recruitment of any sort.
"When I got here, I realized we'd see some retirements, and we had vacancies already in place," said Plummer, who arrived in Napa in July 2018 after 27 years with the Las Vegas police department. "We had to go beyond knocking on doors, putting something online and waiting for people to say they wanted to be police officers. You have to do something that draws people's attention."
A key goal is to inform would-be Napa transplants of the landscape, music, and wine and food scenes that will be within easy reach, along with the big-city attractions of San Francisco farther afield.
"For a lot of young people, if you don't live here, you think this is just a wine region," said Plummer. "It's a great little secret that if you work in Napa, you have exposure to so many things, and quickly."
The beginning salary for a trained officer is $91,824, according to the city's website.
A new approach to recruiting led to new forms of outreach by Napa Police, which paid Leitner Media Productions $12,000 to produce about 10 videos to be released throughout the year. The clips will include segments pitched to would-be officers as well as others aimed at generating goodwill among current townspeople, Plummer said last week in an interview.
Besides being published on social-media platforms used daily by millions, the videos themselves depart from the imagery of SWAT teams and late-night car patrols. Even the footage of uniformed officers in action leans toward the moment of human contact – a police volunteer hugging teenagers at a public park event, or officers chatting up a young family on a restaurant patio.
Most of the footage was shot in the course of a week in October, according to Sgt. Heath Morrison, one of several staff members to oversee the project. Some social events where police were to take part were scheduled for the days when a video crew was scheduled to visit, but the department also took advantage of other gatherings – including one at Willow Elementary School – to include even more slices of daily life, he said.
"We wanted to sell it, to show why people want to come here," Morrison said Monday. "We wanted to bring people into a family-oriented concept rather than strictly a police one. It's a family there; a lot of jobs you get, you're just a number, but if you work for city of Napa you're not just a number."
Morrison was hopeful the online outreach will bring Napa up to the same playing field as other police departments chasing the same pool of recruits – although he conceded the difficulty of doing so with housing prices high, supplies vanishingly small and city rules preventing officers from living too far from the city. (Napa officers are required to live within an hour's drive of the department, which Plummer said effectively sets Vacaville in Solano County as the outer limit of where officers can live.)
"It's just one piece of the puzzle – it's not going to save us by itself, and it'll take other actions from the city and the police," said Morrison. "It'll take other kinds of incentives and financial compensation. This is just a piece that we've been missing for a while. We have to more things now, because it's very hard to hire law-enforcement people right now."
Future videos from Napa Police will include testimonials from residents, merchants and elected officials, as well as more scenes of officers meeting townsfolk, according to Morrison. Another recruitment video will highlight the training experiences of a newly appointed Napa officer.
Get local news delivered to your inbox!
Subscribe to our Daily Headlines newsletter.