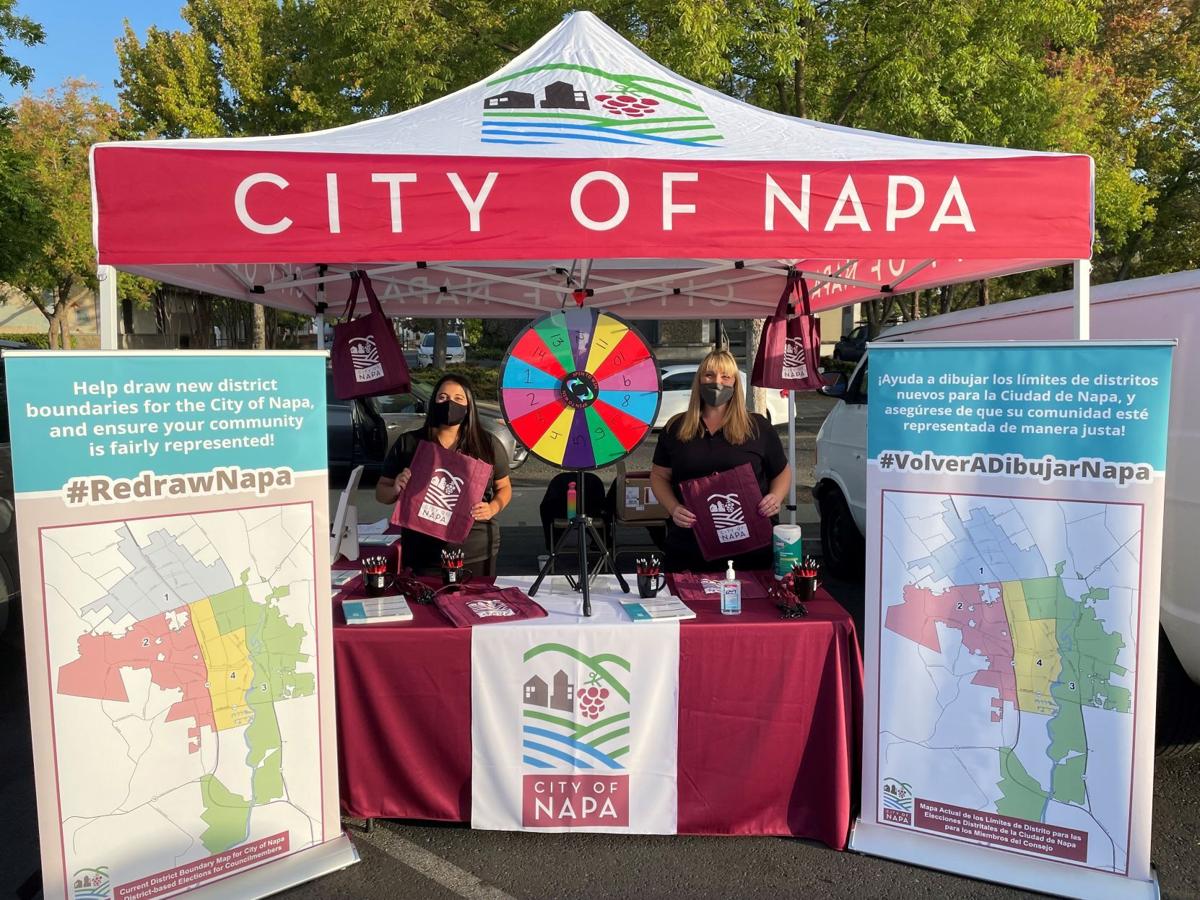 With the 2020 Census results out, Napa's redistricting process is ramping up with public engagement built to inform the community how to participate in the upcoming effort.
Redistricting is designed to happen once a decade, every time Census data comes out, in municipalities with district-based elections. The city of Napa transitioned to district-based elections last year, which involved a very similar process of designing district maps with community engagement.
The city switched over from an at-large voting system which involved every resident voting for every open Napa City Council seat. Under the new district-based system, only voters residing in specific districts can vote for a City Council candidate also residing in that district.
Support local news coverage and the people who report it by subscribing to the Napa Valley Register. Special offer: $1 for your first 6 months!
Napa's first district-based elections were held last year, and two of Napa's four districts — currently held by councilmembers Liz Alessio and Mary Luros — will be up for election in 2022. The mayor's seat is still chosen at-large, and will be up for election in 2024.
The city's switch to district elections was truncated last year because it was spurred by a demand letter — and the threat of a lawsuit — that claimed the city's at-large elections violated the California Voting Rights Act of 2001 by diluting the vote of Napa's Latino population. Almost no municipalities in California have won a CVRA lawsuit, but a provision in state law allows municipalities to avoid the legal threat if they establish intent to switch to district elections and then transition on a tight timeline.
That tight timeline, however, also meant the city couldn't wait around for the 2020 Census results before switching to district elections. So the maps drawn for last year's City Council election were based on the most recent 2010 Census, which is the reason new maps have to be drawn only a year and several months after the old maps were created.
With more time to carry out the community engagement process this year, an educational effort from the city and other Napa municipalities is currently moving forward. The Napa city clerk's office set up a pop-up booth at the Napa Farmers Market Tuesday to help inform residents about redistricting, and will be returning to the Farmers Market on Sept. 18 for the same purpose.
City Clerk Tiffany Carranza said she and other city staff members were able to engage many community members, including Spanish speakers, in conversations and answer questions about redistricting at the event.
"We also helped a lot of residents learn which district they live in by using our life-size map of the current district lines," Carranza said. "The maps were a great visual aid, and people really enjoyed looking at them to figure out which district they live in."
Another upcoming educational event is a multi-agency meeting hosted by Napa County — and including representatives from the city of Napa, the county, Napa Valley College and the Napa County Office of Education — which will take place virtually on Zoom Sept. 16 at 7 p.m.
At the event, the agency representatives and Redistricting Partners, LLC — which is serving as the demographer for all the mentioned government agencies — will explain how the redistricting process works, according to a city press release. The demographer will also give a live demonstration of how to use the online mapping tool DistrictR to teach members of the public how to draw communities of interest and submit full district maps online.
"Staff members from various agencies will also share details about their upcoming outreach events and how members of the public can get involved in the redistricting process to help shape the future of Napa County," says the press release.
The redistricting process is designed to involve community participation in redrawing the voting districts because community feedback is needed to identify communities of interest — broadly defined as people with shared economic or social interests who live in a defined area, and would therefore benefit from being included in the same district.
Most opportunities to participate in the process or provide feedback to the city will occur at the public forums and community workshops.
For the city of Napa, A series of five required public hearings are scheduled to run from Oct. 26 to March 8 next year, according to the press release. Additionally, five community workshops, focused on drawing district maps, will be held from Dec. 1 to Jan. 30.
Catch up on Napa County's top news stories
Get unlimited digital access to the Napa Valley Register for just $1 for your first 6 months! Enjoy every article without restrictions and find tons of subscriber-only perks, such as access to our daily eEdition. Click here for details!
You can reach Edward Booth at (707) 256-2213.