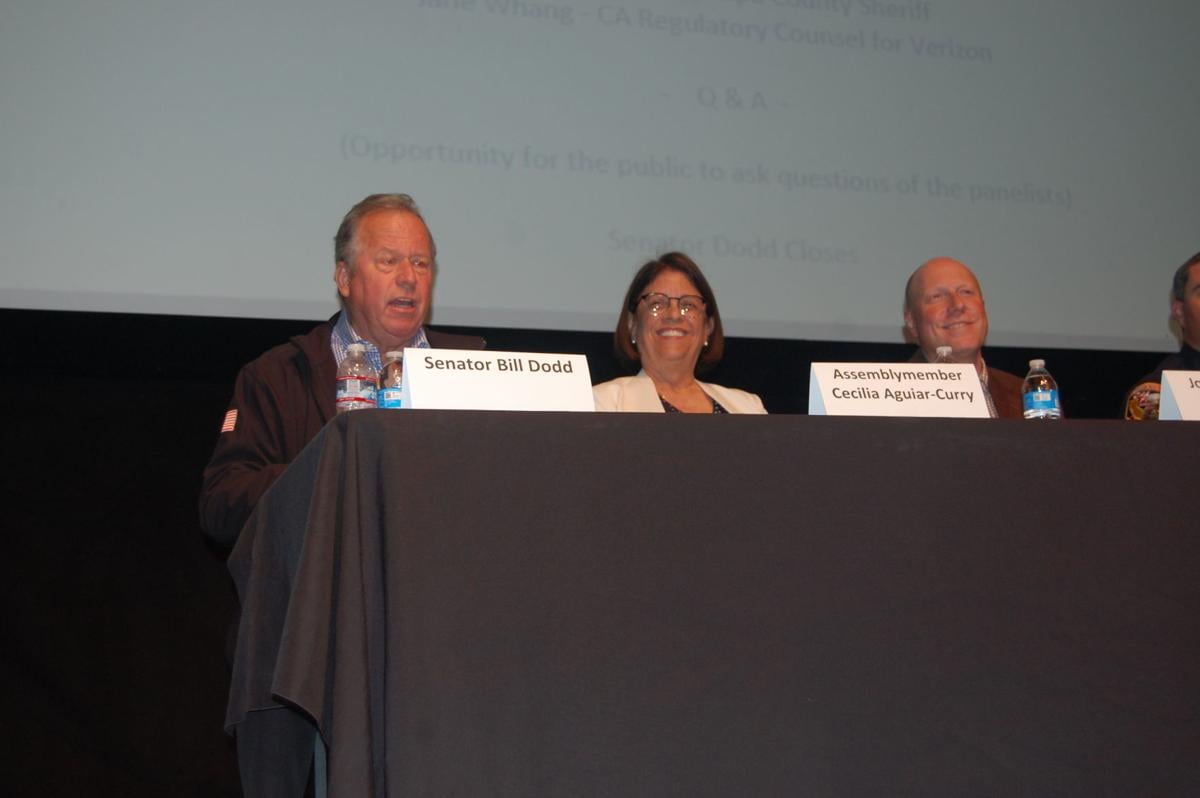 On the eve of yet another public safety power shutoff, Napa County residents came to state Sen. Bill Dodd's town hall Tuesday night on Pacific Gas & Electric's performance with questions, suggestions and anger.
About 150 people attended Tuesday evening's session in the Napa Valley College Performing Arts Center. One thing those speaking seemed to agree on – they want "lights out" on the current version of PG&E shutoffs during high fire danger weather.
Gina Biter-mundt addressed the panel of state, county and other officials—but no one from PG&E—from her wheelchair. Without electricity, she can't charge her power chair to have mobility. She needs medical devices charged to keep her body from breaking down, she said.
Many people who have disabilities are on limited incomes, Biter-mundt said. She asked for some kind of funding to provide portable generators to those who really need them so their lives aren't endangered during a shutoff.
Biter-mundt said she had to go home to prepare for a shutoff PG&E had scheduled for Wednesday. Those with medical problems can't put up with this situation for the decade PG&E says it might take to improve the grid to make shutoffs far less likely.
"We're not going to make it that long," she said.
The panel responded to people's comments. Dodd, D-Napa, said the state is looking at the situation of those with medical problems and must do more.
"We just have to do a better job," Dodd told Biter-mundt. "I hear you loud and clear."
Leonard Hall lives in Napa Valley Mobile Home Park along Orchard Avenue at the northern tip of the city of Napa, with subdivisions to the south and miles of vineyards to the west, north and east. The park has 257 homes and about 600 residents, he said.
During a recent power shutoff, a resident on hospice who wanted to pass away in his own home had to go to an assisted living facility where he died, Hall said.
Hall said his next-door neighbor is 94 years old and lost her home in the 2017 wildfires. She recently went five days with no power or heat because of a power shutoff.
"How much abuse from PG&E is she going to take?" Hall said.
Half the mobile home park lost electricity during a recent power shutoff for 24 hours, the other half for five days. That's because different parts of the park are on different electrical systems. Connecting a wire from two power poles 100 yards apart could put the entire park on the more reliable system, he said.
"I need to know who at PG&E is going to listen to this story?" Hall said. "Who do I call? Who do I get to connect a wire from two poles 100 yards away?"
Napa County Supervisor Alfredo Pedroza said there are similar situations elsewhere, such as one resident having power restored and the person across the street going without. The county has asked PG&E where transmissions lines are, how the transmission lines are fed and what substations they are fed from, he said.
Dodd said state officials will be talking to PG&E this winter about how places currently experiencing long power shutoffs can be fed from different lines.
"If anybody has any other circumstances like that, please let us know," Dodd said. "One of the things (PG&E officials) tell us is that because of security reasons, they won't tell us where the substations are, where it's fed ... it's just kind of bizarre."
Several panelists brought up San Diego Gas & Electric as the model on how to handle power shutoffs. That prompted resident Gary Margadant to ask for details.
Anthony Noll of the California Public Utilities Commission (CPUC) said San Diego Gas & Electric has two advantages over PG&E. One is experience. It has used power shutoffs during wildfire-prone weather since 2007, while PG&E began the practice last year.
Also, San Diego Gas & Electric serves a smaller area and has a network that is more like an actual grid, allowing it to route power around. PG&E, by contrast, has long, linear circuits.
A resident asked whether local agencies could do a better job than PG&E trimming trees around power lines to stop falling branches from sparking wildfires.
Dodd explained how PG&E submits its tree-trimming plans to the CPUC for approval. Then PG&E or its subcontractors do the work.
"And, believe it or not, all these years, PG&E or their subcontractor self-audits whether the work has been done," Dodd said.
Dodd said he sponsored a bill to put an end to that. The state needs "boots on the ground" to check the tree-trimming work to make certain it's been done to a high standard.
Noll said the state is gearing up to do the job. There will be lots of work opportunities for arborists.
Another resident said PG&E-sparked fires have killed more than 100 people, destroyed tens of thousands of homes and burned hundreds of square miles of forests. This is carnage and evil, not incompetence and mismanagement, he said.
PG&E is effectively a criminal organization that puts profits before lives, the resident said. He asked the state to look at possibly indicting the CEO, board of directors and management of PG&E on charges of murder and arson.
Pedroza, who moderated the meeting, asked if any of the panelists wanted to respond. None did.
A Lake County man asked how elected officials who have taken campaign contributions from PG&E can oversee and improve the utility. Both Dodd and Assemblywoman Cecilia Aguiar-Curry, D-Winters, said they stopped taking PG&E contributions in 2017.
"I think you're asking a deeper question – is the money going to influence the decision?" Dodd said, and then described a recent case when the Legislature turned down a PG&E request that could have impacted ratepayers.
Aguiar-Curry said she will never let money donated to her campaign influence her. She sleeps with a clear conscience, she added.
At another point, she said she will vote to limit PG&E's authority to shut off the power, to punish PG&E for fires caused by its mismanagement and to turn PG&E's business over to regional public electric agencies with good plans.
"Like you, I am angry," Aguiar-Curry said. "I'm frustrated. I am done waiting for them to do what they should have been doing for many years and their time is up."
Other panelists were John McDowell for the county Office of Emergency Services, Napa County Fire Chief Geoff Belyea, county Supervisor Diane Dillon, Sheriff John Robertson and Jane Whang of Verizon.
Get local news delivered to your inbox!
Subscribe to our Daily Headlines newsletter.