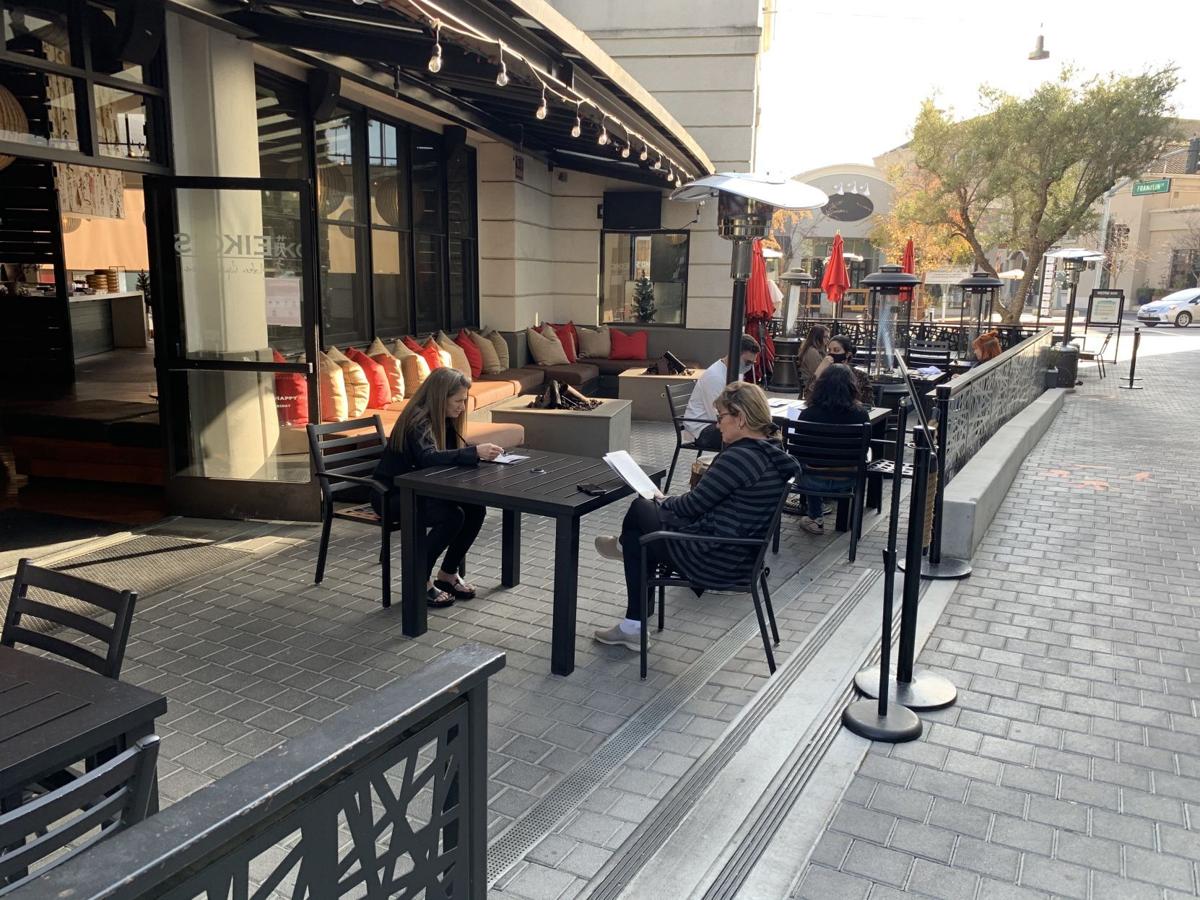 Mauro Pando of Grace's Table learned Monday morning that local restaurants can once again open outdoor dining and before noon was already serving customers.
"We're ready to go," said Pando, owner and chef of the restaurant on Second Street in downtown Napa.
California lifted its regional stay-at-home order in the Bay Area and elsewhere on Monday. That means restaurants can once again serve food outdoors only, wineries can serve guests outdoors only and hair salons can reopen, among other things.
State projections show intensive care unit capacity should be adequate in coming weeks, enough to lift the regional stay-at-home order restrictions imposed on the Bay Area on Dec. 18. That means counties revert back to the state's color-coded set of restrictions.
Napa County is in the most restrictive tier of purple. Still, local restaurants can once again serve guests outdoors instead of being limited to take-out and delivery only.
"The difference is 10% of my normal sales to 70% of my normal sales," Pando said.
He is open this week for outdoor brunch/lunch and plans to add outdoor dinner dining next week. He kept half of his staff so he could reopen quickly when the day came and now can go back to having most of his staff, he said.
More than 50 Napa Valley restaurants and other businesses sued Gov. Newsom last week, arguing the ban on outdoor dining and wine tasting was "arbitrary, irrational, and unfair," and lacking scientific evidence confirming outdoor dining is a major contributor to the spread of COVID-19.
The quick lifting of the state regional stay-at-home order on Monday came as a surprise to others, as well.
"I think it's coming as a surprise to all Californians," said Michelle Novi, associate director of industry relations for Napa Valley Vintners.
Even so, the group is expecting member wineries to reopen to the public "pretty quickly," especially once the rains forecast for this week have passed, Novi said.
Wineries closed their doors to the public for the second time in late December after regional ICU capacity slipped below 15%. The closures prompted slews of layoffs in the wine and hospitality industries — some for the second time — capping off what Novi described as "a really hard last 11 months."
Ahead of his press conference Monday afternoon, critics of Gov. Newsom suggested the reopening — and initial, comprehensive closures — had been somewhat arbitrary.
"I think everyone knows that these shutdowns have very real impacts," Novi said, asked to comment on the sudden shift into reopening. "We're just grateful that the vintners can once again have the opportunity to share their wines with guests outside."
The lifting of the order has other effects. Napa County spokesperson Janet Upton said gatherings are once again allowed outdoors, up to three households. Retail stores can go from 20% capacity to 25% capacity.
Newsom in a Monday press conference said the signs are encouraging for California after battling through a COVID-19 surge. Projections show the Bay Area as of Feb. 21 should have a 25% ICU capacity and the state as a whole over 30%.
"We're seeing a flattening of the curve," Newsom said. "Everything that should be up is up, everything that should be down is down."
But both Newsom and Napa County Public Health Officer Dr. Karen Relucio sounded a note of caution.
"While lifting of the Regional Stay Home Order is step in the right direction, we can't let it lead to complacency," Relucio said in a written statement. "I look forward to the day we can look back on how we came together to eradicate this pandemic but until then, it is still present in our community, so it's imperative all of us continue to take precautions to limit its spread."
Critics have said California isn't getting out the COVID-19 vaccines quickly enough. Newsom in his press conference grappled with the issue and said the state tripled vaccine administration from 43,000 on Jan. 4 to 131,000 on Jan. 15.
"We're just getting going," he said.
Californians want to know when and where they can get vaccinated, Newsom said. He talked about a new scheduling and data system called My Turn that is having a pilot program in Los Angeles and San Diego counties. A statewide launch should happen in the next few weeks, Newsom said.
Register reporter Sarah Klearman contributed to this story.
WATCH NOW: WHEN WILL IT BE SAFE TO SEE VACCINATED LOVED ONES?
PHOTOS: NEW NAPA NAIL SALON AVALON NAIL SALON IS EAGER TO REOPEN
Copyright 2021 The Associated Press. All rights reserved. This material may not be published, broadcast, rewritten or redistributed without permission.