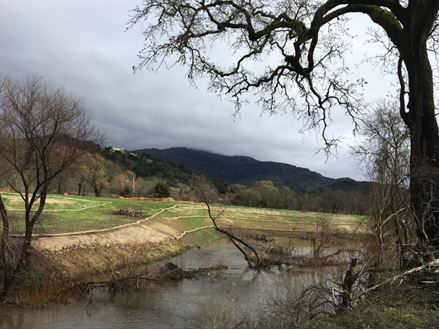 Napa County and its partners have been presented with the 2019 Outstanding Environmental Project Award by the Friends of the San Francisco Estuary for ongoing efforts to restore riparian and floodplain habitat along an important segment of the Napa River between Oakville Crossroad and Oak Knoll Avenue.
The Outstanding Environmental Project Award was presented to Napa County, the Napa County Resource Conservation District, Environmental Science Associates and riverside landowners at the biennial State of the Estuary Conference held in Oakland in October.
The award recognized the first three phases of the Oakville to Oak Knoll Project focused on restoring and enhancing long-term Napa River and floodplain function, improving the quality and resilience of riparian habitat, and reducing property damage and sediment impacts associated with flooding and erosion.
Landowners participating in the first three phases of this project include Jackson Family Wines, Constellation Brands, Treasury Wine Estates, Gamble Family Vineyards, State Farm Ranch, LLC, and the Missimer and Traina families. Their collaboration and willingness to remove and setback vineyards, service roads and flood berms have played a critical role in the restoration project's scope, goals and success, officials said.
Technical collaborators and grant funding agencies include the San Francisco Bay Regional Water Quality Control Board, the California Department of Fish and Wildlife, The State Water Resources Control Board, The United States Environmental Protection Agency, The California Coastal Conservancy, and The Wildlife Conservation Board.
Napa County Supervisor Diane Dillon expressed appreciation on behalf of the County for recognition of this project, and for the generous support from the landowners and funding agencies.
"It is also important to recognize the voters of Napa County for their role," said Dillion, who represents District 3. "This project and other similar efforts were made possible by approval of the Measure A sales tax that provided watershed improvement funding from 1998 through 2018."
The Oakville to Oak Knoll project is a multi-phase plan with 23 restoration sites organized within four groups over a 9.5-mile reach of the Napa River that is at the center of the watershed and heart of the Napa Valley. The first three phases include 12 sites that enhance and restore approximately five miles of channel and 35 acres of riparian and floodplain habitat. Completion of the final project phase (Phase 4) is anticipated by 2022.
Get local news delivered to your inbox!
Subscribe to our Daily Headlines newsletter.