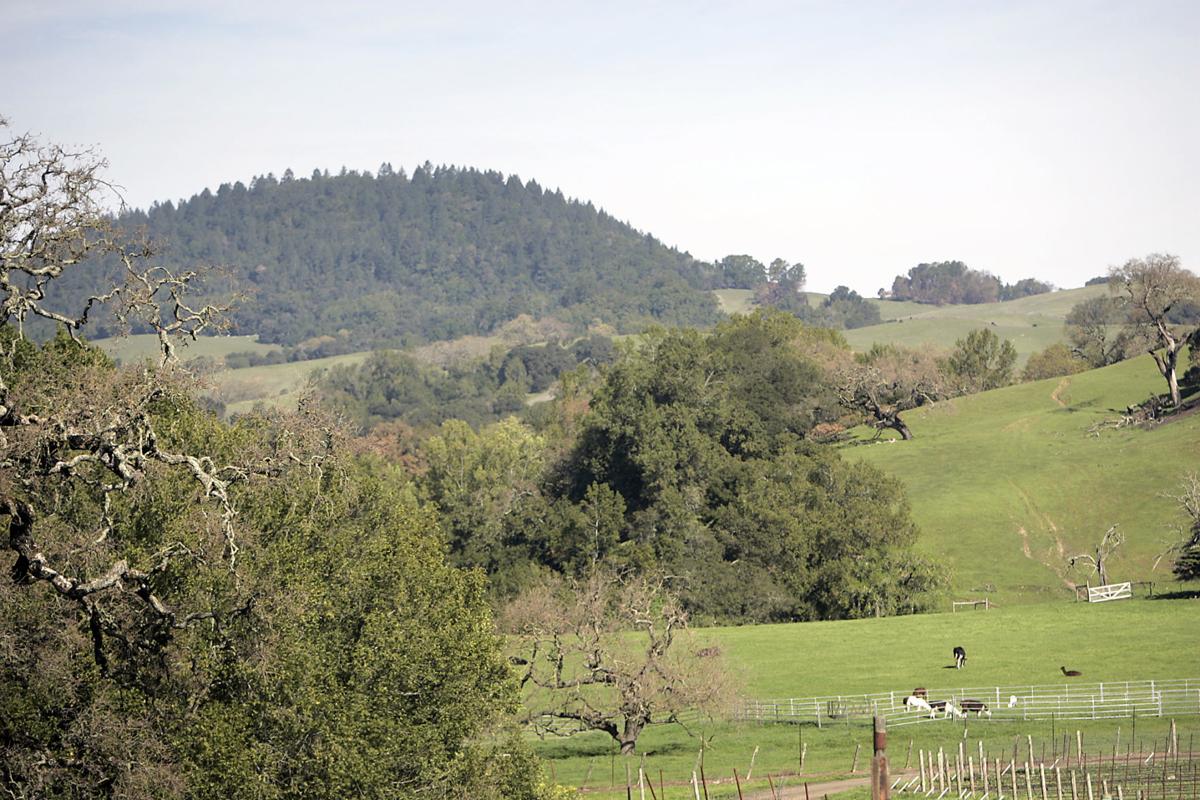 Measure C election season claims are flying – the initiative is either the much-needed protector of oak woodlands and watersheds or an anti-agricultural mistake that could unintentionally lead to more hillside luxury homes.
Voters will decide this latest Napa County growth skirmish in the June 5 election. The focus is on the mountains framing Napa Valley that are in the agricultural watershed zoning district.
Local residents Mike Hackett and Jim Wilson helped author Measure C, which among other things would limit oak woodlands removal for new vineyards and strengthen stream setbacks in the agricultural watershed.
"The thing we have in common is we both have a spiritual desire to maintain this world that we live in for everyone and for the future of our grandchildren," Hackett said.
Opposing the initiative is a coalition that includes the Napa County Farm Bureau, Napa Valley Grapegrowers, Napa Valley Vintners and Winegrowers of Napa County.
"Our issue with this all along has been that ag should be the highest and best use of land, as the general plan states," said Ryan Klobas of the Napa County Farm Bureau.
Is Measure C taking the "agriculture" out of the agricultural watershed zoning district? Or is it simply giving the "watershed" part of the equation a long-overdue greater emphasis? That's the debate that's underway.
Central to Measure C are Napa County's oak woodlands that can be seen in the hills from the valley floor. Valley oaks, blue oaks, black oaks, interior live oaks, coast live oaks and Oregon white oaks are among the local species.
Napa County is more oak country than wine country, at least acre-wise. A county report says oak woodlands cover 167,000 acres – about 33 percent – of the county. That compares to about 45,000 acres of vines.
These oak woodlands provide many benefits, the 2010 Napa County Voluntary Oak Woodland Management Plan says. They control erosion, help protect water quality, reduce ozone pollution, support a diversity of wildlife, enhance property values and provide habitat for predators that attack vineyard pests.
Among its controversial features, Measure C sets a 795-acre limit on cutting down oak woodlands, with the count to begin as of September 2017. After the limit is reached, property owners seeking to cut down oak woodlands would in most cases need to obtain a county permit.
Vineyard development doesn't appear on the list of eligible uses for a permit.
Since grapes are the lifeblood of wine, a possible restriction on vineyard planting is causing a stir in Napa County's world-famous wine country. Measure C opponents see a Napa Valley floor with little room left for planting and now a potential, looming limit on planting in nearby hills and mountains.
"Which means zero growth for a Napa County industry," Debra Dommen of Treasury Wine Estates told the Board of Supervisors during a lively Measure C discussion on Feb. 27. "No other wine region has ever done that, put itself at zero growth."
Measure C proponents see 795 as the magic number of acres needed to fulfill the county's general plan forecast for another 5,500 acres of vineyard planting from today through 2030. They assume that 14 percent of the total acres will involve cutting down oak woodlands.
These are defensible assumptions, concluded a county report on Measure C done by the law firm Miller Starr Regalia.
If Measure C passed, how much of the cap would be left? The Miller Starr Regalia report looked at vineyards applications going back to the September 2017 start date and concluded more than 600 acres. The remaining cap space could be as high as 650 acres.
But the report also raises the possibility – vehemently denied by Measure C proponents – that wildfire-damaged oaks might count toward the oak removal limit.
The Atlas, Tubbs and Nuns wildfires last October burned about 30,000 acres of oak woodlands. If 2.5 percent of these trees are considered "removed" by the fire and count toward the 795-acre limit, then the limit would be exceeded immediately upon the passage of Measure C, the report said.
Attorney Robert Perlmutter on behalf of Measure C proponents called the idea that trees lost to wildfires would count toward the limit "entirely groundless." He said the report "uses the fires to incite baseless fears" about the initiative.
Everything hinges on how one reads Measure C. Measure C's definition of tree removal that counts toward the cap includes "intentional" burning of trees. The Miller Starr Regalia report suggests that trees lost in fires caused by arson or negligent human behavior might fall in this category. It questions what happens if no cause of the fire is apparent.
Measure C opponents say that people who can't use their land for vineyards because of the oak limit cap will look for other uses. Those uses might be luxury homes or event centers, leading to more traffic, they say.
Measure C co-author Wilson said one home per parcel is already allowed in rural Napa County and event centers are already allowed with a county use permit obtained through Planning Commission hearings. This is true whether or not Measure C passes.
He called the traffic claims "desperate scare tactics designed to confuse people."
Measure C's oak-cutting limit applies only to oaks, not to other types of trees. The limit wouldn't stop the logging of conifers to make room for vineyards, a controversial practice in the Angwin area.
Wilson said the reason conifers couldn't be included in Measure C is that the state Department of Forestry and Fire Protection has jurisdiction over logging in these timberlands. But, he added, the Measure C stream setbacks should apply to the conifer forests.
Far less conifer forests are cut down to make way for vineyards than oak woodlands. The Miller Starr Regalia report found pending vineyard applications would remove 123 acres of oaks forests. This compares to 24 acres of conifer forests.
Another debate is whether vineyard development in the eastern hills threatens water quality in nearby reservoirs that serve Napa, Calistoga, St. Helena and Yountville.
Napa County requires erosion control plans for vineyards built on slopes of 5 percent or more. Still, some worry that sediments, fertilizers and pesticides can wash away from these vineyards with the winter rains and end up in local waterways.
"Preserving Napa County's water resources is critical to the long-term health of its residents and their environment," Measure C states.
The recently approved Walt Ranch vineyard development project in the hills above the city of Napa's Milliken Reservoir has been a lightning rod for water quality concerns.
Walt Ranch received a Napa County Board of Supervisors-endorsed erosion control plan. The 1,500-plus pages in environmental documents for the project said doing such things as sizing drainage to handle 100-year storms will actually decrease the erosion of sediments into streams leading to Milliken Reservoir.
A skeptical city of Napa expressed concerns about Walt Ranch erosion. Improving the Milliken Reservoir treatment plant to handle pesticides and fertilizers could cost more than $20 million, the city wrote to the county in late 2014.
Measure C proponents have repeatedly mentioned that city letter and that possible, $20 million price tag for an improved water treatment plant.
"We already have a water problem," Hackett told county supervisors at a recent meeting. "Let's wake up, open our eyes. We need to protect it now, for our future."
Yet Napa Mayor Jill Techel is among the Measure C opponents. She noted the city and county last summer agreed to do a $180,000 study to gather data on how hillside development affects city reservoirs.
"I'm concerned that we're saying, 'This (Measure C) is the right solution' before we've even come forward with the data and information," Techel said. "I think we're on the right path to come up with the right regulations."
St. Helena Mayor Alan Galbraith has taken a different position. He announced in a letter to the Napa Valley Register that he supports Measure C.
St. Helena is served by Bell Canyon Reservoir in the mountains east of the city. Galbraith wrote that he is concerned about water quality. He thinks the stream development setbacks required by Measure C are essential to protecting the reservoir.
Another debate is about whether Measure C is needed to help the Napa River.
Streams from the hills drain into the Napa River, which provides habitat for Chinook salmon and steelhead trout. The Napa River is on California's list of impaired water bodies for sediments, pathogens and nutrients, though the state has recommended a delisting for nutrients.
Davie Pena at the Feb. 27 Board of Supervisors meeting talked about the Rutherford Reach project. This project saw landowners restore a 4.5-mile section of the Napa River to a more natural state with flood plains, which reduces erosion.
"We took out more sediment out of the Napa reach in Rutherford than was recommended for the whole reach of the Napa River," Pena said. "It was all supported by wineries and individuals. It was all voluntary … This is the way we should do it, not by initiative."
Hackett in response said more needs to be done to keep sediments from entering streams that feed into the Napa River. Measure C will do such things as establish a setback for Class III streams, which are at the top of the watershed.
"Davie, you're cleaning up the Rutherford Reach, but that's dirt that's coming down from the hillsides," Hackett said.
Part of the debate over Measure C is whether an initiative is the right way to approach the oaks-and-watershed issue.
Former Agricultural Commissioner David Whitmer isn't convinced the county's existing regulations are failing to protect the watershed. He also said interpretations of some Measure C provisions will probably differ with the lawyers reading them.
"With something this scientific, that is this complicated, using the initiative process to pass this legislation is absolutely the wrong way of going about it," Whitmer said. "We should be having these discussions in public forums and debating the issue. The Board of Supervisors is the right venue for taking these actions."
Hackett sees a need to go beyond the Board of Supervisors.
"This is called a citizen initiative," Hackett said. "When citizens don't see the government representing the citizens' interests, they have the authority and right to file an initiative to deal with the issue themselves."