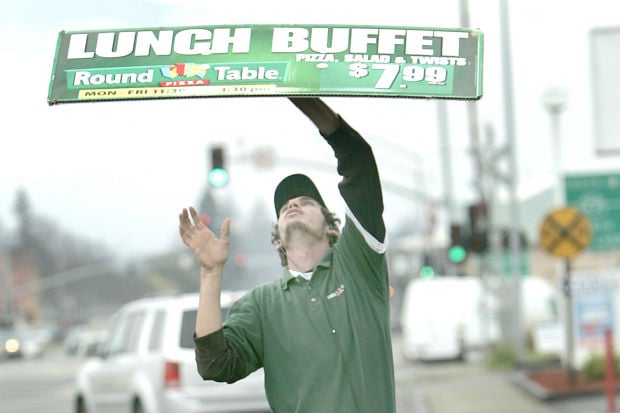 For more than three years, a pizzeria's advertisement on a busy Napa corner has been flesh and blood — swaying, toe-tapping flesh and blood.
At 11:30 each weekday morning, Pete Maple carries a 5-foot-wide green sign to the intersection of Redwood Road and Solano Avenue. Over the next two hours, the placard bearing the name of the Round Table Pizza restaurant becomes a prop in the 22-year-old Napan's dance of advertising, as Maple swings and spins his sign over his head and around his body while performing a shuffle-step he calls "The Stomp" in hopes it will draw a few of the passing drivers to the pizza parlor behind him.
Few, if any, passersby know the name of the skinny man in the ballcap, green polo shirt and the beginnings of a beard. But his dance steps and shaking signboard have made him a fixture of north Napa's streetscape.
"I usually smile and wave to them; people here call me the Sign Guy," he said Wednesday at the Round Table, where a rainstorm had forced him into cashier and kitchen duty for the day.
Maple is one of the numerous sign spinners known in the retail industry as "human directionals," plying their trade by waving placards promoting restaurants, housing subdivisions, tax preparer firms and other businesses.
On Thursday, Maple was back at Redwood and Solano, swinging the Round Table board despite a light rain. A well-worn cellphone with a shattered screen piped dubstep music into his earbuds, setting the beat for the shuffling of his black sneakers, one of half a dozen pairs he wears out each year on street-corner duty.
More than enthusiasm and a love of "renegade dance" pop fuel his daily routine. "I'm extremely hyperactive, I have ADHD, and I drink a lot of coffee," he said, pointing to a 23-ounce plastic cup near his feet.
A few feet away, another man was trying to lure Napans to another nearby business, though more calmly. A 6-foot-tall signboard for the Massage Envy Spa completely obscured Grason Moore as he tilted its rounded bottom back and forth on the sidewalk, subtly leaning it toward Solano Avenue.
Moore had taken on the job only two weeks earlier, but already had learned the same lesson of human billboard duty as Maple — never stop moving so passersby don't stop noticing.
"The problem (the store) had with other people was they'd just go and lean over there and not move," he said, pointing to the corner lamppost. "But me, I'm willing to work."
Several California towns have deemed the sign shakers altogether too effective at catching drivers' eyes, and have banned them as a safety hazard. But the placards are an underrated tool for restaurants and other businesses heavily dependent on drivers' spur-of-the-moment fancies, said Russ Mock, manager of Round Table.
"You'd think a sign shaker wouldn't make that much difference," he said of the placard holders, which he called a part of most Round Table branches. "But we keep getting people who come in and say to me, 'I came here after seeing your sign, and I thought I'd give it a try.'"
While Maple was hired in 2009 solely to host the restaurant's sign, his dedication at that seemingly humble task has shown itself in numerous ways since, Mock said..
"He makes pizzas in the morning before going out with the sign — makes the dough, chops the vegetables," he said. "Then he scrubs the floors at the end of his shift. He works so hard, he makes me work harder."