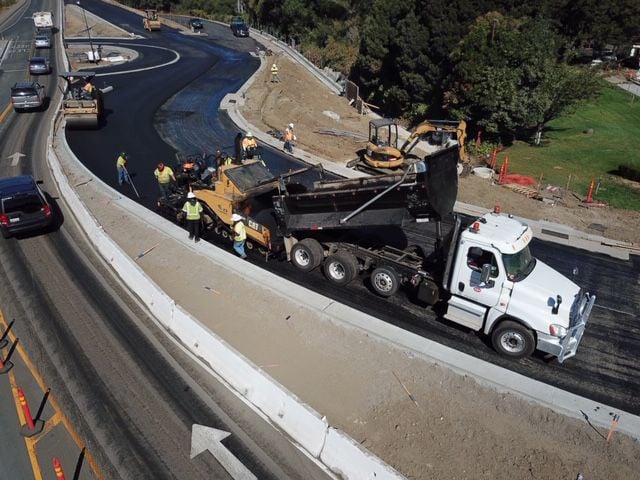 On Thursday, motorists will get to sample the first of the three planned roundabouts at the First Street/Highway 29 juncture.
A roundabout is scheduled to open in the course of the day that will carry motorists east and west on First and also reopen old connections to Highway 29, Eric Whan, the city's deputy public works director, said Tuesday.
This is the western-most roundabout, just below the Highway 29 overpass. Another at First and California Boulevard should open in late December, while a third at California and Second Street is scheduled for early next year, he said.
Thursday's opening will allow motorists going northbound on the freeway to again exit at First Street. Also, eastbound motorists coming off the overpass will be able to again take the loop on-ramp to go northbound on the highway, Whan said.
Because of the new roundabout, these same motorists can also loop through the circle and take the freeway on-ramp on the north side of First, Whan said.
How does a roundabout work? "Whoever is actually in the roundabout has the right of way," Whan said. Entering vehicles are expected to yield.
Whan said the First Street ramp connecting to the freeway on- and off-ramps is opening a week earlier than last predicted, and many months ahead of when the project schedule was first put together.
Dry weather has helped, but so has the contractor's ability to simultaneously work on multiple phases of the project, he said.
The roundabout at First and California is now on track for a mid-December opening, several weeks earlier than last forecast, he said.
The city's roundabouts are designed for vehicles moving 15 mph, he said.
On its Facebook page, the city posted videos made by Red Deer, Canada, showing how a roundabout should work. Roundabouts should be able to improve traffic and safety, as well as accommodate pedestrians and cyclists, the city said.
Get local news delivered to your inbox!
Subscribe to our Daily Headlines newsletter.