Pedestrians and neighbors that pass Marcell and Brian Gallagher's north Napa home this time of year can be certain about one thing: there will be flowers. Many, many flowers.
Marcell Gallagher, with the help of her husband, has created an extensive outdoor display of blossoms and blooms in all colors, shapes and sizes.
"I'm kind of addicted," admitted Marcell.
"Some people like animals — I love plants," she said. "They grow. It makes me happy."
Pink and purple dahlia blossoms the size of dinner plates, orange trumpet vines, red and white begonias, white daisies, yellow Johnny jump-ups and pink gladiolas. There's a flower for every taste at their north Napa yard.
Adding to the horticultural showcase, Marcel's also planted many trees and shrubs.
The couple moved into the Tudor-style home, located at 3999 Lap Court., a little over six years ago. Located the corner of Lap Court and Trower Avenue, it's highly visible from the busy thoroughfare.
Marcell said when she saw the house, one of her first thoughts was "there was no color" in the landscaping.
To begin, the two removed all the white landscaping rock from around the property.
"That rock has no life," Marcell said.
Then the couple added dirt —- "yards and yards of dirt," Brian said. "Good dirt," he emphasized. It makes a big difference.
Next, Marcell began adding flowers and other plants – both potted and in ground.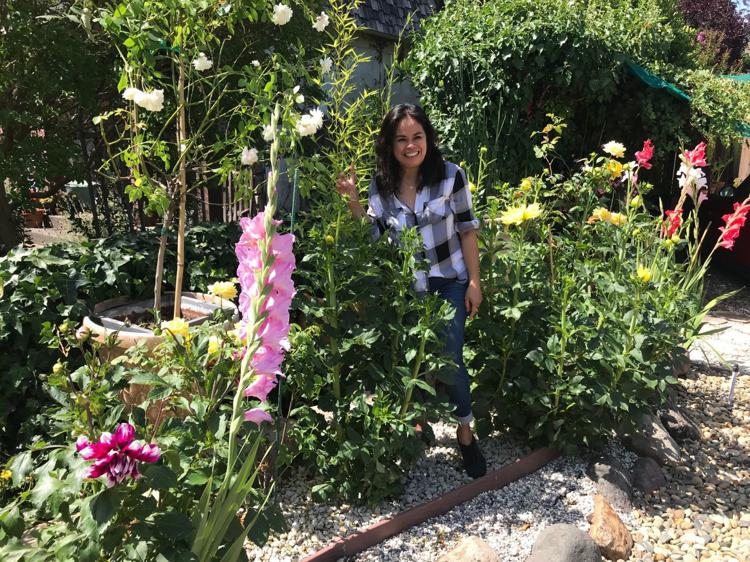 Marcell also prides herself on being a thrifty gardener. She loves to find broken or damaged pots at garage sales or on clearance to repair and use at her home.
"Some girls like jewelry and fashion. She likes rocks, dirt and broken pots," said Brian.
Home Depot is her favorite store, they said with a laugh.
She also shops the closeout section at local nurseries for plants she can bring back to life with some TLC.
"She can take anything that's dead and turn it into something beautiful," said Brian.
"I want flowers that bloom" as long and frequently as possible, said Marcell. "I just want to make it colorful."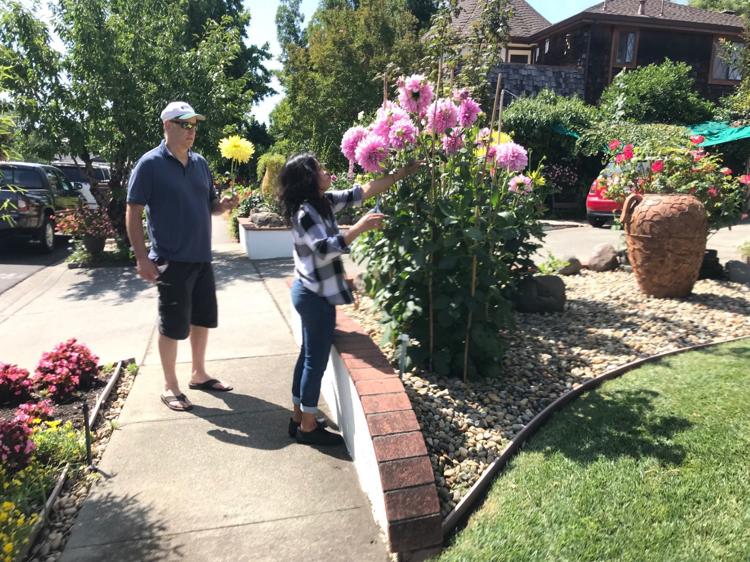 Marcell said she likes to plant in pots so that she can change up her plant display when the impulse strikes her. And plants like bamboo are contained so they don't go wild and spread, said Brian.
She often rotates her flowers, based on which are blooming the best. If a plant isn't doing so well, it goes into her backyard nursery area.
How does she manage to grow such magnificent specimens?
You have free articles remaining.
"I talk to my plants; that's my secret," she said. "I tell them, 'you look so pretty. You're beautiful.'"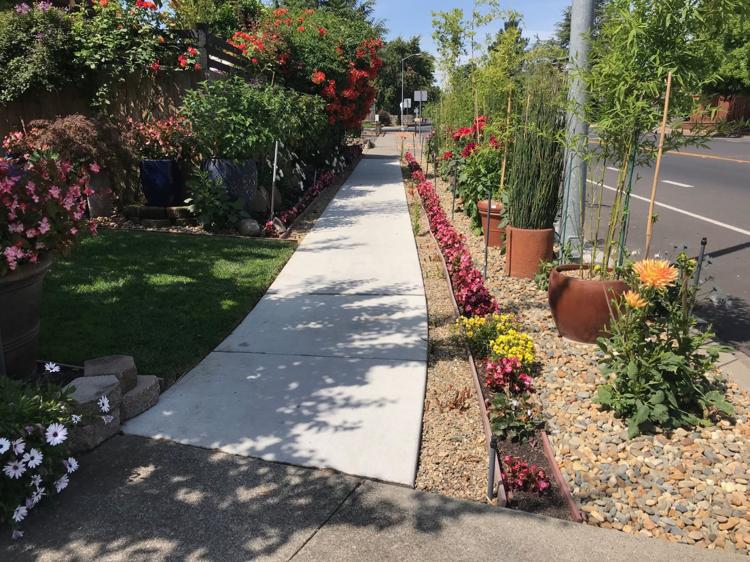 Marcell received her BA in teaching from a university in the Philippines. In the U.S. she previously worked as a medical billing specialist. Now, she's at home during the day. Brian is a business analyst for the aerospace industry.
The gardener said she spends about two hours every day with her plants and fills two brown compost toters each week.
Her efforts show. During a recent tour of their yard, there is hardly a weed or stray leaf to be seen. Plants are carefully staked and trimmed. The landscape is neat and tidy.
Surprisingly, the landscaping does not require an excessive amount of water. A smart sprinkler system manages usage, Brian explained.
Their water bill ranges from $150 to $200 every two months. Marcell also collects rainwater for watering.
The Gallagher's garden is well known to neighbors — the size and quantity of her plants and flowers alone is enough to get anyone's attention. Last month the lilies were blooming in two rows along the sidewalk. This month, the dahlias are taking over.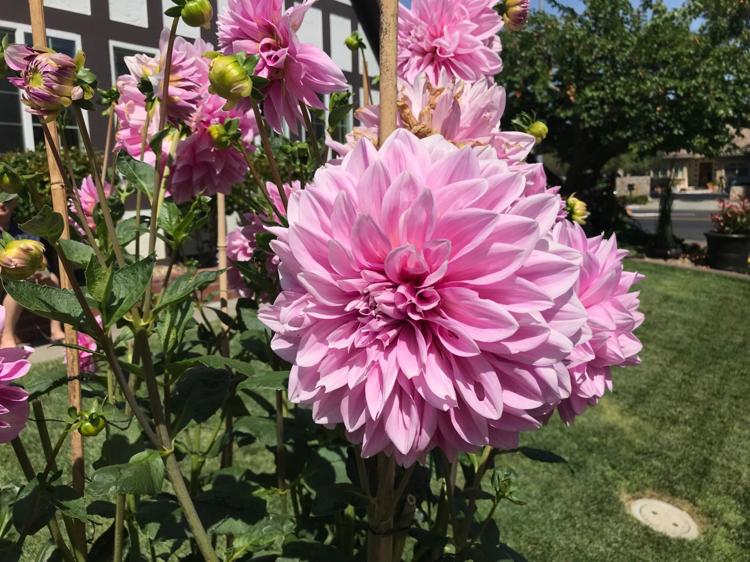 Besides the plants and flowers, she also nurtures four kinds of fruit trees: lemon, orange, cherry, apricot.
Marcell makes the most of her growing space. To add dimension, she built layers or mini terraces into her landscaping.
She's also planted both sides of the sidewalks around her home, even the narrow strip of land between the curb and the sidewalk.
"We have the best sidewalk in Napa," said Brian proudly.
When she looks at the result of her hard work, "I love it," Marcell said.
Even with all of her flowers on public display, there has been little damage or vandalism, said the couple.
"One time we caught a kid cutting flowers for his girlfriend," said Brian. But usually, "everybody respects it. They love it."
Living on a corner of busy Trower Avenue has its benefits and drawbacks. Yes, the traffic is constant, said Brian.
However, "I like it because more people can see my flowers," said Marcell.
People stop regularly to tell her how much they appreciate her garden. She's also gotten a number of letters from fans. One card was addressed to "The Lady of the Flowers."
"The letters motivate me," she said.
If it makes others happy, it makes her happy as well.
Marcell said it's hard to leave her plants, especially when she visits her family in the Philippines. During an upcoming one-month trip, she'll FaceTime with a neighbor to "visit" her plants.
Marcell knows while she's gone, "It will go wild, like kids without a mom."