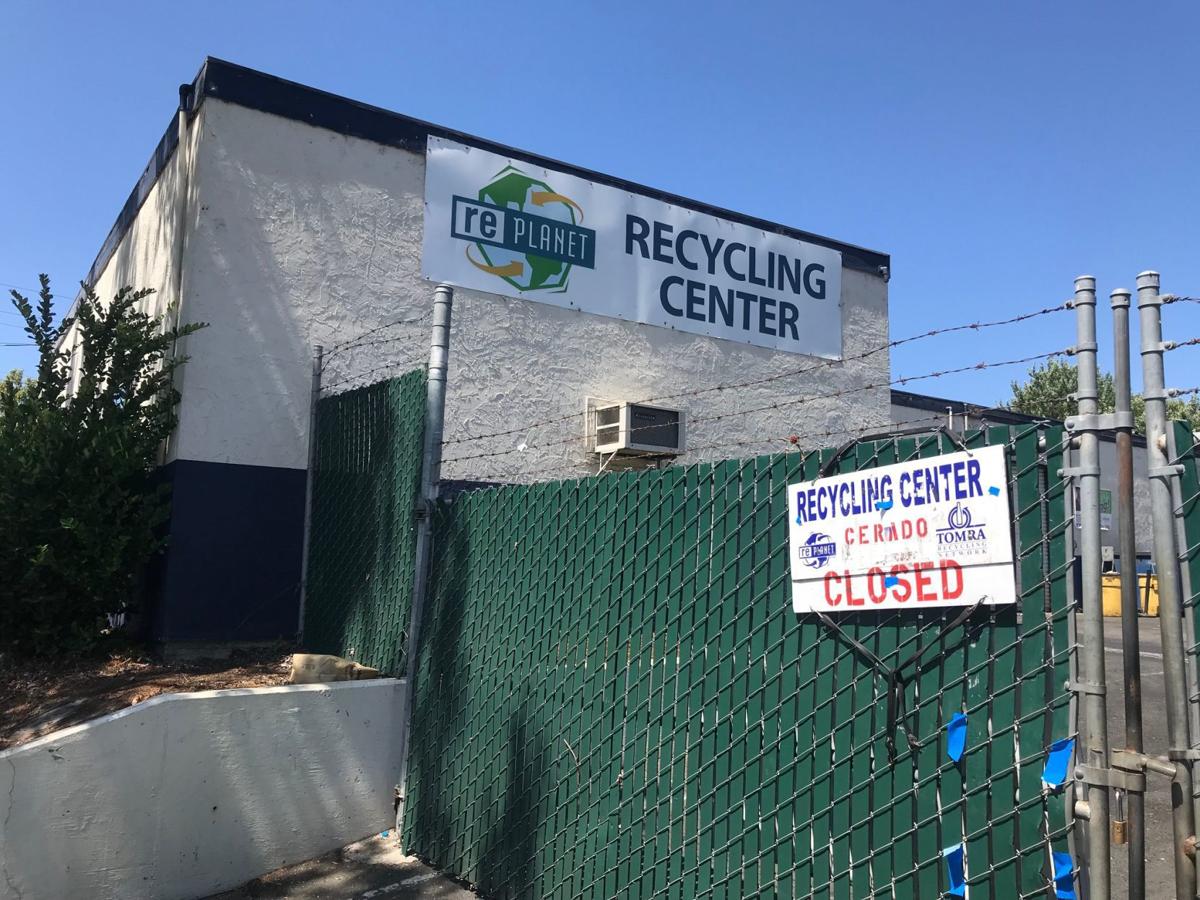 Napa's largest recycling redemption center abruptly closed early this week, meaning one less option for locals who choose to redeem cans and bottles for cash.
On Monday, rePlanet, California's largest operator of recycling redemption centers shut down and laid off 750 employees. RePlanet closed all 284 of its centers, including the Napa location at 874 Jackson St.
"Cerado. Closed," read a sign at the recycling center this week.
Inside the gates, the center appeared to be empty. A woman driving a small white pickup truck, the bed full of bags containing what appeared to be bottles and cans, drove by the center on Thursday afternoon, saw the "closed" sign and kept on going.
Can and bottle collectors will now need to travel across town to a smaller center at 2877 Solano Ave. or to the Napa Recycling and Waste Services buyback center at 889 Devlin Road near the Napa County Airport.
The city's buyback center was not affiliated with the rePlanet facility, noted Tim Dewey-Mattia of Napa Recycling & Waste Services.
Dewey-Mattia said that the NRWS buyback center has been busier since rePlanet closed.
However, he understands it's not as convenient for some consumers to bring their cans and bottles to the Devlin Road area in the south end of the county.
The reality is that the income from redemptions is vital for some residents, Dewey-Mattia said. "I know there are probably a lot of people scrambling around," trying to turn in those cans and bottles.
"Hopefully the place can reopen," he said of rePlanet.
Blue Front Recycling operates a small redemption center in Napa at 2877 Solano Ave., in a small storage unit behind Amigos market.
Ivan Silva of Blue Front Recycling — based in Sacramento — said he's also seen an increase in business in Napa since rePlanet closed.
"We're honestly a little bit overwhelmed by it," said Silva. "Everyone from the other center that used to sell to them is basically rushing over to us."
The sudden spike in demand is little challenging, "but I think we can manage," he said.
RePlanet company President David Lawrence said the decision to shut down was driven by increased business costs and falling prices of recycled aluminum and PET plastic, the San Jose Mercury News reported.
The move came three years after rePlanet closed 191 of its recycling centers and laid off 278 workers.
Now many Bay Area residents have few or no options for redeeming their recyclables, which is especially concerning for those who live in poverty or experience homelessness and rely on recycling for income.
Consumer Watchdog, a nonprofit that studies issues in California's recycling industry, estimated that more than 40 percent of all redemption centers have closed in the last five years. The closures result in consumers only getting back about half of their nickel and dime bottle and can deposits, according to a recent report from the nonprofit.
The closures also mean that more containers made of aluminum and polyethylene terephthalate, or PET, will end up in landfills. People will either throw their recyclables directly into the garbage, or place them in curbside recycling bins, which are often filled with contaminated material that must be discarded. China, which has bought much of the U.S.'s recyclable material, has become stricter about what kinds of material it will accept.
Advocates are urging the state to reform how it subsidizes recycling centers to account for rising operating costs in the wake of continuously low aluminum and plastic prices.
The Associated Press contributed to this story.
Get local news delivered to your inbox!
Subscribe to our Daily Headlines newsletter.