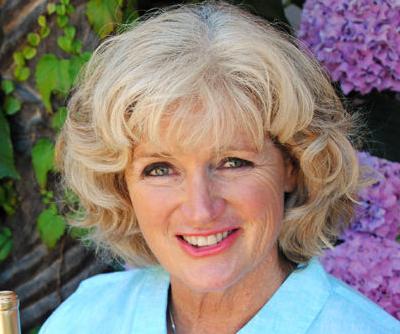 Prominent Napa Valley vintners James and Heidi Barrett have mounted a legal challenge against Napa County's recently passed Measure D that banned new personal-use heliports and tightened rules for agriculturally related helicopter takeoffs and landings.
The Barretts filed lawsuits in Napa County Superior Court and U.S. District Court, given they allege both local and federal aviation issues are involved. Joining in the suits against Napa County is the group Helicopters for Agriculture.
Measure D "significantly restricts the circumstances" under which helicopters may be used for agricultural purposes, the lawsuits say.
Since 2010, the Barretts have used a helicopter to manage their own vineyards and those of clients in eight counties. They want to continue doing so without fear of arrest, prosecution or other enforcement activities, the lawsuits say.
The lawsuits don't deal with the section of Measure D that bans new personal-use heliports at rural homes.
James "Bo" Barrett is CEO of Chateau Montelena winery near Calistoga. Heidi Barrett is a winemaker who gained fame working with Screaming Eagle, Dalla Valle Vineyards and other wineries.
Calistoga-area resident George Caloyannidis is the author of Measure D, which was passed by Napa County voters in June. He said Measure D doesn't prohibit agriculturally related takeoffs and landings by helicopters, though it does do such things as specify who is in the helicopter.
"I don't think they (the Barretts) make very good points," Caloyannidis said.
It's disturbing this family wants to sacrifice for their personal convenience the wishes of the 21,444 people who voted in favor of Measure D, Caloyannidis said. Measure D passed in June by a margin of 61 percent to 39 percent.
A major focus during the campaign over Measure D was its ban on new personal-use heliports. But the measure also addressed using helicopters for such agricultural activities as spraying and frost control.
Helicopters can take off and land at places other than airports to support direct agricultural activities if they do not transport people other than those "essential" to the aerial activities, Measure D states. Also, the takeoffs and landings must be "unavoidable."
Within 48 hours of these takeoffs and landing, the helicopter operator must file a report with the county containing specific information about the flight.
The Barretts have used their helicopter to make time-critical visits to vineyards in Napa, Sonoma, Mendocino, El Dorado, Amador, San Joaquin and Lake counties. Reasons range from inspecting insect and hillside erosion conditions to checking crop maturity and flavor development, the lawsuits say.
Among other things, the lawsuits say Measure D's limitation of helicopter occupants to "essential" personnel intrudes into the domain of federal air regulations.
The lawsuits also question the clause that says that takeoffs and landings at locations other than airports must be "unavoidable." The helicopter operator is left to guess what this means, they say.
Caloyannidis said Heidi Barrett uses a helicopter to fly to consultations and to conduct business in the name of agriculture in a way not envisioned by county code.
The Napa Valley Register tried to contact the Barretts for comments. James Barrett in a written reply said he is too busy with harvest to make remarks.
The website for Barrett & Barrett said that both James and Heidi Barrett learned to fly a helicopter.
Heidi Barrett in a 2017 interview with the St. Helena Star said she can juggle so many winery clients because her helicopter allows her to quickly make her daily rounds. She started taking flying lessons in 2006.
"Flying has really helped with saving time and expanding," she said. "I can work with Kenzo, which is an hour drive for me, but it's a 15-minute flight."
Napa County Farm Bureau opposed Measure D for a number of reasons. Farm Bureau CEO Ryan Klobas said reasons included vagueness and unanswered questions, such as how the new law affects helicopters used to seed properties for erosion control before the winter rains.
"The county is going to have to spend a lot of money to defend this," Klobas said. "This is one of the problems we pointed out during the campaign."
Napa County as of Thursday had yet to file a response in court to the Barrett lawsuit. The Napa County Board of Supervisors discussed the suit in closed session on Tuesday.
Caloyannidis said Measure D didn't have a severability clause. Such clauses say only the parts of an initiative struck down by a court are removed and other parts remain.
"We didn't think it conducive to the main concern of the county, which is to limit to the most necessary helicopter landings and takeoffs," he said.
That raises the question of whether a successful effort to overturn the agricultural takeoff and landing provisions would result in all of Measure D being struck down, including the ban on new personal-use heliports.
A county report on Measure D in February looked at the lack of a severability clause. The analysis by the law firm Miller Starr Regalia concluded that heliport and agricultural flight sections are distinct enough that a court would likely not invalidate the entire law if it struck down one part.
With the matter moving to court, it's up to Napa County and not Caloyannidis to mount a defense. Caloyannidis said the county has the will of the people behind it.
"I hope the county will take that into consideration and defend their interests," he said.
Get local news delivered to your inbox!
Subscribe to our Daily Headlines newsletter.