Valentine's Day is near and dear to Pamela Gregory's heart.
This Napan so appreciates the tradition of mailing sweet wishes that she organized a valentine exchange for anyone who'd like to give –- and receive — a heartfelt greeting in honor of Feb. 14.
Called Aunt Pammy's Valentine's Exchange, Gregory started the swap several years ago after hearing about another such exchange.
"Oh, this is my thing," Gregory said. In addition to teaching an after-school drama program, she's also a self-taught artist who makes mosaics, original prints and other artworks.
But besides a chance to get crafty, "the idea of a valentine exchange kind of breathes new life into Valentine's Day," said Gregory.
"You can shift it from being this all-out 'romantic holiday'" that only couples indulge in to something that recalls elementary school memories and the child-like enthusiasm of getting a valentine in the mail.
With such an exchange, "You're getting to participate in a holiday you might have though was not for you anymore," or that you haven't done in a long time. In other words, you don't have to age-out of Valentine's Day.
Gregory's valentine's swap is simple. Using an online form, each valentine sender signed up to send a selected number of valentines – from one on up — through the U.S. mail. Each person then receives the same amount of valentines in the mail in return.
Aunt Pammy's Valentine's Exchange was launched four years ago. Last year, about 40 people mailed cards. This year, Gregory posted the swap on Facebook and community website Nextdoor and 81 people jumped on board.
Most are women, but about five men signed up as well, including Gregory's husband, she said. The exchange is closed for this year, but will reopen again in January 2019, said Gregory.
About one-third of this year's valentine senders are from Napa and the rest are located all over the U.S. There's even one valentine sender from Australia, she said.
In total, 891 valentines will be traded.
"I was pretty blown away," Gregory said. "I was really happy that it was successful at such a big level." Some valentine senders are so into the event they're leaving additional messages on the group's Facebook page to arrange additional trades on the side.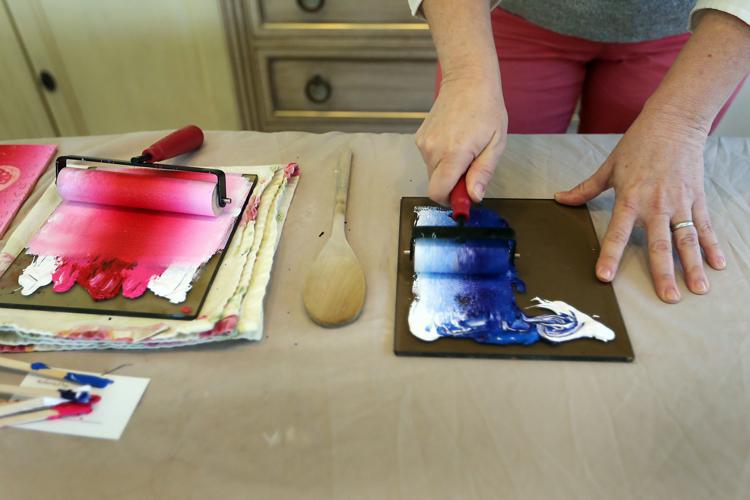 Gregory hand made and hand printed her own valentines. After carving her design — in reverse — into a piece of rubber-like printing block, she then used a paint roller-like device called a brayer to roll ink on the block. Then Gregory carefully pressed a piece of cardstock onto the image and peeled it off to let it dry.
This year, she's using blue tones.
"I wanted to do an untraditional color, something that wasn't expected," as a surprise, she said. That way, the card, a piece of original art, could have a life beyond Valentine's Day.
She made 81 valentines — one for each person in the group.
Others are also making handmade cards, but that's not a requirement, Gregory said.
"Some people just send a normal piece of construction paper folded in half," decorated with stickers or a store-bought valentine, she said.
"It's not a competition," she said. "We just want to do something fun. That's the beauty of it."