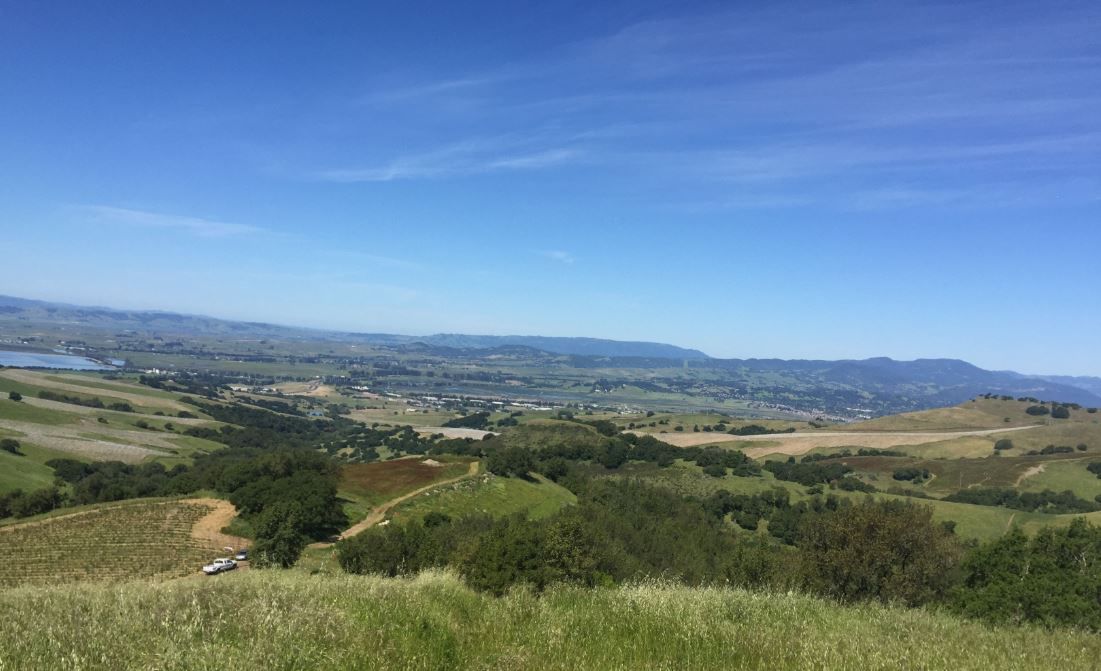 A handful of outdoor enthusiasts gathered in Napa County's Skyline Wilderness Park almost 30 years ago to celebrate the hoped-for birth of a local Bay Area Ridge Trail building binge.
The Bay Area Ridge Trail is to be a continuous 550-mile trail ringing the nine-county Bay Area, a kind of mini, regional version of the Pacific Crest Trail and other world-famous trails. Napa County has a role to play to make this big, bold dream a reality.
Those five miles of Skyline Park trail dedicated in October 1989 formed Napa County's first stretch of Bay Area Ridge Trail. Other counties that year were also dedicating their own isolated segments.
Jump ahead three decades and 375 miles of Bay Area Ridge Trail exist. Napa County has 19 miles in such diverse places as Skyline Park, Moore Creek Park and the mountains near Calistoga.
Still, Napa County has dedicated only 23 percent of the 83 miles of trail envisioned within county borders. That compares to 69 percent for the Bay Area as a whole.
"We're well behind our south Bay Area counties in terms of advancing the Ridge Trail," Napa County Board of Supervisors Chair Ryan Gregory said during his recent 2019 "state of the county" speech. "And we've got to catch up."
Napa County faces challenges, such as having a large amount of land needed for the Bay Area Ridge Trail in private ownership. Contra Costa County has 89 percent of its Ridge Trail built in part because it can use the sprawling East Bay Regional Park District public lands.
"Every county does have its own personality," Bay Area Ridge Trail Executive Director Janet McBride said.
She described the Ridge Trail as a necklace tying protected and public lands together. Using this metaphor, Napa County has several Ridge Trail hiking jewels, but not the chain to link them.
Napa County Regional Park and Open Space District General Manager John Woodbury doesn't see the piecemeal nature of the Ridge Trail as a fatal flaw to people enjoying the trail today. He talked of making each individual segment of trail worth having in its own right.
"The only way to do a regional trail like this is to do it in pieces," Woodbury said,
The next logical, big local piece is establishing the trail's southern Napa County anchor. The Napa County Regional Park and Open Space District recently bought 709-acre Suscol Headwaters in the hills near Jameson Canyon and this park-to-be will be Ridge Trail country.
Much of the future Ridge Trail already exists on the property, such as a ranch road, Woodbury said. To open the land to the public, the district must update a biological study this spring and obtain a use permit from the county.
From Suscol Headwaters/Skyline Wilderness Park, the journey northward starts with a jog into Solano County. The trail is to cut up past the Vallejo Lakes property back into Napa County and go along mountains that form the eastern wall of the Napa Valley.
This high-altitude tour of wine country is to head past Mount George, Atlas Peak, Rector Reservoir, Angwin. Then the trail is to cut across the valley at Calistoga, head south to Bothe-Napa Valley State Park, then cross the Mayacamas Mountains into Sonoma County.
"Wait a minute," a hardcore Ridge Trail enthusiast might say. "Isn't the Ridge Trail supposed to cut across the valley at Yountville?"
That was the original plan. Local officials and Ridge Trail officials gathered in March 2006 to dedicate Yountville Cross Road bike lanes as part of the Ridge Trail.
Crossing over to Sonoma County at this location proved challenging. Local officials came up with the new route some 50 miles longer and the Bay Area Ridge Trail Council agreed to the revision.
"That made the Ridge Trail more reflective of all of the Napa Valley, instead of just the southern part of the valley," Woodbury said.
So far, the major Napa County piece on private property is the 1.3-mile connector trail between Skyline Park and Suscol Headwaters. The Tuteur family granted the easement over family land and the segment opened in 2005.
Convincing private property owners to grant easements to let hikers, bikers and equestrians onto their land can be a difficult task. McBride has a pitch.
"The idea is generally to make it as non-intrusive as possible," McBride said. "It would be routed at the edge of a property. Most of these (segments) are in pretty remote areas. It's not like we're ever expecting a big influx of folks."
Weekend hikers and bikers out for a jaunt of a few miles would be more likely to stick to the public lands, not the far-flung connecting pieces.
Completing a Ridge Trail of 550 continuous miles and 83 continuous miles in Napa County might seem unrealistic. Only a few private property owners refusing to yield easements would break the chain. Still, McBride sees it as a dream worth dreaming.
"That certainly is the vision," McBride said. "That is something we're working towards and planning towards."
Get local news delivered to your inbox!
Subscribe to our Daily Headlines newsletter.