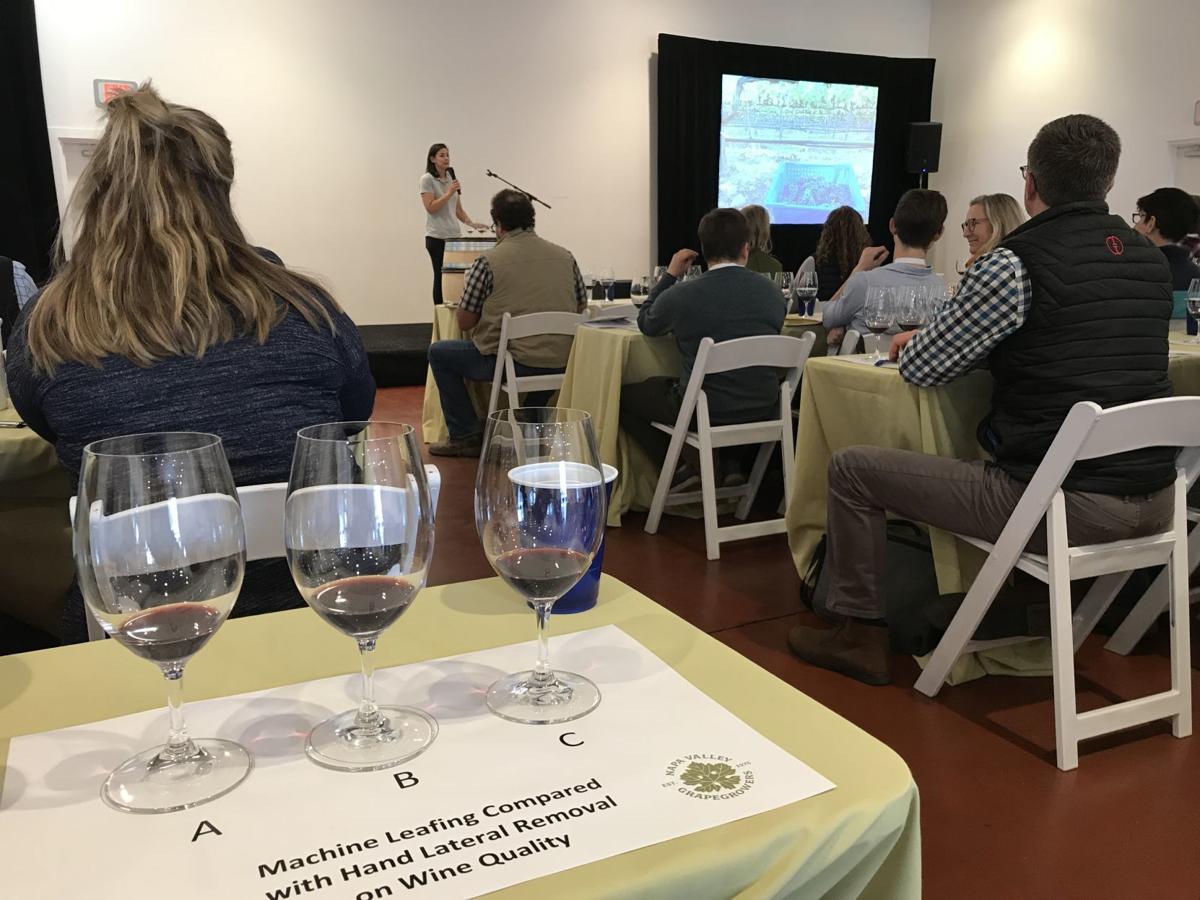 Each year, grape growers come from every corner of the North Bay to attend Rootstock, a conference hosted by the Napa Valley Grapegrowers focused on all things grapes. That includes presentations from industry researchers like Sarah Ferguson.
With the help of a research team, Ferguson, a research viticulturist and enologist at the Napa-based Silverado Farming Company, has spent the last two years researching the impact of mechanical leafing on the quality of wine. She's also attempted to chart the impact of leafing – the removal of leaves from grapevines – at different points during the growing season.
"We know removing leaves is an important viticultural practice, and we wanted to see if the method used would have an impact on the wine," Ferguson said in her presentation.
Leafing affects grapes' light exposure, which can improve the development of the wine, according to Ferguson. Underexposed grapes will have low sugar levels, producing low alcohol content and high acidity, while overexposed grapes are at risk of sunburn.
It's a matter of nuance, as are many things in grapegrowing, experts said The wine industry has long been hesitant to move toward the use of machines in the harvest process, especially publicly, because consumers may view hand-cultivated grapes more favorably.
As the North Bay's labor shortage grows, the product of housing shortages and a dwindling population of seasonal workers, the price of hiring a workforce to hand-tend to vineyards escalates. In the past few years, more industry members have considered the option of turning to machines.
Thursday's presentation featured Ferguson and a handful of other industry experts, each with a different angle on picking leaves by hand vs. machine.
"A practical reason (behind our research) is the economic impact of mechanical leafing," Ferguson said, noting that mechanical leafing can be anywhere from 30 to 50 percent less costly than leafing by hand.
Members of Ferguson's audience were given three glasses of wine, each the product of a different methodology. The tasting was blind; participants weren't informed of how leafing methods varied.
"I thought glass A was green," one audience member called out, explaining the wine had fewer ripe characteristics than the other two glasses. Others raised their hands in agreement; a second participant said the mouthfeel, or oral sensation produced by the wine, was best in glass C.
Having orchestrated the tasting, Ferguson revealed the leafing method behind each of the wines. Glass A was from grapevines that had been leafed early on, and by machine; Glass C had been leafed early, and by hand; Glass B had been leafed later in season, and by hand.
Ultimately, Ferguson said, she and her team had several takeaways from the study, which had tested 10 different "treatments" over the course of the last two harvests.
Most significantly, vines that had undergone machine leafing had lower brix, or sugar content, than vines that had undergone the process by hand. The team also discovered that timing of leaf removal had substantial impact on wine, altering the pH and acidity, odor and even potentially its color and "structure".
For vineyardists who are interested in working with machines, Ferguson said the research could be an early tool. Knowing how machines might impact fruit could allow growers to adjust to their preferences accordingly, maintaining quality while lowering cost. Industry members could similarly adjust the timing of their leafing to produce desired characteristics.
Ferguson said she and her team are deciding whether or not to continue their research into the next year. "There are lots of factors that could be in play, but I hope (growers can) explore it and use it to their possible advantage."
Get local news delivered to your inbox!
Subscribe to our Daily Headlines newsletter.