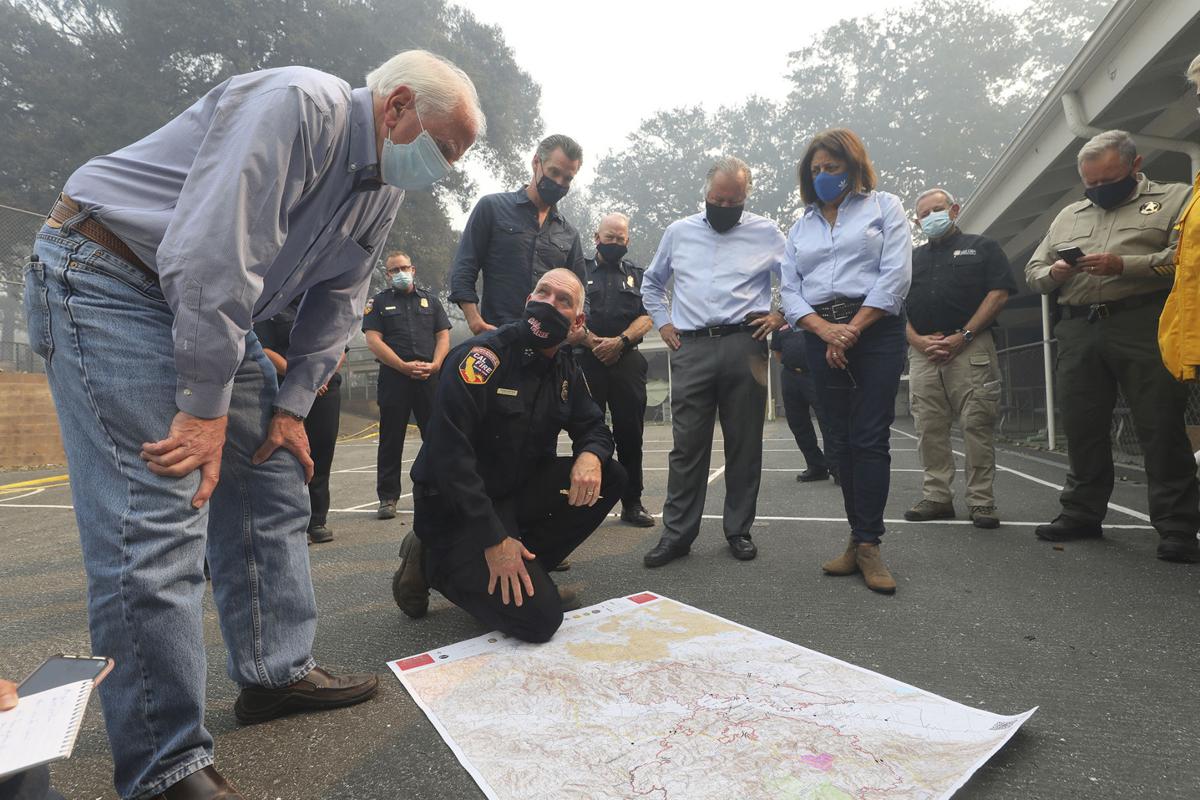 Napa Valley's wine industry is asking the government at all levels to help it recover from economic and labor issues exacerbated by the chaos of 2020.
The pandemic and subsequent economic fallout proved an unprecedented disruption for wine sales in Napa and beyond. And though the threat posed by climate change in the form of a worsening fire season is not a novel one, the substantial damage done to agricultural infrastructure and the wine grape crop this past fire season has given the wine industry a new sense of urgency, leaders say.
New concerns over workforce stability have arisen out of 2020, too. The 2020 harvest, shortened by wildfires, was devastating for the North Bay's farmworkers, some of whom left the agricultural sector altogether to look for more stable work.
Perhaps the most imminent action sought by the wine industry is dealing with the risk of wildfire, according to Rex Stults, vice president of Industry Relations for the Napa Valley Vintners. The group's top three priorities are "fire prevention and mitigation, fire prevention and mitigation and fire prevention and mitigation," he said.
Support local news coverage and the people who report it by subscribing to the Napa Valley Register.
"Locally, we definitely need action to be taken next Tuesday that's going to put us in a better position than we are heretofore," Stults said, referencing an upcoming county Board of Supervisors meeting set to focus exclusively on wildfire. There isn't much time left, he said. Conditions being as "hot and dry as (they are) right now does not bode well" for the summer and fall.
NVV has submitted two letters to the County Board of Supervisors over the last two months addressing fire-related concerns and mitigation suggestions. Among them, according to Stults: a network for instant fire detection devices across the county; the creation of a "fire czar" position (essentially a senior county staffer tasked with focusing solely on fire-related policy); funding for the county-wide community wildfire protection plan authored by the Napa Community Firewise Foundation, and serious consideration of where additional resources for fire seasons ahead may come from.
"This is not a one-year problem or a one-year fix," Stults said. "It's already a multi-year problem, and it will take a multi-year approach and many millions of dollars (to fix)."
County Supervisor Diane Dillon said the board has spent significant time considering a host of solutions and suggestions pertaining to wildfire, some of which are in line with those submitted by NVV.
"We're doing something we rarely do, which is to have a single topic — fire — as our centerpiece for almost the entire day," Dillon said of the upcoming meeting. "I think their concerns are our concerns — they are everyone's concerns."
The Napa County Farm Bureau is also hoping to see wildfire mitigation prioritized at the local level, according to CEO Ryan Klobas; the group plans to submit its own letter to the board ahead of Tuesday's meeting. Economic recovery is also at the top of the list of priorities, Klobas said, noting he's been so far very pleased at the "excellent" work County Supervisor Alfredo Pedroza has been doing in helping to lead an economic recovery workshop hosted by the Farm Bureau.
It's also up to local officials to communicate the situation on the ground to representatives at the state and federal level, Klobas added.
"When it comes to our local elected officials, one of their jobs is to truly understand the depth of the issues we're involved in, and to really work with state and federal officials to address those," he said.
Klobas said there are two pieces of legislation at the state and federal levels that could benefit labor and wildfire issues this year. At the state level, Senate Bill 11, which is set to be voted upon by the senate insurance committee next week, would prompt the inclusion of agricultural infrastructure to the California Fair Plan, the state's "insurer of last resort," Klobas said.
"We are regularly contacted by our members who have had their policies cancelled due to the increase in fire risk," Klobas said. Some members have seen their insurance rates climb as much as 400% over the last few years, which also limits access to wildfire insurance. Until now, the fair plan has not provided an option for agricultural infrastructure, a category that includes wineries and production facilities).
"It's extremely important to provide insurance for agricultural infrastructure in an agricultural community," he said.
State Senator Dodd, one of two representatives appointed to chair the state's Select Committee on California's Wine Industry for the coming year-long legislative session, said in a press release that state support of the wine industry would be "essential."
"The committee will be looking at ways we can help with pandemic recovery, including what we can do to support wine industry growth, jobs, and tourism," Dodd said in a separate written statement. In addition to the workaround mitigating fire risk and securing access to fire insurance for wineries, the state has so fair waived ABC (Alcoholic Beverage Control) licensing fees in an attempt to help "vintners and other companies get back on their feet," he said.
At the federal level, Klobas said, the Farm Bureau is monitoring the progress of the Farm Workforce Modernization Act, which passed the House two weeks ago. If signed into law, the bill would expand temporary agricultural worker visa programs and provide a path to legal status for undocumented agricultural workers and their families. It is poised to be one of the most impactful pieces of legislation in recent history for agricultural sectors across America, according to Klobas.
"Congress has not passed meaningful immigration reform for agriculture in almost 30 years," he said. "Ensuring a strong, viable workforce is one of the most important things in Napa ag, and the act would absolutely do that – you would see real results in Napa Valley if that got to the President's desk and was signed."
Supervisor Dillon, referring to the upcoming board meeting, said she believed the county would need to do "everything we can" to protect "our 160-year-old tourism industry" and the rest of the community from the threat of wildfire.
Gov. Gavin Newsom on Tuesday announced an additional $81 million to support firefighting efforts through the end of this fiscal year, which ends June 30; some of that funding has "good potential to come to Napa," Dillon said, where it would likely be augmented by local funding and efforts.
WATCH NOW: Napa County's Dr. Karen Relucio named Woman of the Year
Photos: The Glass Fire's aftermath in Deer Park
Catch up on Napa County's top news stories