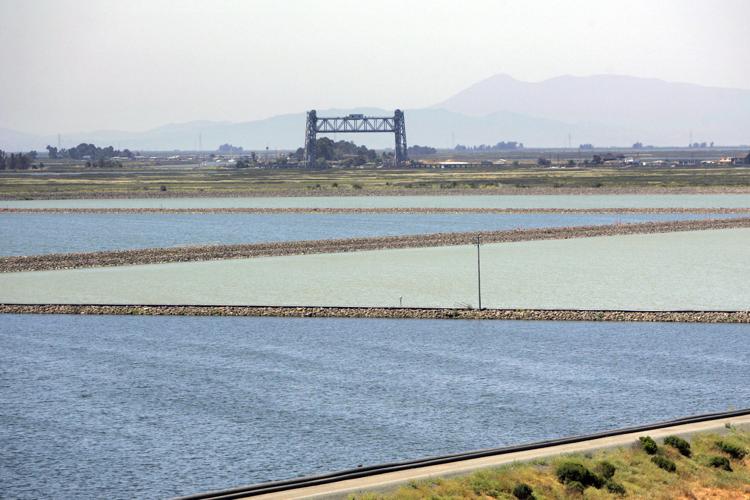 Napa Sanitation District's sprawling water storage ponds south of the city of Napa could become home to floating solar-panel islands on a scale yet to be seen in the state or nation.
Ciel & Terre USA wants to cover 52 acres of the ponds with solar arrays to generate electricity for either PG&E or Marin Clean Energy. That's an area about the size of the Vintage High School campus, five times the size of Napa's downtown Fuller Park, bigger than 39 football fields.
If all goes as planned, in about two years the solar islands could be generating 23.5 megawatts of electricity for the power grid, enough to power several thousand homes. Think of the concept as solar panels on floats that are anchored.
"This would be the largest floating solar in the United States," said Eva Pauly-Bowles of Ciel & Terre, a France-based company with an office in Petaluma.
Ciel & Terre USA is entering a 24-month lease with Napa San while it completes its engineering analysis and seeks a connection agreement with PG&E. If the project proves feasible, the company and Napa San would enter into a 25-year lease for the ponds. The Napa San Board of Directors on Wednesday approved the move.
Floating solar arrays have been built at locations around the world. China reportedly is working on the world's largest, able to generate six times the electricity as the proposed Napa San project, on a lake that formed over a collapsed coal mine.
For that matter, the idea isn't new to Napa County. Far Niente winery in 2008 installed a floating solar array on its irrigation pond to provide power for the business.
Napa San at its sewage treatment plant along the Napa River has four ponds covering about 342 acres, or a half-square-mile. They can be as much as 10 feet deep. The district uses the ponds to help treat wastewater during high-flow, stormy winter months, with bacteria and algae providing natural purification.
Ponds three and four, the ones that would be used by Ciel & Terre, contain water that has been through this natural treatment process and is being stored, Napa San Director of Administrative Services Jeff Tucker said.
Pauly-Bowles sees the ponds as space for solar that doesn't conflict with wine country vineyards or is shaded. Land is extremely expensive in the Napa and Sonoma valleys, she said. Ciel & Terre approached Napa San about using the ponds.
Floating solar panels on the surface of a pond block sunlight needed for algae growth. Tucker said this algae-fighting feature on ponds three and four would save the district $100,000 annually in chemicals.
"We anticipate they'll actually be a benefit to us," Tucker said. "It will kill algae a few days before it enters our plants to remove algae. It's easier to remove dead algae."
The big question about the proposed floating solar project is whether it will become a reality. A project proposed by a different company for Sonoma Clean Power recently failed before it was built.
Sonoma Clean Power spokeswoman Kate Kelly said that local electricity provider in April canceled plans to build 12.5 megawatts of floating solar on Sonoma County Water Agency treated wastewater ponds. It terminated a contract with Pristine Sun Fund 8, LLC.
Reasons for the termination include higher than-anticipated costs for the PG&E interconnection, a U.S. International Trade Commission trade dispute resulting in tariffs for solar technology and state Division of Safety of Dams requirements for the anchor design, a Sonoma Clean Power information sheet said.
"Fortunately, the town of Windsor and some wineries are building floating behind-the-meter systems," the Sonoma Clean Energy release said. "We believe our project helped raise awareness for floating solar technology and spurred these projects on."
Ciel & Terre has focused on floating solar power since 2011 and manufactures its systems in seven countries. Pauly-Bowles said the company has three regional projects planned for this year – one at the Windsor reclamation plant, one at a Dixon irrigation reservoir and one at a Lake County water treatment plant.
The projects will provide power for those individual users. The proposed Napa San project is different in that it is to supply power for the grid and is much larger, Pauly-Bowles said.
The lease for the Napa San project has Ciel & Terre paying the district $10,000 during the option period. If the project goes forward, a 25-year lease would bring Napa San $80,000 annually, plus inflation. Starting in the eighth year, the district would receive an amount for electricity generation that could come to $70,000 annually.
Get local news delivered to your inbox!
Subscribe to our Daily Headlines newsletter.