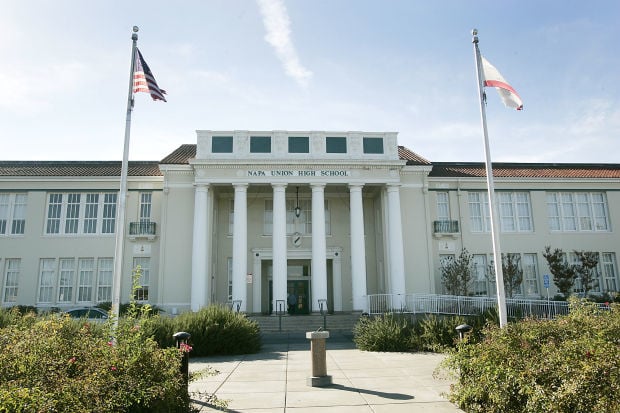 A staff reduction plan gained the unanimous if somber approval of the NVUSD board Thursday night, setting the stage for pink slips for up to 101 full-time and 44 part-time teachers – about 16 percent of the district's teachers with state certificates. The teacher layoffs will follow a round of staff cutbacks in 2019 that eliminated jobs or reduced hours for instructional assistants and food service workers.
The layoff plan follows the January release of an enrollment report forecasting Napa and American Canyon student counts to continue sinking well into the decade, with sharper declines from kindergarten to second grade possibly foretelling a continuing decline as today's young children become tomorrow's high schoolers.
NVUSD, like most public school networks in California, receives state educational funding on a formula based on the number of full-time students, turning drop-offs in enrollment into drop-offs in revenue.
District-wide enrollment, which exceeded 17,000 in 2015, is projected to drop to 15,000 or less by 2026, according to data from King Consulting.
Among the possible layoffs are 12 full-time teaching positions at elementary schools and eight at middle schools, as well as 56 slots across a slew of subjects from math, sciences and social studies to physical education, music and art.
Trustees called the looming teacher layoffs – the final number of which will be set before the new academic year begins in August – a necessary but belated and painful step to align school staffing with enrollment numbers driven down by declining birthrates and costly housing increasingly out of the reach of younger families with school-age children.
"Unfortunately, things that could have been helped by natural attrition or proactive action in prior years when declining enrollment became more apparent have caught up with us now," said trustee David Gracia. "And now we have to act to right the ship and right-size the district."
Gayle Young, president of the Napa Valley Educators Association, predicted the actual number of job losses would likely total about 60, "but that doesn't make it any less painful for those 145 employees," she added, speaking to the district board and accompanied by a half-dozen members of the teachers' union. (The state education code requires school districts to notify teachers of possible layoffs before March 15, even if they are eventually retained.)
"We're angry that our current times and circumstances require a mass layoff – angry and frustrated, frustrated that the funding levels for our district and for the state of California does not cover the cost of educating our students," said Young. "What can we do together to ensure adequate funding for our schools? The future of our district and our community depends on it."
Even as she prepared to vote in favor of the layoffs, trustee Cindy Watter admitted such job cuts – and the fiscal woes driving them – would further reduce the appeal of the profession to talented newcomers.
There is a shortage of teachers in California, (and) one thing we need to do is make the profession more secure," said Watter, a former Napa High School teacher and union representative. "It's very hard to entice lively, idealistic, intelligent young people into a profession where they can pour their heart's blood into their classroom all year long, doing the best for their students, and then boom, on March 15 we do this to them."
The elimination of teaching positions is the latest austerity measure taken by NVUSD as it deals with the effects not only of reduced per-student state funding, but of a $3.1 million deficit that last year drew district reserves below 4 percent of its budget. Reserves that drop below 3 percent entitle California to declare a school district insolvent and take over its finances.
In response, NVUSD has pulled back its physical footprint to cut costs. Trustees voted to shut down the Mt. George and Yountville grade schools at the end of the current academic year to save $1 million annually, and shelved a second middle school planned in American Canyon in favor of adding a multipurpose building to the existing junior high campus on Benton Way.
Get local news delivered to your inbox!
Subscribe to our Daily Headlines newsletter.